This post is also available in: Spanish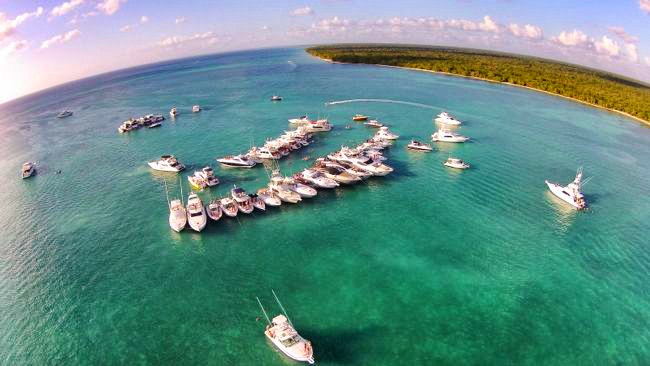 Palmillaso. Unequivocally the best boat party of the year, and certainly one of the Casa de Campo community's favorite parties, year in year out. So what does she look like from the sky?
Well if you've ever wondered exactly that – great news because here we bring you our "drones-eye view" photos taken at the most recent Palmillaso boat party on December 31st 2014. You see while everyone else was busy downing magnums of champagne and shaking their bikini-clad booties, we decided to fly the drone instead – and we think you'll agree these photos were worth the sacrifice – after all we had plenty of time to enjoy a suitable amount of celebratory champagne post-flight!
Wondering what Palmillaso is? Well it's basically when every boat in the Marina Casa de Campo (packed full of champagne and people) sails to local beauty spot, Palmilla, to spend a beautiful day in paradise, dancing, drinking and celebrating to excess! How better to celebrate the end of a great year and the start of a new one!? Click here for all our "normal" pics of the Palmillaso 2014 party.  
Oh and although you can't see them from the drone – there was plenty of celebrities in attendance at this year's Palmillaso party! For starters, Prison Break star, Amuary Nolasco was hanging out on the boat next to ours, while Vin Diesel was floating out there somewhere, as was Dominican baseball star, José Bautista, NBA basketball star, Shaquille O'Neal, as well as Dominican film maker, Jessy Terrero. That's not a bad turn out!