This post is also available in: Spanish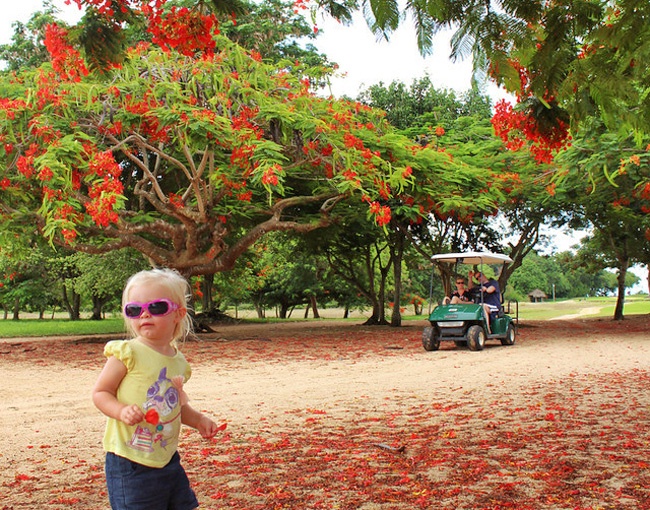 With the arrival of July we're now officially one month into the Hurricane Season 2014 with 5 more months to go. July also brings higher temperatures, because last month (on June 21st), we welcomed the start of the warmer summer months in the Northern Hemisphere, characterized by longer days and shorter nights. But, the best part of this splendid month is that the trees proudly shows their fruits, especially mango and avocado trees which are in their most fruitful stage.
Below we bring you a complete overview of all you can expect in this month… the weather, seasonal fruits and flowers, holidays, social events, and also our top 10 memories of July 2013.
Weather

Rainfall: 61.0 mm (La Romana has the lowest of all areas in the Eastern region of the Dominican Republic)

No. of rainy days: approximately 3 days per month

Temperature range: 

Humidity:

Day: fluctuates between 71 and 77%
Night: fluctuates between 81 and 85%

Sunrise: Approximately at 6:00am

Sunset: Varies between 7:00pm and 7:15pm

Conclusion:

Historically July is known as a "quiet" month during hurricane season. For many reasons; "cold fronts" from Africa, otherwise known as the "seeds" of tropical disturbances are not likely to reach the tropics, and as water temperatures have not yet peaked that also reduces the likely development of any stormy tropical weather. In fact, July typically only brings on average one named storm (a tropical storm or hurricane) – which is extremely unlikely to affect the Dominican Republic at all.

So while we shouldn't be seeing any tropical depressions, tropical storms or hurricanes here in the Dominican Republic yet, July has a monthly average rainfall of 61.0 mm. On a typical day, you may enjoy the sun throughout the morning before it clouds over about midday and the heavens open – fortunately just for a brief (yet rather heavy) shower, before the sky clears again in the evening.

Sources:
Fruits of the season

The following fruits are currently in season, meaning that not only is NOW the best time to enjoy them, but also that you're likely to spot them growing all over the Casa de Campo resort.

Cherry

Wonderfully delicious, cherry fruit is packed full healthy nutrients and antioxidants. Cherries are native to Eastern Europe and Asia. Botanically, the fruit is a "drupe" (stone fruit), belonging to the broad Rosaceae family of small tree fruits in the genus, Prunus. Several species of cherries exist, two popular cultivars are wild or sweet-cherry, and sour or tart-cherry. While sweet cherries belong to the species of Prunus avium, tart variety belongs to that of Prunus cerasus. In Dominican Republic the only species is the tart-cherry.

Mangos

Mango is a popular tropical fruit, with a slightly acidic and fleshy pulp. The fruit is usually green at first, and yellow or orange when ripe. Mangos originate from Asia, mainly India, and there are numerous varieties – many of them created by grafting (a horticultural technique whereby tissues from one plant are inserted into those of another so that the two sets of vascular tissues may join together.)

Mangos are in season from April to September.

Cashews

The cashew tree is a tropical evergreen that produces the cashew nut and the cashew apple. Officially classed as Anacardium occidentale, it can grow as high as 14 metres (46 ft), but the dwarf cashew, growing up to 6 metres (20 ft), has proved more profitable, with earlier maturity and higher yields.

In Casa de Campo we can see the cashew, Cajuiles in Spanish, growing on the Teeth of the Dog

Avocados

Avocados are commercially valuable and are cultivated in tropical and Mediterranean climates throughout the world. Commercially, they ripen after harvesting. Trees are partially self-pollinating and are often propagated through grafting to maintain a predictable quality and quantity of the fruit.

Here in Casa de Campo, avocado trees are hard to spot because the fruit is green and doesn't stand out against the green of the leaves. However, we have spotted avocado trees on hole #2 and hole #13 of the Teeth of the Dog, although of course there must be many more!

Avocados are in season from June to November.

Limoncillo (Quenepa)

Limoncillo is a fruit-bearing tree in the soapberry family, Sapindaceae, native or naturalised over a wide area of the tropics including South and Central America, Puerto Rico, Dominican Republic, Haiti and other parts of the Caribbean, and parts of Africa and the Pacific.

Now that they are in season we can expect to see them for sale on the side of the road throughout the Dominican Republic.

Limoncillos are in season from June to September.

Loquat (níspero)

 

Loquat, known in the Dominican Republic as nispero, is small – about the size of an apple – and is soft and very sweet with a distinctive flavor. The skin of the nispero is brown, while its flesh has a unique texture and is white/brown/orange in color. It is not very popular for juicing – but can be peeled and eaten. This tropical fruit contains 14 percent sugar.
Flowers of the season
Thanks to countless numbers of flowering trees and plants, Casa de Campo is always a colorful paradise, but as the seasons change so do the flowers we see brightening the roads, golf courses and villas.

Flamboyant

Flowers between May and August
Spreads widely, and its dense foliage provides full shade
Fern-like leaves
The flowers are large, with four spreading scarlet or orange-red petals up to 8cm long, and a fifth upright petal called the standard, which is slightly larger and spotted yellow and white.
The seed pods are dark brown and can be up to 60cm long and 5cm wide
Used for ornamentation for streets, avenues and parks.

Click here to read more about the beautiful Flamboyant tree!

Hibiscus

The hibiscus originates from America and Africa, has more than 220 species that derive from the Malvaceae family and are generally found in warm environments. The species most typically found in the Dominican Republic is known as "Sangre de Cristo", Christ's Blood (hibiscus rosa-sinensis) and is a national symbol, often used as hair decorations on national holidays.

However, here in Casa, magnificent Hibiscus flowers can be spotted in neon pink and orange, these were found on hole #5 of the Links golf course, while we've spotted the "Sangre de Cristo" around the Teeth of the Dog.
Animals highlights

Butterflies

During this beautiful time of year, not only do we enjoy the resort blooming with hundreds of different types of flowers in a rainbow of magnificent colors, but serving as the perfect addition are the butterflies, floating from flower to flower, and darting in the grass, everywhere you look.  With the butterfly season (from April to November), here in Casa de Campo you can spot dozens of different species.

Click here to read more about the butterflies in Casa de Campo

Turtles

March to November in the Dominican Republic is turtle nesting season – which means right now on the Dominican Republic's many beaches; Hawksbill turtles, Green turtles and Leatherback turtles are laying their eggs – some even right here on Minitas Beach and on nearby Saona Island! 

Click here to read our latest post about turtle nesting season
Dominican National Holidays & International Celebrations

Sunday July 27th – Dominican Republic Father's Day

The Dominican Republic dedicates a day to those men who put in their love and dedication to raise the generation of the future. On this special day families will gather and fathers will receive gifts and enjoy typical Dominican dishes as their children show their gratitude for everything they do on a daily basis.

July 11th – World Population Day

On 2013 World Population Day, we raise awareness of the issue of adolescent pregnancy in the hopes of delivering a world where every pregnancy is wanted, every childbirth is safe, and every young person's potential is fulfilled.

July 18th  – Nelsón Mandela International Day

Every year on 18 July — the day Nelson Mandela was born — the UN joins a call by the Nelson Mandela Foundation to devote 67 minutes of time to helping others, as a way to mark Nelson Mandela International Day. For 67 years Nelson Mandela devoted his life to the service of humanity — as a human rights lawyer, a prisoner of conscience, an international peacemaker and the first democratically elected president of a free South Africa.

July 30th- International Day of Friendship

The International Day of Friendship was proclaimed in 2011 by the UN General Assembly with the idea that friendship between peoples, countries, cultures and individuals can inspire peace efforts and build bridges between communities.
Happening now!
Upcoming events
Saint John School 2014 Graduation Ceremony
When: Saturday, July 5th
Where:Flamboyan Conference Center

Summer Camp at the Altos de Chavón Regional Museum of Archaeology
When: Sunday, July 6th – Friday, July 18th
Where: Casa de campo Yacht Club , Marina Casa de Campo

Remember! Check out www.TODO.fm for the complete calendar of events and activities.
Our top 10 memories of July 2013
1. Vin Diesel SUP-ing at Minitas Beach
2. Chivas celebrates the launch of a special collaboration with Pininfarina
3. Dominican Designer Jeanette Limas gives a speech at Hogar del Niño
4. A beautiful summertime Café de la Leche with Phyllis Berney!
5. Rafael and Michael Santana win the "Fin de Zafra" golf tournament
6. Former NBA star Alonzo Mourning plays basketball at the Fundación MIR
7. Fun times at the Family Fair in Altos de Chavón
8. Domino Tournament at the Padre Abreu nursing home in La Romana!
9. Colegio Saint John celebrates 20th graduation
10. Michelle Ward & Howard Calk wedding