This post is also available in: Spanish
As most of you know, Dominican Father's Day is July 31st and if you're still a little hesitant what to get Dad, check out our Ultimate Gift Guide we posted last week, but if you're more of a take Dad on an outing type of fam, we have the perfect option for you! Chinois is hosting a Father's Day dance concert with great music on Friday 29th, called Son de Padres.
Son is a style of music and dance that originated in Cuba and gained worldwide popularity during the 1930s. Son combines the structure and feel of Spanish music with Afro-Cuban traits and percussion. Son is still very popular, and there are various groups that continue playing this type of music. Los Soneros de Haina is the group that will perform at Chinois on Father's Day, and are one of the most prestigious Dominican soneros groups. With great musical quality and an extensive repertoire, they will have all of the attendees dancing to their smooth tunes in no time!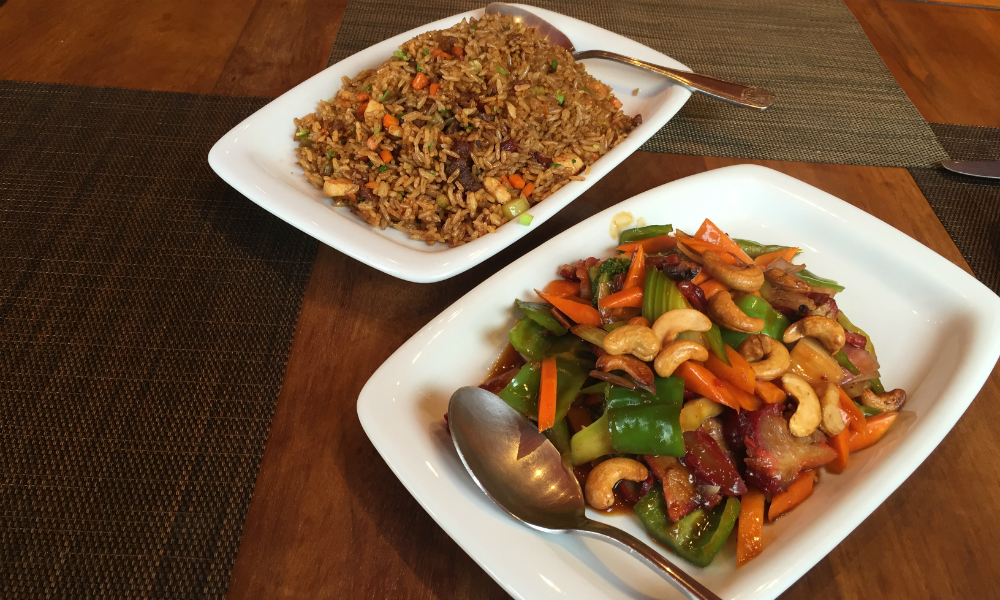 This night also brings with it a special menu prepared by Chinois, including egg rolls, wontons, pork belly, fushao (Chinese paella), and more. For only RD $1,000 + tax you can enjoy an entrée, main dish and dessert. Plus, the additional offer of a bottle of Briego Vendimia and Cava Torre Oria for RD$ 730 + taxes is on the table; not to mention, as soon as you walk in you'll be greeted with a welcome cocktail sponsored by Brugal!
Call now to reserve your spot since seating is limited, and don't miss this special Father's Day event and opportunity to spend some good ol' quality time with Dad!!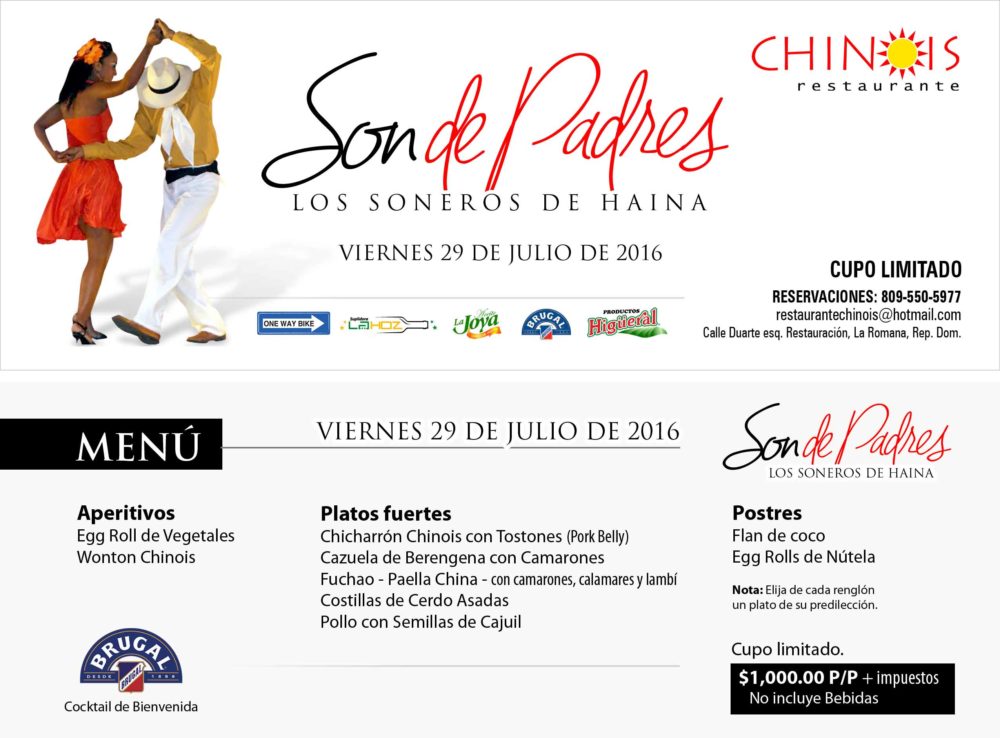 Son de Padres in Chinois
When: Friday July 29th, 8pm
What: Son Concert Party with welcome cocktail, a special menu for just $1,000 + taxes, plus a bottle of Briego Vendimia and Cava Torre Oria for only RD $ 730 + taxes!
Check below numbers to make your reservations! Spots are limited!
CHINOIS RESTAURANT

Where: Calle Duarte, Restauración Street Corner, La Romana

Hours: 12pm – 11pm (open for lunch and dinner)

Tel: (809) 550-5977 , (809) 307-2729

Email: [email protected], [email protected]

Instagram: https://www.instagram.com/chinoisrd/
Chinois: Great Asian cuisine in La Romana!


I went for a dinner with group of friends including two teenagers. Chinois was easy to find and looks very authentic, incorporating gorgeous and vibrant tones of red and gold. We had a wonderful time. The place has a spacious terrace and air-conditioned dining room.  Menu has wide selection of classical Chinese dishes including appetizers, soups, and salads; plus a sizable sushi section! Continue reading here.
The Ultimate Father's Day Gift Guide: Order Online and have TPack deliver it!


We encourage you to surprise your dad, husband, brother or friend with an awesome gift this year and show him how much he means to you in this special day. For the occasion, we have partnered up with our friends at TPack, our favorite, most affordable and CONVENIENT courier in La Romana and Santo Domingo to bring you the ULTIMATE FATHER'S DAY GIFT GUIDE! Continue reading here.