This post is also available in: Spanish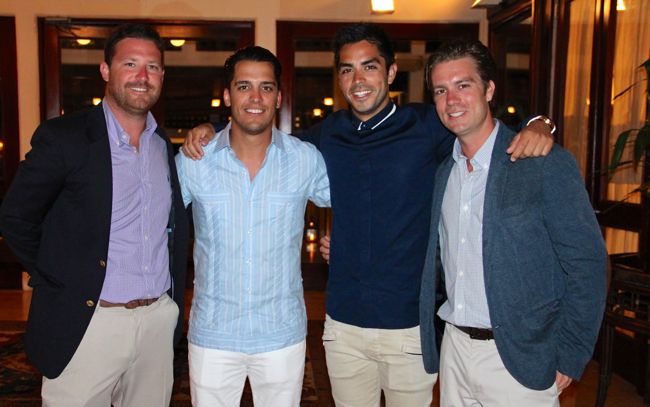 Yesterday Thursday April 23rd, J.Pepe Fanjul and his wife Emilia hosted an elegant cocktail and dinner party at the La Romana Country Club which served as a welcome for the more than 40 participants of this year's Casa de Campo Sugar Shooting tournament.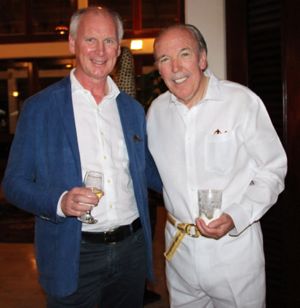 Among the guests we spotted Andres Fanjul, the charming nephew of J.Pepe Fanjul who is the reigning champion of the tournament having taken home the trophy for "High Overall Cup" in 2014, and the "High Overall Gubelmann Cup" in 2013. From what we've heard of his performance so far this year, he still remains the man to beat.
Also back for his 3rd year is Mason Berry and his father, Lawrence Berry from Texas, 2 of the most fun and friendly people ya'll ever meet. On this occasion this father-son duo came accompanied by Mason's 86-year old grandma, incredibly a very keen shot herself! At last year's event, Mason presented J.Pepe Fanjul with an enormous tapestry. Created as "a token to show our appreciation for being invited back", the tapestry which represents an entire year's work, depicts the European-style Driven Bird Shoot at Rancho Peligro, including a portrait of J.Pepe himself taking aim, as well as the various different shooting options available at the Casa de Campo Shooting Center. This truly magnificent piece of craftsmanship now hangs in the Safari Club at the Casa de Campo Shooting Center – worth a look if you haven't seen it! [Click here to see a photo of the tapestry.]
Mason Berry (in black) with his grandmother and friends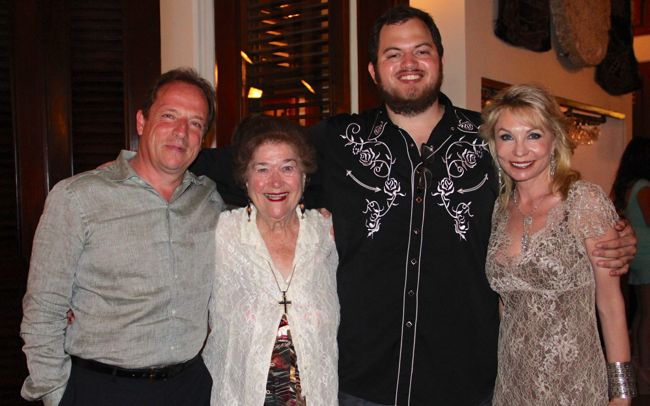 It was also a pleasure to see Casa de Campo's new Director of Shooting, Gary Salmon, who having taken up his post at Casa de Campo towards the end of 2014, is running his first Casa de Campo Sugar Shooting tournament to a tea (as we say in Britain)!
Although the tournament had already started on the previous Tuesday April 21st, the annual welcome cocktail and dinner is traditionally always celebrated on the Thursday evening of this 6 day event. Why? Because when J.Pepe Fanjul first founded the Casa de Campo Sugar Shooting Tournament 27 years ago, Casa de Campo's shooting facilities were not as expansive as they are today. Back in 1987, although still impressive, the Casa de Campo shooting facilities had "just" the Sporting Clays circuit, two pigeon rings, and a skeet and trap facility, meaning the Sugar Shooting tournament was shot over just 4 days. 15 years later, the new shooting facility at Rancho Peligro for European Style Driven Bird Shooting was opened, thus growing the tournament from a 4-day event to the 6-day event it is today. 
Today and tomorrow, Saturday April 25th, the Casa de Campo Sugar Shooting tournament continues at the Casa de Campo Shooting Center and at Rancho Peligro, and will close with the prize-giving and dinner on Saturday evening at Casa Grande.
The following photos were taken during the celebration at La Romana Country Club, Casa de Campo: