This post is also available in: Spanish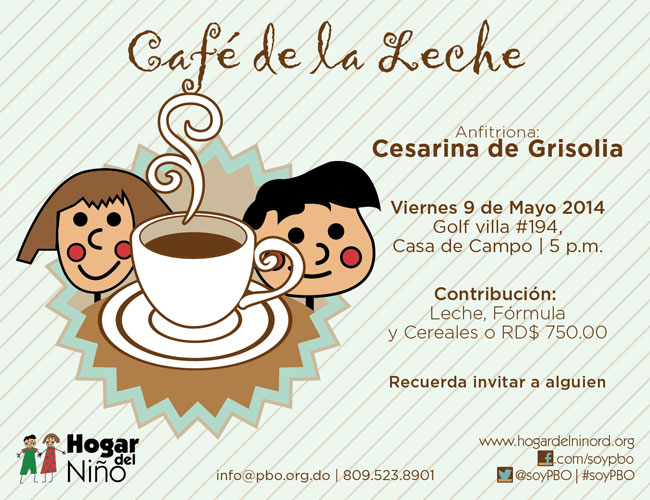 Well it seems like just yesterday that we were at the lovely golf villa of Isabel Purcell celebrating the April edition of the Café de la Leche, and now we already have another to look forward to – on Friday May 9th.
The next Café de la Leche celebration will be hosted by Cesarina de Grisolia at her Casa de Campo golf villa #194, and will no doubt be another wonderful afternoon and beautiful opportunity to spend time with our friends and neighbors, while giving to a good cause.
This monthly charitable event with the exclusive participation of the female community of Casa de Campo, is held to gather donations of milk for the Hogar del Niño, which are used to feed the more than 200 babies cared for daily in their  "Sala cuna" (crib room).
Café de la Leche with Cesarina de Grisolia

When: Friday May the 9th, 5pm – 7pm

Where: Casa de Campo villa, Golf Villa #194

Contribution: dried/powdered milk, cereals or baby formula or RD$750

Contact: [email protected], (809) 523-8901
Can you believe that it is already May!? That means that this year we have already enjoyed four Café de la Leche celebrations! So for those of you who may have missed them, or for those of you thinking about attending a Café de la Leche for the first time, here's a quick recap of all the most recent Café de la Leche gatherings:
Friday January 9th, Café de la Leche with Annie Paniagua

With its enviably lofty location high above the Chavón river, the Café de la Leche of Ana Maria Paniagua was once again blessed with a magnificent sunset, as well as a refreshing breeze. 
Friday February 7th, Café de la Leche with Dedon and Chinois

With the food catered by Chinois, making Susana Joa, owner of the restaurant, the glamourous hostess alongside Moraima Mirambeaux of Dedon. When one of Casa's veteran restauranteurs joins forces with one of the society's most stylish, there can be no doubt that the result would be superb. Not only were the decorations just perfect and elegant, but the food was delicious, with adorable little touches such as heart shaped chocolate treats – perfect for a Cafe de la Leche in the month of love! 
Thursday March 13th, Café de la Leche with Ki-Ra

In typical Kyra style, the gathering was refreshingly laid-back and relaxing, with guests invited to come and go and explore as they please. No area was "out of bounds", so the more than 50 guests wandered freely admiring and enjoying everything the Ki-Ra Holistic Living Retreat has to offer. 
Friday February 11th, Café de la Leche with Isabel Purcell

Taking place in her beautiful Casa de Campo villa overlooking the Links golf course, Isabel's many guests enjoyed cocktails and nibbles as the sunset on another beautiful day in paradise.