This post is also available in: Spanish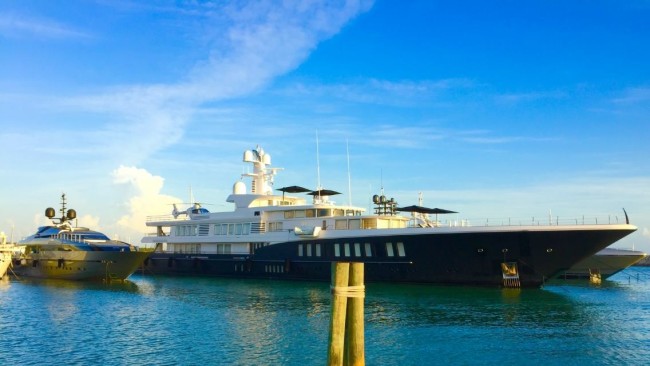 The Marina Casa de Campo is quiet a sight to see right now. Not only is new restaurant Pubbelly buzzing with Casa de Campo villa owners and visitors eager to try their delicious sushi, and renovations are well underway at SBG at the lighthouse, but we also have two megayachts AIR and Ronin currently docked. 
Docked side by side right at the far end of the Marina Casa de Campo, it is quiet something to see two such enormous yachts together, and see it you can – you just need to take a stroll up the Paseo del Mar in the Marina Casa de Campo, and you'll spot them on the left. You can't miss them.
Megayacht AIR
Megayacht AIR was recently spotted in the Marina Casa de Campo back in March of this year, during which time she stayed docked in the waters just outside of the Marina Casa de Campo. At the time we had assumed that was because she was too big to dock, but given that she is currently docked that is clearly not the case.
Megayacht AIR was built in 2011, and has an exceptionally sleek and elegant exterior with modern lines, a unique matt black steel hull and an aluminum superstructure. She measures 81 meters, that's 265.7 feet in length and has a beam of 11.6m, and is rumored to have cost a whopping 905 million dollars to build, yes as in nearly 1 billion dollars!
Click here to read more about Megayacht AIR.
Megayacht Ronin
The RONIN, a Lurssen Yacht built in 1993, was initially named IZANAMI, which means "She who invites you to enter," but was allegedly changed to RONIN after it was revealed that IZANAMI when read backwards reads 'I'm a Nazi.' The Ronin is 191.9 feet long, has an outdoor basket ball court and boast space for 2 tender boats, 2 jet skis, a garage for a Hummer, and more.
Click here to read more about Megayacht Ronin.
See more photos of the Megayacht AIR and RONIN here, taken by José Calzada Leon, Senior Vice-President for Casa de Campo Real Estate: