This post is also available in: Spanish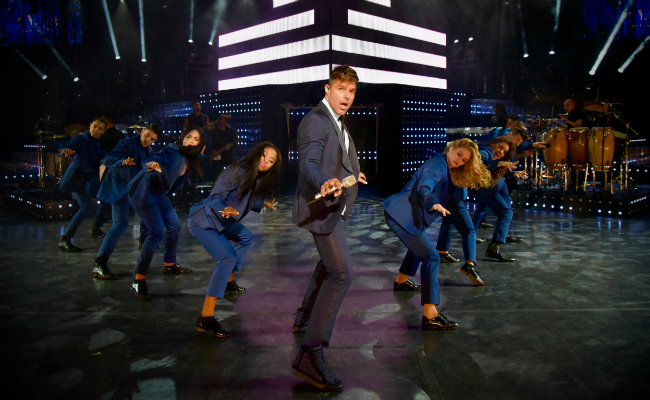 On Saturday, after hearing Ricky Martin during his sound checks, we finally got to see him LIVE at his One World Tour, first leg in Latin America! We already know the Ricky Martin concert in the Altos de Chavón amphitheater was a huge success, wherein the energy and charisma that defines Ricky Martin so well owned the night, and was the highlight of our awesome weekend. Let's recap the dazzling details…
To begin, remember when we told you to be on the lookout for Fundación MIR who would be at the entrance greeting us? Well, they had their delicious cookies for sale, baked by the students themselves. And they were yummy! A small but significant contribution to their cause that adds up, which is exactly what happened as we saw lots of people purchasing treats that they took to their seats in little bundles waiting for the concert to start.
First thing that caught our attention was the STAGE, the scenery, and the lights!! It was incredible. What baffled most of us was a huge box-like object right in the middle of the stage that had us all pondering exactly where would Ricky sing since it covered nearly the whole stage?! In our jittery wait, screens displayed the sponsors of the event, and then suddenly changed to DJ KORDUROY from Santo Domingo. Within a minutes had us all pumped and dancing. After some sweet mixes, he left the stage and the lights went dark! The musicians prepped their positions, and we all became super excited for what was ahead.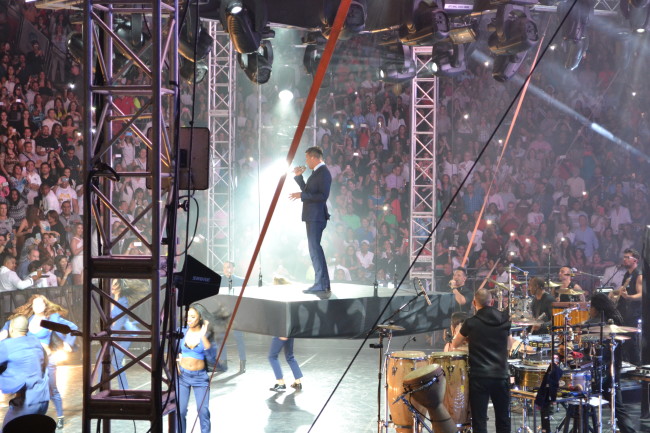 At 9:15 pm, the huge box that had covered the stage started to rise, showing off the dancers from behind it all dressed in blue. We saw Ricky Martin lowered onto a platform from within the box, and he started singing, "Mr. Put It Down" (sans Pitbull). A song so full of energy that it had us on our feet and dancing. He was so captivating! 2 songs and a change of clothes later, he was back singing "Adrenalina," featuring a recording of Wisin. He had us all singing and dancing along, a 5,000 person amphitheater all in unison. After "Adrenalina" he gave us a rest and sang "Tal vez".
When we heard the intro to "Livin' la Vida Loca" the crowd went wild! Ricky Martin came out on top of the hood of a silver convertible with two dancers in the front seats. Smoke filled the air and lights flickered throughout the stage and and we were back on our feet for "It's Alright", "She Bangs" and "Come with Me".
At one point during the concert, a heartfelt video was projected on the screens talking about the "Ricky Martin Foundation," and once it finished, Ricky humbly wearing a white shirt, jeans and barefoot sang "Asignatura Pendiente" with beautiful images of children on the screens. His soft songs included "Disparo al Corazón," "Tu Recuerdo" and "Vuelve". Again, all of which we couldn't help but join in.
By this point, I had started to wonder when he would sing, "Adiós" and "Una Mordidita" from his most recent album. As if reading my mind, out came dancers dressed in sexy corsets and guys in black. Ricky Martin wore a red colored ensemble following the same tone as his video as if he were in a cabaret, and sang "Adiós", followed by "María". One of his talented female dancers accompanied him swaying to the rhythm of the music. Finally, "Una Mordidita" played which— as you know— is one of our favorites! Proof of that is here in our previous article where we posted the video.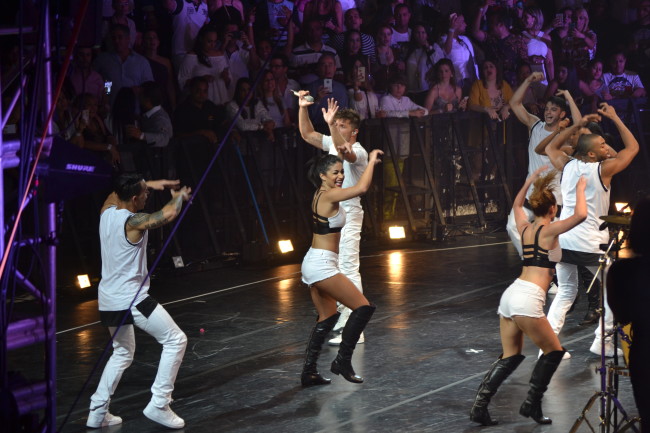 Ricky sang "La Bomba" & "Por Arriba, Por Abajo," asking us to forget our inhibitions and move freely to the beat without thinking about what others might say. Of course, we all happily complied! Throughout the concert, Ricky engaged the public with his energy and rhythm, and around 10:30 pm said his farewells… but the audience would not have it!  After chanting "Otra!, Otra!" out came Ricky Martin for his final songs "Pégate" and "The Cup of Life," During the last song, small white confetti filled the air and the stage as if we were all in a carnival, and on this note the concert ended.
Gracias República Dominicana!!! #OneWorldTour continuamos Puerto Rico /Latinoamérica

Posted by Ricky Martin on domingo, 7 de febrero de 2016
Video courtesy of the Official Ricky Martin Facebook Page.
The Casa de Campo community, along with those throughout the country and around the world who came out for the first leg of the Latin America Tour concert, celebrated the first concert of the year, and it proved to be a world class event.
We can't wait to find out what's in store next for us in Altos de Chavón!
The following collection of photos were taken during the Ricky Martin One World Tour concert by Alejandro Heredia in the Altos de Chavón Amphitheater last Saturday, February 6th, by Alejandro Heredia:
Principle photo courtesy of Ricky Martin Official Website.