This post is also available in: Spanish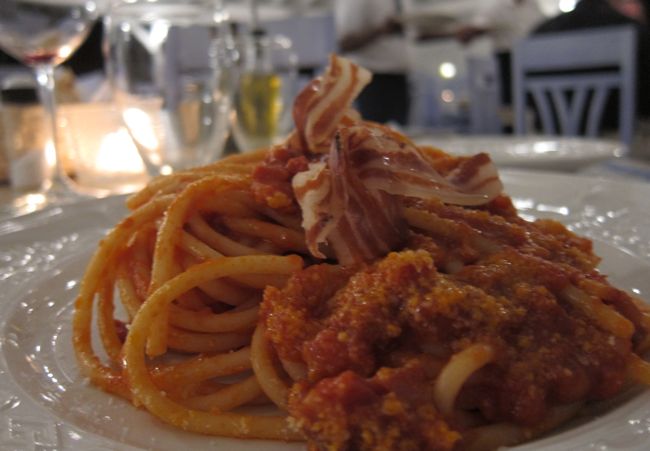 As the chef of one of Casa de Campo's most popular and most delicious restaurants; Gino in Trastevere in Altos de Chavón, Chef Claudio is undoubtedly an excellent cook who loves good food. Here Chef Claudio shares his passion with us – with an exclusive and traditional recipe for pasta "Bucatini alla Amatriciana" – just one of the many dishes he serves at Gino. 
Chef Claudio

People often ask Chef Ckaudio how to become a good cook or how to learn the art of great cooking. For Chef Claudio Giomo, the answer is pretty simple – it takes love and a real passion for culinary arts, a profession he definitely enjoys at his restaurant; Gino in Trastevere in Alto de Chavon.

"For me, this is culture, it is an art, similar to good music. Once people learn the different techniques, they find their own style with patience, experience and dedication," explained Chef Claudio.
Pasta "Bucatini alla Amatriciana"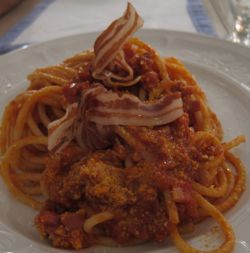 Ingredients for 4 people:
400gr. of Bucatini (durum wheat pasta)
100gr. bacon
½ white onion
10 cl white wine
100 gr of peeled tomatoes
1 spoon of olive oil
60gr Roman pecorino cheese
Black pepper
Salt
Preparation:
Place tomatoes in a boiling salted water – stir gently to remove skin and seeds
Peel the onion and cut it in squared pieces.
Cut the bacon in strips.
Heat a small amount of olive oil in a frying pan and add the bacon, cook the bacon until it is golden.
Reduce the heat on the frying pan and add the wine, onions and a few moments later the salt, pepper and tomatoes.
Cook the sause at medium heat for 25 minutes until it is thick and creamy
Once the sauce is ready cook the pasta
Drain the pasta and add to the sauce (in the sauce pan) with 1/3 of the pecorino cheese
Serve – adding the rest of the cheese on top!
Are you ready to try this delicious recipe? Remember if you don't fancy cooking it yourself – head to Gino in Trastevere in Altos de Chavón, where Chef Claudio will be happy to prepare it for you!
Gino in Trastevere is an authentic Italian restaurant located in Altos de Chavón, located on a lofty terrace with a panoramic view of the Chavón River and the famous Dye Fore golf course.