This post is also available in: Spanish
Last month on July 14th, the winners of Chivas The Venture were announced after five grand finalists pitched their ideas in front of a live audience and panel of judges that included actress and philanthropist Eva Longoria. While we were rooting and voting for our Dominican semi-finalist, Eco Mensajeria, they unfortunately they didn't win but we are very proud of how far they made it!
The Venture, which is Chivas Regal's initiative to find and support the most innovative startups from across the world, awarded five social enterprises the remaining share of their $1 million annual fund at their Final Event in New York City.  The event was the culmination of the second year of Chivas' The Venture, which received over 2,500 applications from scalable and sustainable social entrepreneurs. The evening was hosted by The Daily Show presenter, Trevor Noah who applauded all five entrepreneurs for their commitment to using business as a force for good. The judging panel which also included Sonal Shah, Joe Huff and Alexandre Ricard assessed each business based on their ability to create sustainable change through a viable business model and potential to scale.
Social startup, Conceptos Plásticos from Colombia was awarded the largest contribution from The Venture fund, receiving $300,000. The additional finalists to receive funding and recognition were: WeFarm from the UK ($200k), EyeControl from Israel ($100k), Wakami from Guatemala ($100k) and Coolar from Germany ($50k).
Although Eco Mensajeria didn't make it through the Final Pitch stage on July 12th where all 12 semi-finalists presented their work and plans to the judges, we are very happy that they made it so far! They have inspired us, and we hope that have inspired you as well to pursue and work hard for your dreams. Below is a video with a few words from Edison Santos in which states: "If you take on a challenge with awareness and humility, instead of feeling sad and frustrated due to the results, this becomes an experience that drives and motivates you to grow and move on."
Eva Longoria congratulated each of the winners during the night:

"I was really inspired by the finalists tonight – I'm so grateful there are people in the world who can figure out solutions to complex global problems. We all live in a global community and I absolutely believe social entrepreneurship is the only way we can create positive change. The caliber of the 27 finalists, their business ideas and fresh thinking was amazing."
Pernod Ricard's Chairman and CEO, and The Venture judge, Alexandre Ricard, said:

"It was truly a privilege to be part of the judging panel and watch the five finalists pitch for the remaining $750,000 of funding. Businesses like Conceptos Plásticos and WeFarm are great examples of how innovative, passionate and forward-thinking the social entrepreneurship movement is. Chivas is proud to support the global community of businesses that are on a mission to make a positive change in the world – I look forward to seeing the impact of these projects in the future.­­­"
Chivas' The Venture launched in September 2014 and has already seen the 16 finalists from the first year of the competition thrive and have an increased impact on a range of social and environmental issues. The 16 Alumni social enterprises are now supporting more than 200,000 beneficiaries in over 50 countries around the world.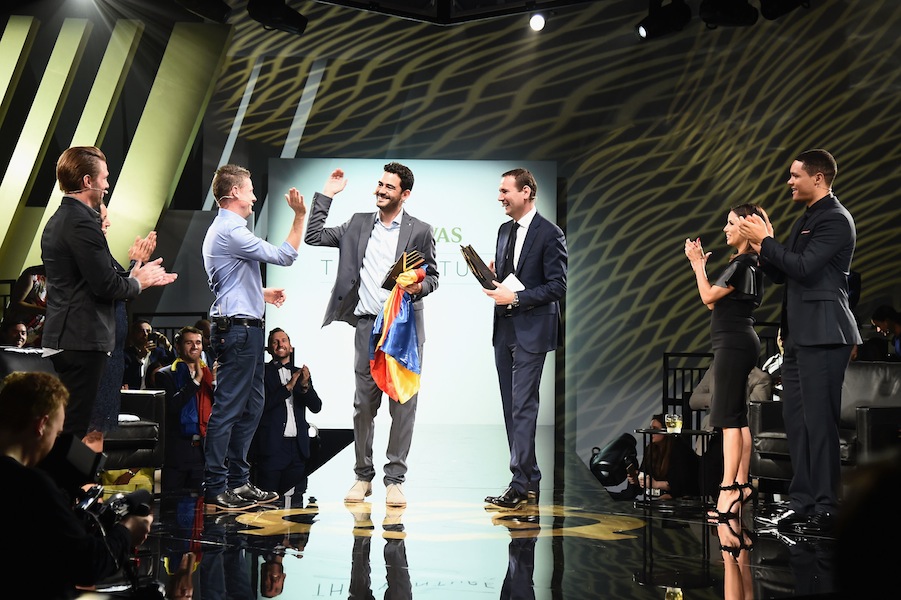 Continuing Chivas' commitment to inspire and support future generations of entrepreneurs, social enterprises from across the world are invited to apply for $1 million in funding as The Venture Year 3, which kicks off September 5th 2016. Visit www.theventure.com for further details.
Photos courtesy of Chivas and Chivas The Venture.
About Chivas Regal

Chivas Regal is a global brand, selling 4.8 million 9L boxes annually in more than 150 countries across Europe, Asia Pacific and Latin. The portfolio of Chivas Regal is a synonym for style, substance and exclusivity. It consists of Chivas Regal 12, 18 and 25 years.
The Venture

Is an international fund that provides aspiring social entrepreneurs with $1 million US dollars in financial assistance, global exposure of your business or idea and support from business mentors of international fame. Chivas Regal will support those who want success while making a positive impact in the lives of others through mentoring and financial support.

To learn more about each of the Venture Finalists, visit www.theventure.com
Live with Chivalry

The Chivas campaign, "Live with Chivalry" was launched in 2008 and has since inspired the modern gentleman in over 60 countries to succeed the right way.

"Win the Right Way" is the phrase of the campaign Live with Chivalry. It communicates the brand values of Chivas Regal, as they seek to inspire the next generation to succeed while having a positive impact on the lives of others.