This post is also available in: Spanish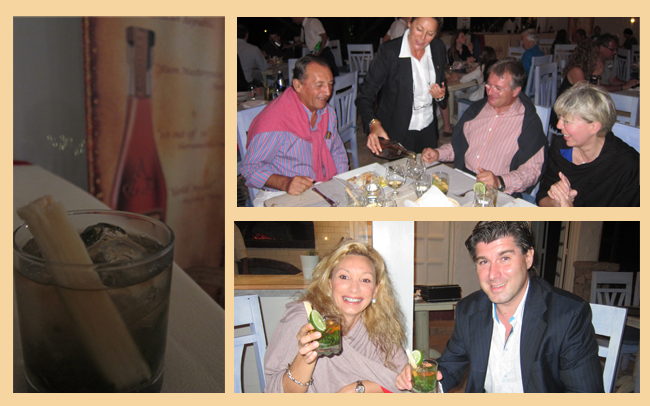 On Thursday the 22nd of December, food and drink lovers of the Casa de Campo community gathered together to enjoy a speciality pairing event hosted at the "Gino In Trastevere" restaurant, in Altos de Chavón, sponsored by Ron Atlantico rum.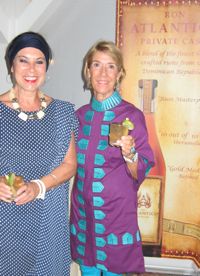 Upon arrival guests were treated to a "Ron Atlantico welcome cocktail" of their choice; Mojitos, Caiprinhas and Daquiris were the most popular and the perfect way to start an evening infused with the delicate rum taste of Ron Atlantico.
Following cocktails, the dining experience began; a 4 course seafood menu created by Chef Claudio. With speciality dishes, red onion stuffed with lambi, sea and river shrimp and fish ravioli – each created using one of Ron Atlantico's 3 variety's; Private Cask, Reserva and Platino, our Casa de Campo diners were transported to a rum and seafood heaven!
Red onions stuffed with lambi cooked with Ron Atlantico and pineapple
White fish ravioli, sauteed with Ron Atlantico and served with a shrimp sauce
River shrimp sauteed in orange juice, Sea shrimp cooked in coconut sauce and Ron Atlantico Extra Viejo
With each course, Christine, hostess and sommelier at Gino's served a tasting of Ron Atlantico, which perfectly complemented each individual dish, bringing out not only the rich variety of flavors in the food, but also the wealth of subtle flavors and tones enjoyable in every sip of Ron Atlantico.
Christine introduces our Casa de Campo diners to the delights of Ron Atlantico "Reserva"
At the end of a hearty seafood meal, lots of little tastes of Ron Atlantico and more than 1 cocktail, the Chocolate Ricotta tart was the perfect end to a wonderful evening.
Yummy! Cocktail and a cake!
What a fantastic evening! Congratulations to Gino in Trastevere, Chef Claudio and Christine for creating such a different, interesting and fun event! And many thanks to Ron Atlantico for sponsoring with your delicious rum!
Gino in Trastevere is an authentic Italian restaurant located in Altos de Chavón, located on a lofty terrace with a panoramic view of the Chavón River and the famous Dye Fore golf course.
ATLANTICO Rum is a complex, flavorful, super premium dark rum made from an exquisite selection of the Caribbean's finest small batch aged rums. It is a product of the Dominican Republic, where it is aged, blended, and bottled by hand.

Click here to read more about Ron Atlantico and their brand ambassador, Enrique Iglesias!