This post is also available in: Spanish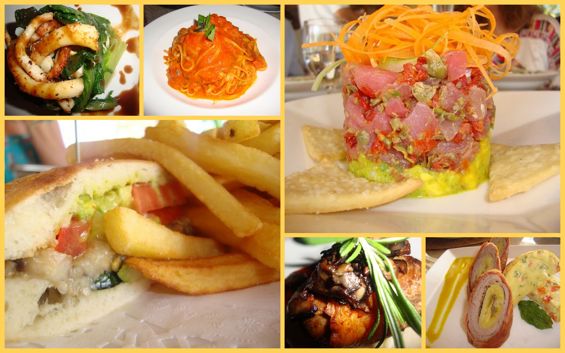 I can't cook or rather I don't cook and when I do it's not very good, which means I often go out for dinner or lunch and one of my all time favourite places to eat is the Beach Club By Le Cirque on Minitas Beach. The food is always fantastic, the service is excellent and it has an absolutely beautiful view of the sea and beach during the day and under the stars at night.
Amongst my other favourite restaurants are La Piazetta and the Sunday BBQ's at Onno's Bar in Altos de Chavon, La Casita and Chinois in the Marina Casa de Campo, Rico Bistro, Andaluz Tapas Bar and Dom Ham in La Romana, the Centro Asturiano in Santo Domingo as well as Tracadero in Bayahibe. I have also heard great things about Papa Jacks new Carribean Grill menu and a new restaurant in La Romana called 'Rico Bistro' which is on the Avenida Santa Rosa – I will be doing a review of these places very soon!
In this article I bring you photos of some of my favourite dishes at Casa de Campo's Beach Club by Le Cirque – I cannot promise that they are all still on the menu, but if you can't spot them you could always ask, you never know they may be able to make it for you, as they are always very accommodating! I am also not 100% sure of the precise name for each dish, so what I call something, may not be what it's called on the menu!
Roasted Vegetables in pizza flat bread


The roasted vegetables – eggplant, peppers and zucchini come with a spicy guacamole on thin pizza-style bread and is served with chips or salad.  This is the perfect choice for lunchtime at the beach!
This is great if you're feeling really hungry, the pork with the bacon and mushrooms has a really great flavour and the sauce, which I think is a red wine reduction is rich and delicious with the meat and ravioli
I must admit this actually isn't one of my favourites – but Philip LOVES it. I've never even tried it because I don't like the idea of octopus – I'm sure I will eventually, it does look very good!
However I have my pasta at the Beach Club  by Le Cirque it is always fantastic! The tomato sauce (above) is delicious, as is every other combination that they offer and they are always happy to taylor it to suit your taste. If you like seafood, you must try the pasta a la vongole, it's very nice indeed!
THIS is my favourite – I love it so much I will often have it as a main course with salad and plenty of bread. The tuna is always deliciously fresh and tender and is mixed with capers, sun-dried tomatoes and spicy guacamole! Yummy!
All these wonderful dishes and many more make the Beach Club by Le Cirque a fantastic place to enjoy a meal after a challenging round of golf on Casa de Campo's Pete Dye designed courses the Teeth of the Dog or the Dye Fore, or just someone to have lunch in between sunbathing on the beach and their private cabañas are the perfect place for a small private party or a romantic dinner for two.
Below are links to other articles on dining in and around Casa de Campo:
Casa de Campo Living Reviews: Rico Bistro – the best food in Romana?
Casa de Campo Living Reviews: Onno's Sunday BBQ
Casa de Campo Living Reviews: La Piazetta – a forgotten treasure?
Casa de Campo Living Reviews: Tracadero – Its time for something fresh!
Casa de Campo Living Reviews: Andaluz Tapas Bar y Mas – a cute new place in La Romana!
Casa de Campo Living Reviews: Onno's Bar – now with FANTASTIC Seafood!
Casa de Campo Living Reviews: Lucas, a Casa de Campo staple
Casa de Campo Living Reviews: Angelo's Restaurant – fantastic fresh Italian food in the Colonial Zone
Explore La Romana: Dom Ham – darn good burgers!
Beyond Casa: Centro Asturiano restaurant/club – a taste of Spain in the heart of Santo Domingo