This post is also available in: Spanish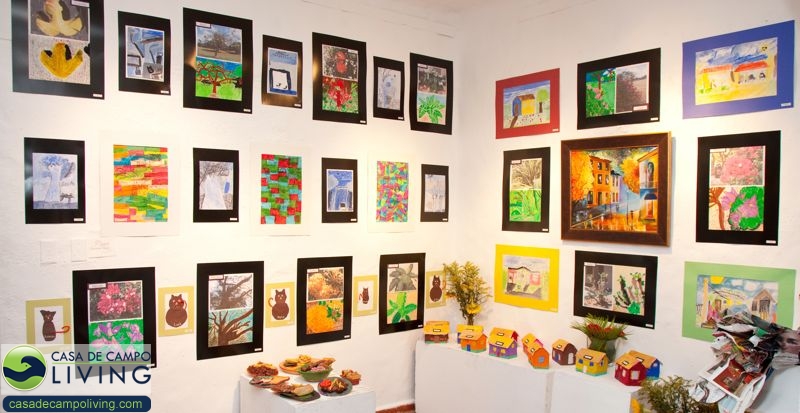 This Thursday the 23rd of May, the Abraham Lincoln School in La Romana will celebrate the opening of it's annual art exhibit at the Altos de Chavón art gallery at the same time as the opening of the Festival de Primavera – and you are cordially invited to join the celebration.
The annual art exhibit presented by the students of the Abraham Lincoln School and their hardworking teachers is in my opinion one of the best exhibits presented in the Altos de Chavón art gallery each year; the colorful exhibit fills the gallery from top to bottom and beams with the promise and talents of the next generation! What's not to love!?
This year, as every year, the art exhibit will present artworks from every student in the school from the tiny ones in the Pre-Kinder classes, whose adorable self-portraits and animal paintings you will fall in love with, to the sophisticated paintings, sketches and sculptures created by the budding artists of the upper school classes taught by Mr Adams, a talented artist himself.
The celebratory inauguration cocktail will begin from 7pm – we look forward to seeing you there!
Also taking place in Altos de Chavón this Thursday as part of the Festival de Primavera will be a theatrical performance "Asalto Pirata" by the Dominican Street Theater at 4:30pm,  an Interactive Workshop on Dominican Folkloric Dances at 5pm, as well as a String and Poetry Concert at 8:30pm!
Click here for the complete schedule of Festival de Primavera activities!
Inauguration of the Abraham Lincoln School Art Exhibit

When: Thursday May 23rd, 7pm

Where: The Altos de Chavón Art Gallery

The Abraham Lincoln School Art Exhibit will be open at The Gallery in Altos de Chavón from Thursday May 24rd to June 3rd. The Gallery is open daily from 9am to 6pm, closed Wednesdays.
Last year the inauguration cocktail and the exhibit were both fantastic……here are some wonderful memories from 2012:
Celebrating the opening of the Abraham Lincoln School Exhibit 2012

Not one single space could be found on the expansive walls of the two floor main art gallery in Altos de Chavon last Friday night the 25th of May 2012, as the Abraham Lincoln School inaugurated its annual Art Exhibition.