This post is also available in: Spanish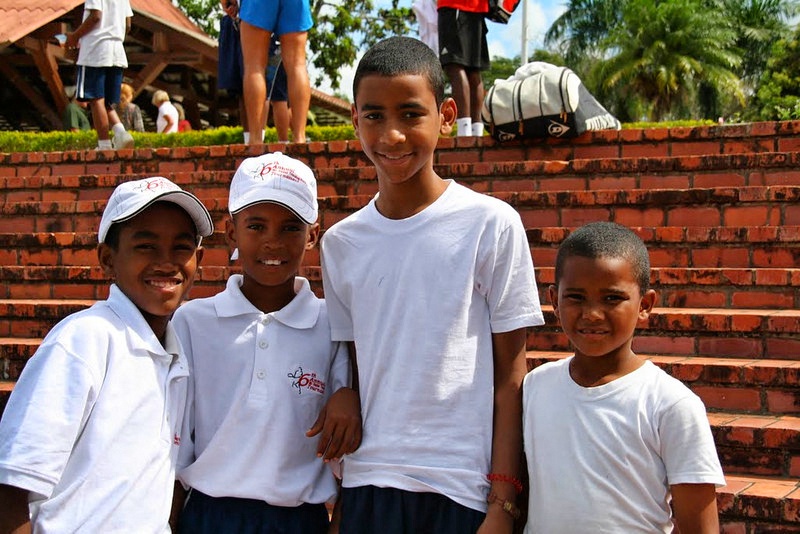 Is there anything more important than education? When it comes to building a good life, a solid future, nothing is more valuable than the opportunity to get a good education. And that is why we ask you to keep reading and learn about our sponsorship drive for the ball boys of the La Terraza Tennis Club in Casa de Campo.
This Sponsorship Drive is being undertaken by Rick McDaniel, founder of the McDaniel Family Foundation who host the McDaniel Tennis Tournament ever year to give the ball boys, professionals and players at the La Terraza Tennis Club and the La Romana Tennis Club some real tournament experience, while also raising money for scholarships for the ball boys.
Following the success of their 10th annual tournament, which raised US$65,000, the McDaniel Family Foundation now has a total of 32 ball boys and 2 ball girls with high school scholarships. Without a doubt an outstanding achievement, but with some 24 ball boys still without scholarships (5 from the LRRC and 19 from LTTC), Elizabeth Quadracci Harned on behalf of the Quadracci-Harned family made a donation of US$5,000 to sponsor all 5 remaining ball boys of the La Romana Country Club.
That left 19 boys of the La Terraza Tennis Club without scholarships.
Following which, the very generous Elizabeth made a further US$5,000 PLEDGE to sponsor 5 of the remaining 19 ball boys of the La Terraza Tennis Club IF the remaining US$14,000 is donated by the Casa de Campo community. And thus started the Sponsorship Drive!
Next up came an additional US$5,000 donation from Rick McDaniel, which leaves us with just US$9,000 left to raise to get ALL of Casa de Campo's ball boys scholarships for the new school year!
So if you believe in education and would like to help the McDaniel Family Foundation make a difference in the lives of these young ball boys please contact him at [email protected] or me at [email protected]
Please note that in order to enroll the boys in time for the fall semester of the new school year we only have approximately 30 days to meet the US$9,000 goal! So contact us now!
UPDATE! Only US$5,000 to go!

Since this article was published on May 24th, the McDaniel Family Foundation has received 4 additional donations from generous members of our Casa de Campo community – so that means we only have US$5,000 left to raise!

"We are over half way there! Let's not allow this fantastic challenge to provide scholarships for ALL OUR BOYS to go unfulfilled. Thank you all for your continued hard work and support." Rick McDaniel told Casa de Campo Living.

A big THANK YOU to the following people for their generous donations:

US$1,000 — From Stan Couldrey and his two Canadian Tennis Friends, Bill and Peter.
US$1,000 — From Marty Chattman's daughter Barri and son-in-law Les.
US$1,000 — From Andy Narcisso, of Charles Schwab & Co.
US$1,000 — From my son Tom McDaniel and his friend, Lisa Whitmore.
US$10,000 — From Elizabeth Quadracci Harned
US$5,000 — From Rick McDaniel