This post is also available in: Spanish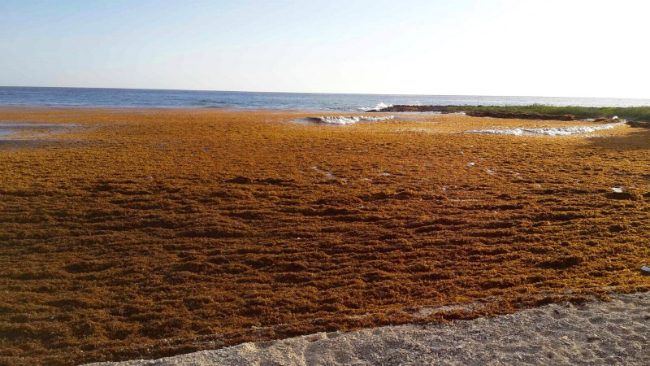 Flying into the Dominican Republic you see red patches of stuff that LOOKS like an oil spill but it's actually huge batches of seaweed flooding our beaches by yet unknown reasons.
This type of seaweed, called sargasso, comes to our coast from the Sargasso Sea, a region of the North Atlantic ocean that covers part of the area called the Bermuda Triangle. The reason sargasso floats to the Dominican Republic is due to the climate change and the loss of the coral reef that is the controlling force of the waves onto the beach.
Punta Cana, along with many of the country's southeastern beaches are flooded with it and hotels are coming up with creative solutions to fight this environment problem which affects the tourism industry.
Minitas Beach is "safe" from any type of seaweed because of the reef barrier that protects it, which blocks the seaweed from getting to the shallow waters and sand. And Juanillo has a man-made floating barrier/net that lessens the degree of seaweed that gets by. But many beaches, like that at the Saona and Catalina Island, Palmilla, Bayahibe Beach and subsequently, Dominicus Beach are flooded of sargasso..
What is it?
These "floating islands" of brown or dun algae is a group mainly from the Sargassum genus and has structures and components that allow it to float and be carried by ocean currents, unlike other species that live attached to the ocean floor.
Why is it here and Where is it coming from?
There are many uncertainties in relation to this phenomenon, the arrival of these algae could be due to various weather phenomena that have occurred in recent years in the Atlantic and the Caribbean Sea. The shifting tides and powerful storms due to climate change are some of the possible causes.
Others causes may be the increase in ocean temperature and associated effects, which may somehow affect the overall physiology of several species of algae causing higher rate of growth of different marine species involved in this process.
For sure it is not yet known if this phenomenon is cyclical or if it will remain or disappear in the upcoming months. Due to the complex and controversial global warming, these massive dispersions of sargasso could become a quite common event in the near future.
Can you bathe in it?
While the sargasso is not toxic nor poisonous, we must be careful and take precautions when working in a permanent and direct contact with it or if you try to bathe in the brown carpet. This floating stain is essential habitat for a number of marine organisms. Many species can come attached to the algae in larval stage and juveniles of many others that come swimming along with them. Some may be stinging, cause wounds or allergies of some serious care.
How long will it last?
There seems to be a correlation between man-made wastes ending up in the ocean and global warming that is increasing the nutrient concentration in the water that the sargasso thrives in. So it's expected to continue increasing each season, indefinitely.
Can we get rid of them?
While authorities are experimenting with ways of disposing of it, Manuel G. Castillo, Industrial Engineer and recent graduate of UNIBE, weighs in on the issue as an environmental advocate to offer suggestions on alternative solutions:
While hotels along the affected shorelines, the Ministry of Tourism and the Ministry of Environment have focused their energy and resources on preventing the seaweed from reaching the beaches, very little has been done to find alternative, ecofriendly solutions.
The main problem is that in general, people view the sargassum as a useless, foul-smelling, invasive species, when in reality, it is a raw material that can be processed to create benefits for the private and public sectors. Our country is not the only, and definitely not the first, to experience this drastic rise in occurrence: Barbados, Florida, Texas, and Mexico, among others have been dealing with the same issues for decades. A little research will show that these places have implemented solutions that are not only eco-friendly but generate jobs as well.
The three main ways to take advantage of this ABUNDANT and FREE raw material are:
Turning the seaweeds into mulch and running fresh water over it until most of the sodium is removed to be turned into a cheap, organic fertilizer.
Collecting all the seaweed possible and using it as fuel to power biomass generators.
Burying it below the sand to strengthen it against hurricanes and storms (of which we see plenty here).
So instead of treating the problem like an unwanted invasion of our coasts, the corresponding parties should treat this as a welcome opportunity to help our economy by creating more electricity and employment, all the while helping to preserve our beautiful, world-class beaches.
This article was written with the contribution of Industrial Engineer Manuel G. Castillo, who is accepting ideas and assistance from those interested in helping out with possible solutions. You can contact him at [email protected].