This post is also available in: Spanish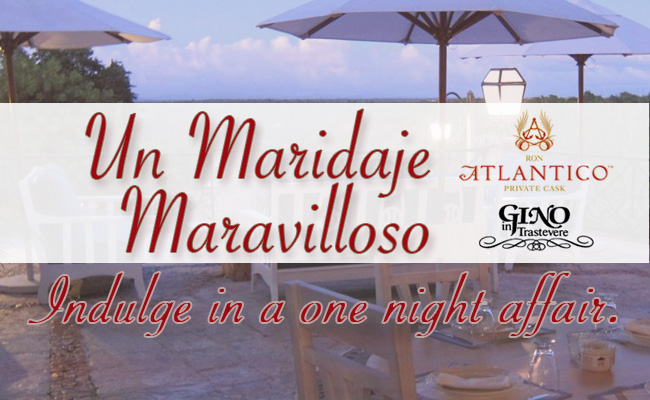 Indulge in a one night affair…come join us at Gino in Trastevere for Casa de Campo's first ever gastronomical affair on Thursday the 22nd of December. 
"Un Maridaje Maravilloso", translated means "A Marvelous Pairing" and that is exactly what this event promises to be – a delicious food and liquor pairing, with exquisite Italian seafood dishes prepared by Gino's Chef Claudio expertly paired with divine Ron Atlantico cocktails.
Indulge in a one night affair…….
The schedule of indulgence will unfold as follows:

• Upon arrival, guests will enjoy a "welcome cocktail" at sunset overlooking the stunning Chavon river, with variety of delicious Ron Atlantico cocktails.
• Following cocktails, an indulgent 4 course dinner will be served – with each dish lovingly created and crafted using Ron Atlantico. Although the menu will be a surprise, highlights include wonderful seafood dishes such as "River Shrimps sauteed in Ron Atlantico Extra Viejo."
• With each of the 4 courses a different Ron Atlantico cocktail will be served, especially chosen to compliment each dish.
Un Maridaje Maravilloso by Gino in Trastevere and Ron Atlantico

When: Thursday the 22nd of December, 7pm

Where: Gino in Trastevere, Altos de Chavón, Casa de Campo

Cost: RD$1400 (includes 5 Ron Atlantico cocktails, a 4 course meal, water and coffee)

Reservations are mandatory.
CLICK HERE TO RESERVE or call Gino on 809-951-1825
Gino in Trastevere is an authentic Italian restaurant located in Altos de Chavón, located on a lofty terrace with a panoramic view of the Chavón River and the famous Dye Fore golf course.
ATLANTICO Rum is a complex, flavorful, super premium dark rum made from an exquisite selection of the Caribbean's finest small batch aged rums. It is a product of the Dominican Republic, where it is aged, blended, and bottled by hand.

Click here to read more about Ron Atlantico and their brand ambassador, Enrique Iglesias!