This post is also available in: Spanish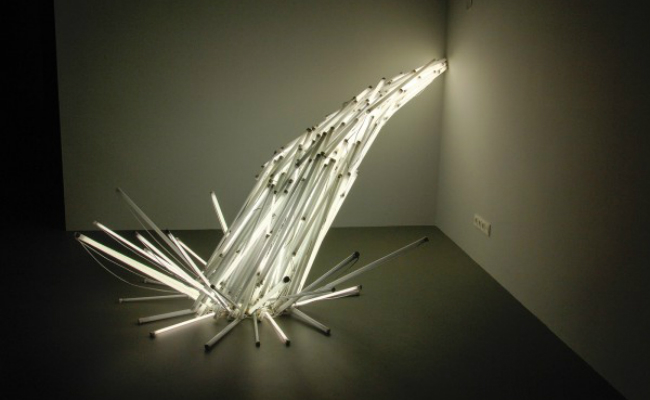 Tomorrow begins the Davidoff Tour Gastronomique Art & Gourmet Weekend!! Last week, we had a chance to talk with Davidoff's artist in residence, Oscar Santillan. Oscar unveiled his creative process and spoke about his unique form of inspiration and how he got to be part of the Davidoff Art Initiative. 
How did you become an artist?
To be completely honest, in past years I used to think that is a silly question. Little by little, I realized it was because of how little I knew about the answer. Now, I think it is a really meaningful question.
The moment I became an artist was at age eight. Up to that point, I had a very normal life in a middle class family in a small city in Ecuador. But at some point my dad lost his job, and in the society like ours when something like that happens there is no security available to help you recover. We faced poverty until my family recovered a few years later.
It was an important change, and a lot of loneliness that I endured. We moved outside of town, and the only connection to town was a busy narrow road without a sidewalk. Because I was eight years old, my mother wouldn't allow me to go to the city. I ended up spending a lot of time on my own and fantasizing. One activity I particularly put a lot energy into was drawing very detailed houses for ants. I could spent hours doing it. Every day, I would draw a new one and it would be different from the previous. Then I would go out to the backyard and replicate the drawings with mud, trying to put ants in the "apartments" I made for them to live in. They never enjoyed it!
Twenty years later, I realized that then was a moment when I found a deep connection between what I am and what I do!
How did your family react when you decided to be an artist?
I set my career as a self-taught artist.  At age sixteen, more or less, I realized I wanted to pursue it professionally. My family liked it very much. My dad wanted to be an architect when he was young but it was expensive to study architecture, so he went for Plan B as an agricultural engineer. I remember when my dad used to come home for lunch, he would make drawings on a napkin. And mom, in her free time, did a lot of ceramics.
How do you like working with Caribbean artists?
All over Latin America, we share a similar history and changes I would say. And I deeply identify with what I have seen so far. Especially with what is going on with the students in the school. It is definitely a rewarding experience.
How did you become part of the Davidoff Art & Residence project?
Last year, I was selected to participate in a project in London, which was part of the Delfina Foundation. After the completion, the director of Delfina Foundation called me and said that he would like to nominate me for the Davidoff Art Residency. I said yes immediately. I'd never been to the Dominican Republic and was very curious.
Where do find your inspiration?
When I have an idea, I can never see where it will go; I don't see the final point. For me, having an idea means to find an entry point. I define this entry point and then I see what happens. Depending on the project, I work with different people for research, ranging from classical musicians to astronomers.
Initially, to find an entry point is to find anomaly in reality. It can come from conversation, reading, or constant observation. With that, I ask a question from a scientific point of view: What if? It is the most speculative of questions, and then comes the research; the questioning of the expert. I always place myself in a position of ignorance in my work. In a more traditional approach to art, the artist is always an expert.
What was the entry point for your last project: Phantom Island?
There is a book I found, "Travelers and Travel Liars" by Percy Adams which was a big source of inspiration. The book is a recollection of stories of sailors, travelers, and writers who traveled by the sea and came up with lies; they invented the fictional stories and made people believe that that was truth. They would claim they found the Northern Passage, for instance. Or, that they had seen people who did not have heads but faces in their chests. That is how I started to follow the stories of pirates.
I came across the story of British pirate, William Crowley. On the way to Galapagos, just after passing Falcon Islands, he wrote in his diary that he found an island which he called Pepys. All the islands he visited were very carefully described. For many years, sailors for guidance have used his dairies. Pepys Island is a mix of information from different islands and fiction. It is hard to tell why he came up with this story. On my last trip to Galapagos, I found out a lot about this story.
You exhibited a pebble supposedly from Lake District, the highest point of England, and it created a lot of disturbance. You almost were charged with vandalism. Did you expect this reaction? Was it intentional?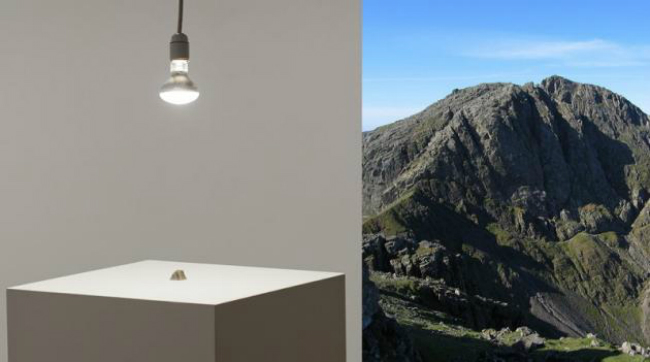 Not at all. A year before, the first version of this project happened in The Netherlands. The highest place of The Netherlands is about 280 meters high: Dutch people call it a mountain, Wikipedia calls it hill, and I would say it is more like a bump. So, a small piece of this rock was displayed, and we claimed the pebble was from there and now the country is an inch shorter. It offended no one in The Netherlands.
I made the same exhibition in London. There was nothing epic in what I did; the highest part of England is a two-hour walk to get there. I went and took a tiny stone with me. The idea was to make the country smaller by minimum action. Two days before the opening of the show, the gallery sent out a press release. Some people got upset, and this thing became larger and larger involving all the major newspapers and even BBC.
I got very scared. We received anonymous phone calls threatening to burn the gallery if they went ahead with the exhibition. The Gallery had to hire private security for the opening. Afterwards, I was requested by several sources to return the stone to the mountain. If you look at it, there is actually no proof that it is the stone where I say it came from.
Images provided  by davidoffartinitiative.com and artlyst.com
Oscar Santillan

Artist Oscar Santillan's sculptures and installations speak of a space in which fact and fiction are exchangeable; unexpected events occur and the corporeal and physical merge with the temporal and psychological.

Santillan holds a Master in Fine Arts in Sculpture from Virginia Commonwealth University and is based in The Netherlands and Ecuador. He has attended residencies at the Delfina Foundation, Jan van Eyck, Fondazione Ratti, Skowhegan, and Seven Below. His works have been exhibited at Carrillo Gil Museum of Art, Nest, STUK, Fundacion ODEON, Irish Museum of Modern Art, Poly Graphic Triennial, Southeastern Center for Contemporary Art, Copperfield, Marilia Razuk Gallery, and Oud-Rekem Castle, among others.
Art & Gourmet Cocktail

Open Studio visits & drinks at Davidoff Art Residency.

Where: Altos de Chavón
When: Friday, February 19th
Time:

5pm – 7pm

Art & Gourmet Cocktail at Dye Fore

Enjoy signature dishes presented by Peter Knogl, 3 Michelin starred Chef from Switzerland and our very own Anthony Masas, Executive Chef at Casa de Campo. Dishes are accompanied by cocktails, wine and freshly rolled Davidoff cigars.

Time:

7pm – 10pm

Cost:

US$150 per person. Number of tickets are limited.

For further information, package prices and reservations, please contact: [email protected] or Concierge here in Casa de Campo, (809) 523-3333 ext. 3165 and 3166.
Davidoff White Gourmet Night

Don't miss the opportunity to enjoy fine cuisine, drinks and Caribbean beats at Minitas Beach. Peter Knogl will take you on a culinary journey of a 5-Course Gourmet dinner, paired with exclusive wines, rum and freshly rolled cigars. During the event, you will be part of the global launch of a special Davidoff Limited Edition Cigar exclusively created for Davidoff Tour Gastronomique Weekend.

Where: Beach Club, Playa Minitas

When: Satuday, February 20th, 2016, 7pm – midnight

Cost: US$360 per person. Number of tickets are limited.

For further information, package prices and reservations, please contact: [email protected] or Concierge here in Casa de Campo, (809) 523-3333 ext. 3165 and 3166.
Gourmet Island BBQ

Enjoy an exciting catamaran trip to a secluded island "Playita Privada"  culminating in a high-end Seafood BBQ presented by Swiss 3 Michelin starred Chef Peter Knogl with amazing wines and cigars on the beach.

Where: Playita Privada

When: Sunday, February 21st, 10am– 3pm

Cost: US$190 per person. Number of tickets are limited.

For further information, package prices and reservations, please contact: [email protected] or Concierge here in Casa de Campo, (809) 523-3333 ext. 3165 and 3166.