This post is also available in: Spanish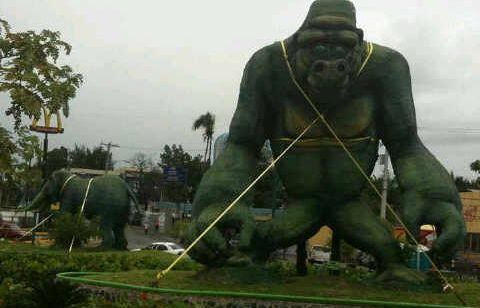 In preparation for the arrival of Tropical Storm Emily last week, the Dominican Republic prepared in many ways – by evacuating 'at risk' areas and converting the 'Palacio Nacional' into a refugee center, for example……oh and they also tied down King Kong!  
The above photo was posted on the Facebook profile of Christina Creighton, with the comment 'Operativo de prevencion…' and although it is actually rather sensible to secure King Kong, so that he doesn't fly away, the simple idea that he might actually have gotten blown away is just hilarious! Also secured is a giant green elephant (visible in the background of the photo).
This photo was taken in Santo Domingo and since Tropical Storm Emily has now passed through – I can't help but wonder 'Did King Kong survive?' Does anyone have a post-Tropical Storm Emily photo of King Kong?
Many thanks to Christina Creighton for this hilarious photo!
This article was written by Rebecca Hughes, editor of Casa de Campo Living and Casa de Campo's entertainment specialist!

Rebecca Hughes, Editorial and Events Marketing
[email protected]
TEL: 809-523-2045   CEL: 809-949-8906
BBM: 230DA5D1
Altos de Chavón, Casa de Campo

This article was produced exclusively for www.casadecampoliving.com