This post is also available in: Spanish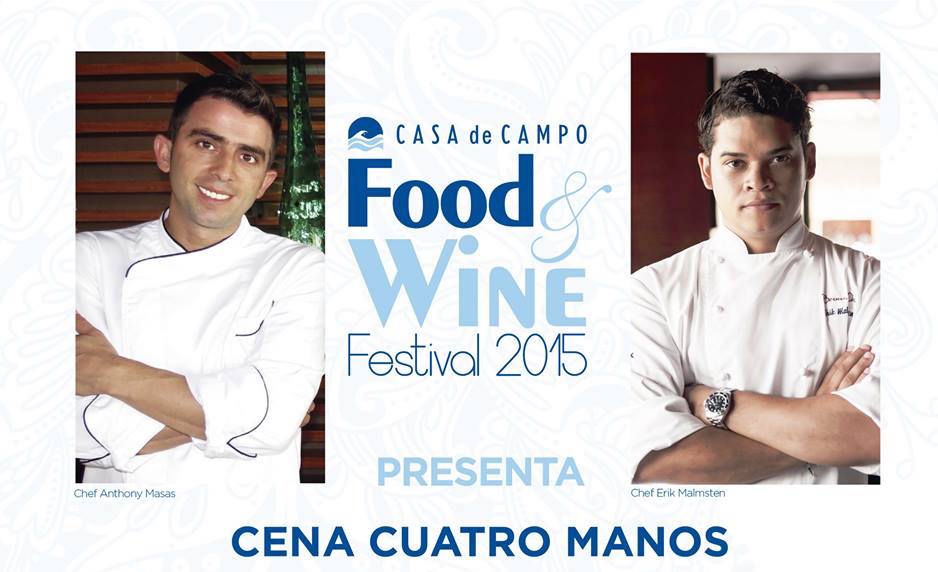 Ever since he was named Casa de Campo's new Executive Chef back in April (click here to read the full story), we have been anxiously waiting for an opportunity to try some of Chef Anthony Masas' cuisine. Our wait is finally over as we all have a date (you included!) to attend Cena Cuatro Manos (4 Hands Dinner) this coming Friday at La Piazzetta, where Chef Masas will be joined by his special guest, Chef Erik Malmsten, from O. Livia restaurant in Santo Domingo, to put forth a culinary experience that we are sure will not disappoint.

This is the first of several events that the resort is hosting leading up to the Casa de Campo Food and Wine Festival (August 21st to 23rd) and it seems that our community is as excited as we are, as 50% of the dinner reservations have already been booked!
While the menu and wine pairing has not been made public just yet, Charles Keusters, Director of Food and Beverage, let us know that "this dinner is a fantastic collaboration between our own Anthony Masas and his guest, Erik Malmsten. It is a 5 course menu that I'm really excited for everyone to try."
Charles also gave us a sneak peak of the order of the courses to get our appetites going and motivate everyone to formalize dinner reservations. The dinner will start with a cold starter by Chef Malmsten and a warm starter by Chef Masa. It will then be moving on to fish course by Erik and a lamb course by Anthony. Finally, Casa de Campo's pastry Chef will present a desert to finalize the meal.
What we like most about what Charles has shared with us about the menu is that it clearly reflects the personalities and heritage of both Chefs (Anthony Masas is a Spanish and Erik Malmsten is Swedish) while at the same time infused with this Caribbean island's tropical flare.
Anthony has been working for weeks on a main course that features sorrel; a lemon flavour and citrusy green that will pair just right with lamb. Erik on the other hand, is going back to his Nordic roots and preparing a scallop starter which will be highlighted with pickled onions, macadamia and pea purée.
We don't want to spoil all the surprises that Anthony and Erik have in store for us this Friday evening, so we encourage you to savour all these dishes yourself and then let us know your thoughts!
Finally, we know that Chef Masas has been working "behind the scenes" with Charles on some exciting changes and upgrades to the Casa de Campo dining experience and menus. While we have received some "hints" of what we can expect in the VERY near future, I will keep you in suspense for the time being as we cook up a storm with them for my the next big CCL article on Dining in Casa. All I will say is that Cena Cuatro Manos will be a preview for many big things to come and I hope to see you all there!
CENA CUATRO MANOS

Date: Friday, June 26th

Time: 8:00pm

Where: La Piazzetta Restaurant, Altos de Chavón, Casa de Campo

Price: USD$95.00+ 28% tax

For reservations: 809-523-3333 ext. 5339
About the Chefs:

Anthony Masas is a Spanish chef with ample international experience in prestigious restaurants and has been trained by renowned master chefs like Martín Berasategui, Carmen Ruscalleda and Ferrán Adriá. Erik Malmsten is Swedish and has a long track record in gastronomy, having worked in 1, 2 and 3 star Michelin restaurants in Europe and the United States. He is currently chef and partner of the Santo Domingo restaurants O.Livia, Trattoría Francesco, Brasserie Julieta and Bar La Posta.