This post is also available in: Spanish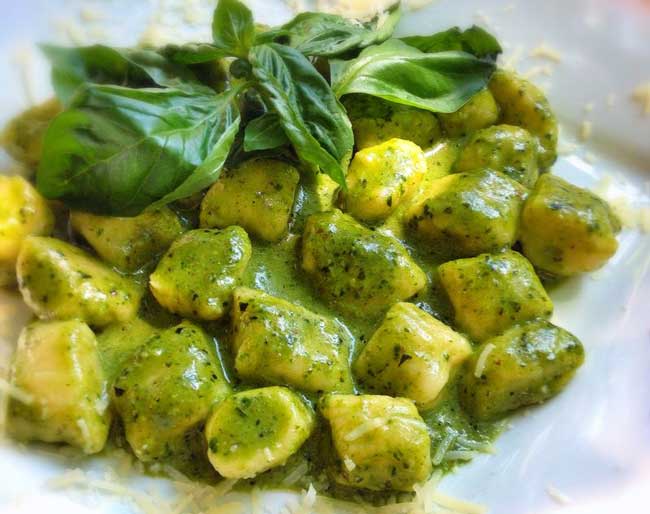 Although Lucas Restaurant has always been popular amongst Casa de Campo villa owners, I have never been a big fan… it's not that I didn't like it, it just never ranked as one of my favorites – until now.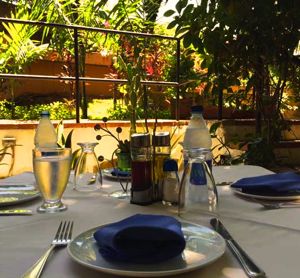 Following a recent lazy Sunday lunch, in which we over-indulged in some really very good pizza, pasta and sweet treats, Lucas is now a firm fixture in my list of favorite restaurants. In fact it was so good, I'm tempted to forget writing this article and go there now.
With a charming green garden, a relaxed family-friendly ambiance and over 14 years of history, Lucas has been attracting Casa de Campo diners for years, and for good reason. We were welcomed with a warm smile and open arms from Lucas himself.
So lets take a look at what we munched on, and you'll soon see why we have fallen in love with Lucas!
Foccacia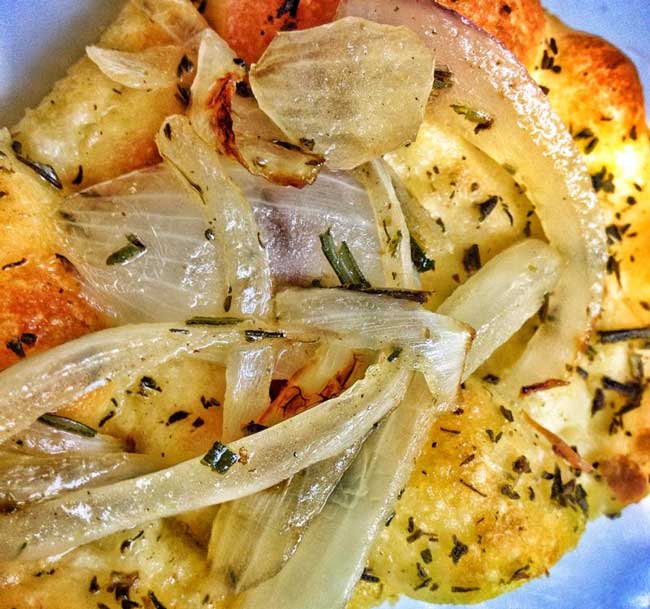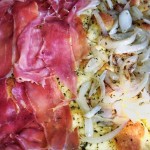 Wanting to sample as much as possible without pigging out completely, we had a focaccia, a Lucas classic, which Lucas suggested we split into 2 halves, 1 half with onions and the other half with prosciutto. Both halves were delicious. The focaccia itself was light and crispy, the perfectly pre-lude for what was to come. Meanwhile the softly roasted onions combined with a hint of rosemary were heavenly, and the proscuitto was excellent.
Octopus Carpaccio (RD$300)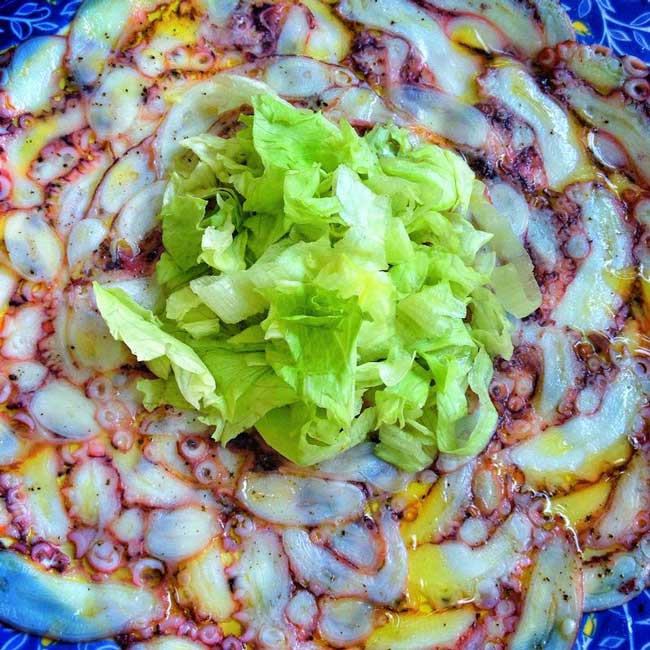 Looking distinctively like octopus, I was reluctant to try this dish – I can be a little squeamish when it comes to 'exotic' seafood. However, the ohh-ing and aww-ing coming from my dining companions, motivated me to overcome by irrational fear, and I must admit I am glad I did! Tender and delicious, the freshness of this dish, with a drizzle of extra virgin olive oil really stood out and inspired the word "awesome" from one of our fellow trusted reviewers, a sentiment we readily agree with.
Spaghetti with shrimp, zucchini and tomato (RD$450)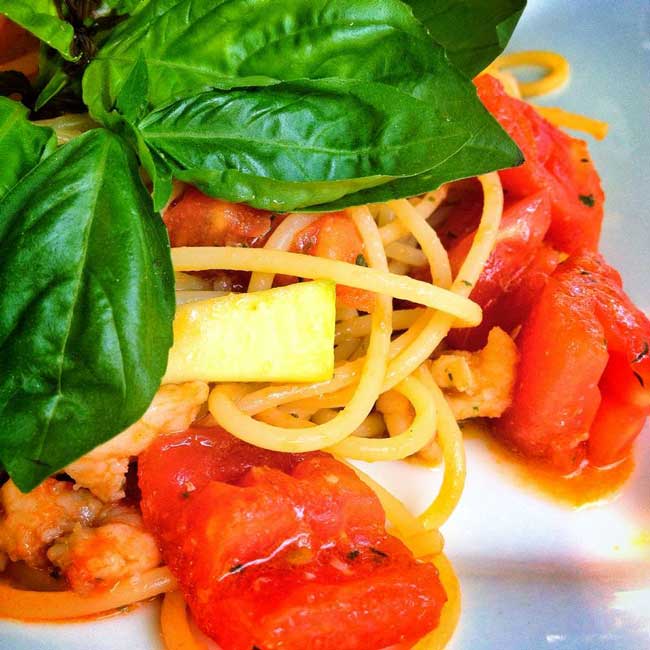 One of Lucas' most popular dishes, and we can see why. This is a simple and traditional pomodoro basilico, done exactly right with the addition of a little shimp and zucchini in a delicious medley that highlights the best flavors of each ingredient.
Ravioli with nuts (RD$350)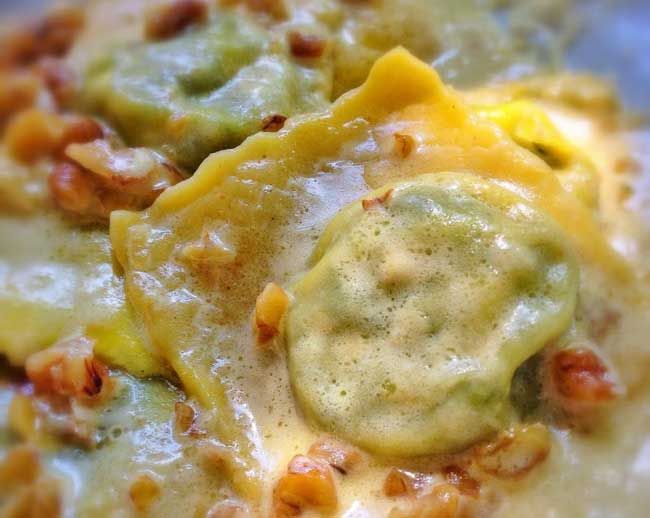 Really, really delicious. A real homemade and authentic Italian dish, made on premise with fresh ingredients, just like mamma would make if you where from Liguiria (that's in Italy!).
Gnocchi al pesto (RD$290)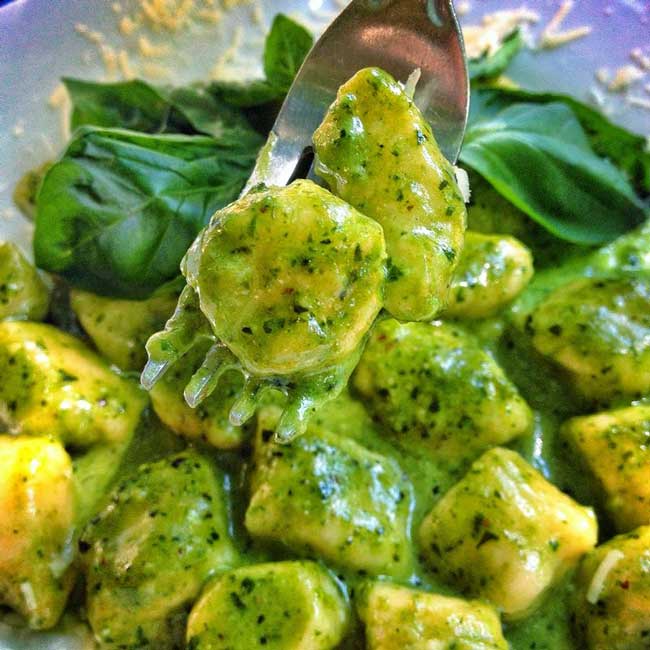 Nice and "suave" and surprisingly light, but busting with the intense flavor of fresh basil and subtle undertones of garlic. While typically we would prefer pesto with penne, the gnocchi balanced the flavors nicely.
Flan de Coco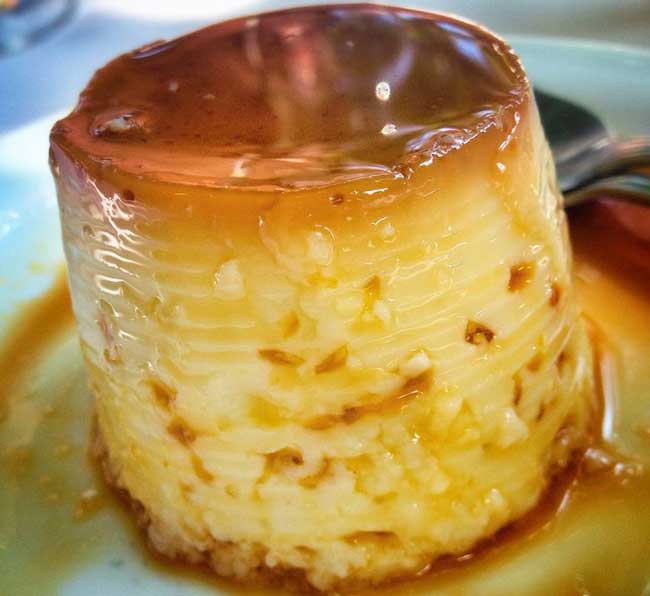 There's something about flan that means it never looks as good as it tastes. And this is certainly the case with the homemade flan of Lucas, although it looked pretty good, it tasted even more so! The coconut flavors really explode in the soft delicious custard of the flan.
Cannoli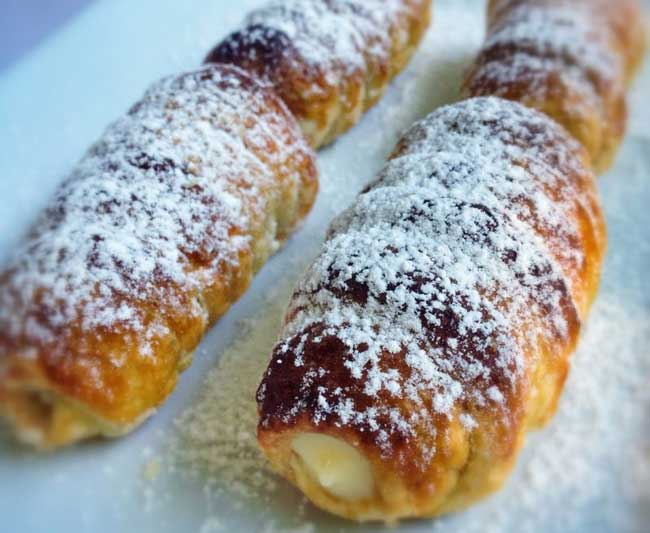 Outside of Italy, I thought the only place you could get good Cannoli was in New York… who knew we'd find this delicious crunchy-creamy treat right here in La Romana!? These little homemade beauties blended a flaky crispy crust with a sensationally sinful, yet surprisingly not-too-heavy custard-cream that will rock your taste buds.
And there you have it friends, that's 7 very tasty reasons why we've fallen in love with Lucas! We'll certainly be going back on a Sunday afternoon soon. (Although normally open only for dinner, on Sundays they open for lunch, making a late Sunday lunch at Lucas a great option!)
Lucas Restaurant

Where:

Plaza Buena Vitsa, Av. Las Robles
Buena Vista Norte, La Romana
Click on an image below to see a map:

Opening times:

Mon. – Sat., 6pm – 11pm
Sun., 11am – 11pm

Contact:

(809) 550-3401, (809) 849-3723
Photography by Lauren Llenas.