This post is also available in: Spanish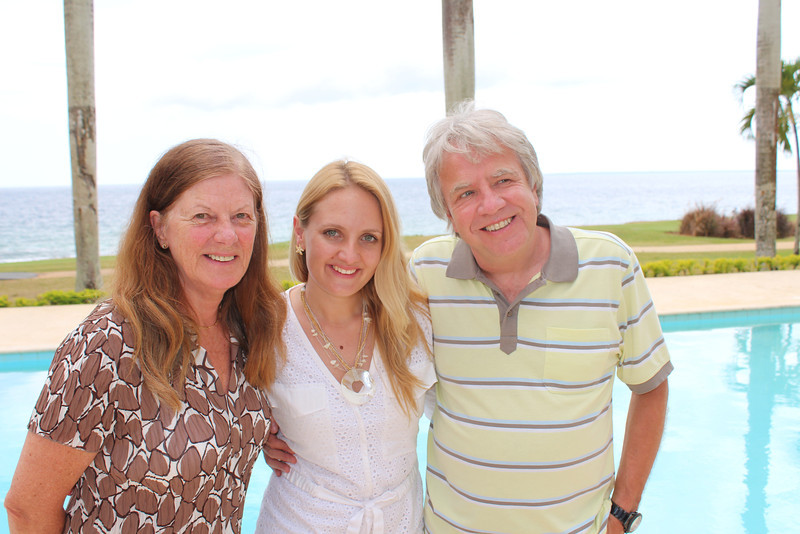 What makes your mom so special? Today in honor of mothers everywhere, we bring you tributes from our community to their wonderful mothers. 
So…What makes your mom so special?
Let me begin, Rebecca Hughes. Although we already celebrated English Mother's Day, I couldn't resist taking this opportunity to tell you what it is that makes my mum (not mom) so special.
"My mum is always looking out for my best interests, even at the risk of driving me crazy. She'll tell me what I need to hear, even if it's not what I want to hear. She'll support me in whatever I decide to too, even when that might me travelling from Mexico to Brazil (before I learnt Spanish), or moving to a country I had never visited or even heard much about (the Dominican Republic), or choosing to marry and live an ocean away from my family (date pending). I love you mum!"

Rebecca Hughes
Daughter of Vivien Hughes
& Editor at SILGON
"Married at 15 and never able to finish her formal education, my mother's commitment to providing quality education to others has been of singular importance throughout her life. In her own quiet way, my mother has touched thousands of lives, never expecting special recognition or rewards. Above all else, my mother has lovingly raised my brothers and myself and remains actively involved with our children on a daily basis. She would say that our family is her greatest achievement."

Lyanne Azqueta
Daughter of Lian Fanjul de Azqueta
& Executive Director at the Fundacion MIR

Click here to read "Lian & Lyanne, a mother-daughter team working together to make a difference", our full interview with Lyanne in tribute to her mom, Lian Fanjul de Azqueta.
"My mother is the very definition of a warrior, a characteristic which she has undoubtedly inherited from my grandparents. She embodies leadership, strength, humility and a relentless optimism that has and continues to shine every day in my life and in the lives of everyone who meets her.

Ever since I could remember I have admired my mother, she raised three (rather lively) kids on her own and at the same time managed to juggle a Cancer assistance clinic, TV shows, conferences around Latin America, a multi-national corporation, take the role of master of ceremonies countless time, be an active member of parents associations at school, lead a political campaign, radio shows, charities, non-profit organizations, baseball organizations and make it in time for every birthday, choir recital, Tae Kwon Do competition, ballet recital, science fair at school, you  name it, she was there. She managed to build a life for me, my sister and my brother where we lacked for nothing, even her company and love.

She goes above and beyond for us.. From invented bedtime story characters who made extraordinary travels and taught important life lessons, that stick with us until this day, to pretending we were Native Tainos running around the house just to convince us to drink our medicine in the form of magic potions, to sticking her head out of the car window screaming nonsense just to get us to smile, my mother's spirit is a unique jewel like no other.

To me, what makes my mother special is the amount of sacrifice she has made for my siblings and I while wearing a smile, her love for others, her altruism, her courage to stand against everything she deems unfair and wrong without flinching at the sight of those willing to take her down, her ability to be tough and soft at the same time, how she seems to take the world by storm, how she has a saying for EVERY situation I may encounter (no joke, she absolutely does!). How she has managed to be my sister, my brother and a friend, a confidant, a sign of endurance, respect, love and admiration, how she perseveres and walks lengths to achieve her goals… All of this while wearing heels! Special does not even begin to describe my mother."

Sarah MaAlmonte
Daughter of Hilda Peguero
& "currently thousands of miles away in Taiwan!"
"Her heart. All mothers love, but mine, has not only found it in her heart to love her three children, but all the other 500 she has at school. She is selfless in all acts when it comes to kids, and that is, the one thing I think that sets her apart."

Juan Geraldino
Son of Hilda Alvarez
communications and public relations manager at Saint John

Click here to read "Juan Geraldino tells us what makes his mom special", our interview with Juan in tribute to his mother, Hilda Alvarez.
Why is my mom special?? Where do I begin???? I think adding "mother" to your resume entitles you to a special reward all in itself. Accepting the duty of always putting someone else ahead yourself, agreeing to sacrifice not only sleep, time and money, but a life long commitment to guide, groom, and protect and produce a human much better than yourself, and that's just to name a few… A mother is THE SUPER HERO of all heroes and likely the best person anyone can admit they have ever met in their life. And I know I can say… I owe all my greatest achievements to MY MOM, including setting the example of just how to be an AMAZING MOM!!

Happy Mother's Day to all Mothers out there in every country, hats off to all of you for a job splendidly well done!

Jatha Knott-Polk
Daughter to an amazing MOM!
& wife of Captain Stephen Polk Jr the new Director of Aviation for the Central Romana Corporation & a new edition to our Casa de Campo community
"Her young spirit, her open mind, how intelligent and modern she is, her sense of humor even during the saddest of times. Mom is a teenager inside an adult body.

In reality if we had the money and the tools at this moment, we could conquer the world. She's an entrepreneur and fully supports her children. She does not know what giving up means."

Nicole Dickson
Daughter of Vivian Dickson-Morato
& manager of the Emilio Robba Art Studios in Altos de Chavon

Click here to read "My mother has always been by my side, I'm her #1 fan", our interview with Nicole in tribute to her mother, Vivian Dickson-Morato.
My mother, Lizzie, she's a warrior, and I've always wondered how she does it. Most women would not be able to bear being a widow twice at the age of 49. To lose the man you love, your husband is difficult enough as it is, but imagine losing the man you love twice.

The first time she became a widow she was 8 months pregnant with me and only 26 years old. Life has put her down on her knees several times, but she got up, and today, she is a mightier woman. She puts lifes trials to the test, not the other way round, and that is a trait that not everyone has been blessed with. She has known grief and sadness from a very close distance, and somehow she manages to bring sunshine into the room every single time she walks in.

My sweet grandmother Miriam is one of a kind. She's loving, giving, tender and yet so strong, even if she doesn't have a clue. She's the rock of everyone in our family, and we all hide under her wings. Everybody loves her: my friends, my closest classmates from school and college, and throughout the years I've arrived at the conclusion that she's the type of mother and grandma anybody would want to have.

Marcelle Micheli
Daughter and granddaughter to Elizabeth Micheli & Miriam Pablo de Micheli
& paralegal at Headrick Rizik Álvarez & Fernández

Click here to read "My moms – my mother & my grandmother", our interview with Marcelle Micheli in tribute to her mother and grandmother.