This post is also available in: Spanish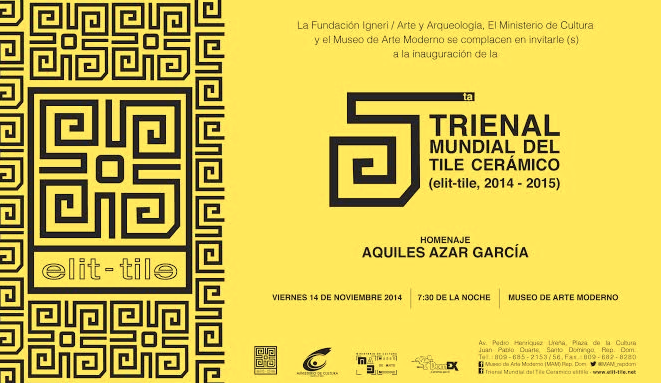 Join us to visit the Fifth Ceramic Tile Triennial organized by renowned ceramist Thimo Pimentel, President of the Igneri Foundation, with the participation of artists from over 110 countries. On display from November 14 at the Museum of Modern Art, Santo Domingo.
And the Altos de Chavón Archaeological Museum invites you on a road trip to go see the show! On Saturday November 29th the Archaeological Museum is organizing a trip to go see this spectacular exhibition. The price of just RD$1,500 includes a light lunch, the bus and the entry to the Fifth Ceramic Tile Triennial. So, if you are interested register now!
Back in December 2012, shortly before the grand Christmas inauguration in the Altos de Chavón plaza, the Altos de Chavón Regional Museum of Archaeology celebrated the "Long Night of the Museum", organized by the Dominican Ministry of Culture, with the well known artist, Thimo Pimentel, who presented an interesting conference called "Stealth Art" to a captived Casa de Campo audience. And guess what?! He's coming back with more innovative art that will blow our minds!
Fifth Ceramic Tile Triennial

Date: Saturday November 29, 2014

Departure Time: 8:00 a.m.

Arrival Time to CDC: 5:00 p.m.

Price: RD$1,500.00 (light lunch included)

R.S.V.P.: 809.523.8554