This post is also available in: Spanish
For some time now, Casa de Campo residents have implored the use of better, more environmentally friendly transportation for employees and service vehicles. Today, Costasur is happy to reveal they've complied! As part of a stream of new initiatives – which includes the recently enhanced roadside lighting – to take the resort into the 21st century with improved technology and sustainability, Costasur launches 10 buses that run completely on 100% Compressed Natural Gas!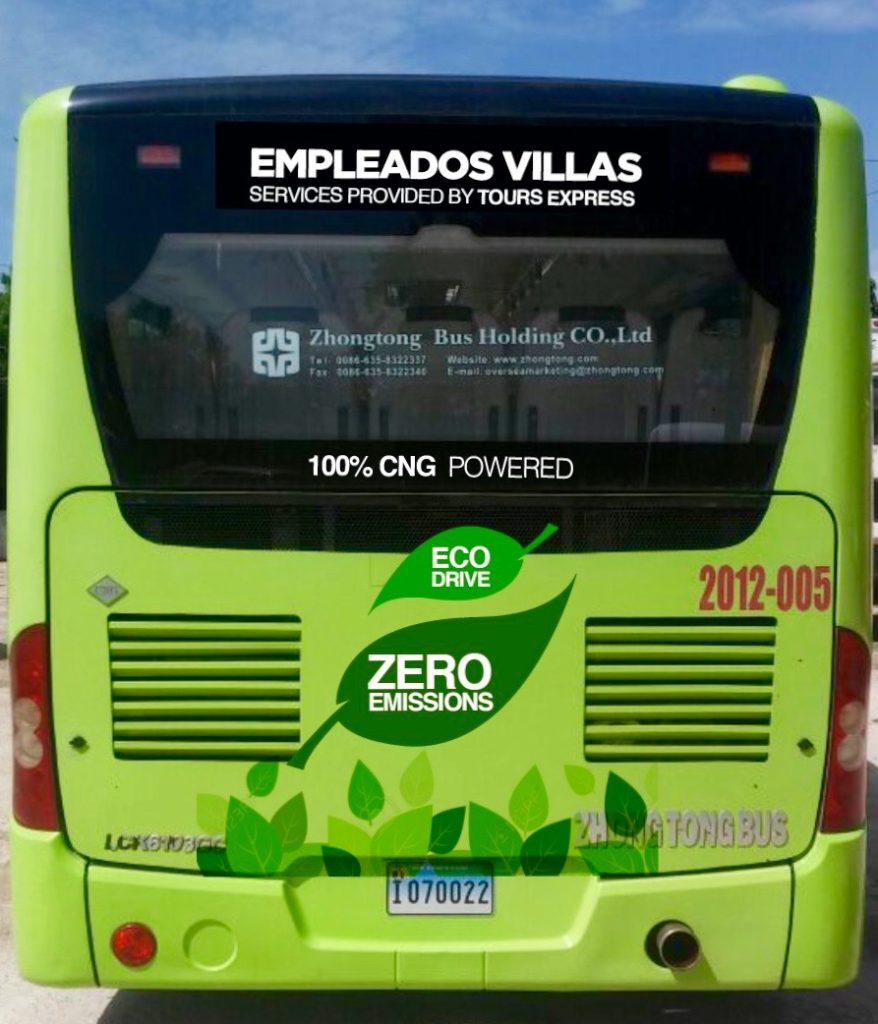 What is Compressed Natural Gas (CNG)?
Odorless, colorless, and tasteless, GNC is mainly composed of compressed methane that is an eco-friendly alternative to diesel, which the buses had been running on.
Benefits of CNG
– Cleanest burning alternative transportation fuel on market, improves local air quality and reduces greenhouse gases
– Methane is lighter than air and burns almost completely
– Natural gas rises and disperses quickly, so in the event of a leak or emergency venting, surrounding ecosystems and water systems are not threatened
– CNG buses have greater savings in fuel and maintenance costs
As Costasur migrates to clean fuel with their employee transportation, they project to do the same with service vehicles. Diesel buses are still providing services to the Marina but they are working on phasing those out. Step 1 is for villa employee transportation. Currently running 10, 60-passenger buses, these new vehicles are going to make a huge difference on our roads. With a reduction in Nitrogen oxides (NOx) and Carbon dioxide (CO2), they won't be dispensing the nasty smog and pollutants that lead to greenhouse gases. Runners, walkers, motorcyclists and bicyclists especially will appreciate this type of cleaner, non-toxic alternative fuel when passed on the roads. Employees will be happier too, as these upgraded and more comfortable buses even have air-conditioning!
On the subject of sustainability throughout the resort, Juan Velázquez, Administrative Vice-President of Costasur, says: "We're moving in that direction at a pace we feel comfortable with because we've had a lot to change. We took a step in the right direction with lead lighting, and now are providing the new buses for employees." They will eventually explore solar power for the golf carts and the implementation of a proper recycling program. Only good things are to come for Casa de Campo whose developers have a sharp and eco-friendly eye on the future!