This post is also available in: Spanish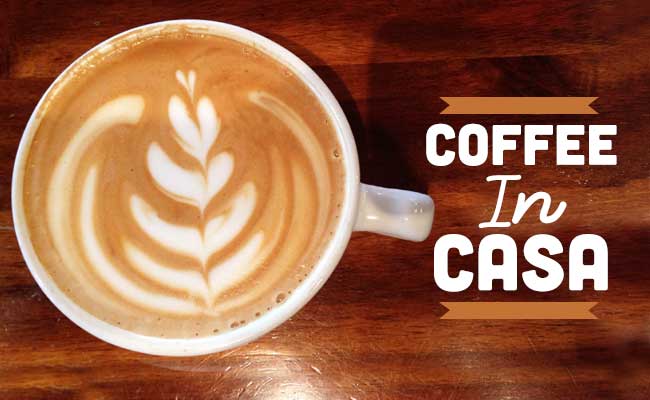 There is something about a great cup of coffee that makes you think happy thought and brightens your day.
Although some people need their cup of coffee to set the mood for the day or just to get them going, that's not really why I'm a coffee drinker. For me coffee is fuel for the soul… the perfect cortadito, in a comfy chair, with some nice background music and a great view, now THAT is the perfect cup of coffee for me. Given that there are no shortage of great views and comfy chairs in Casa de Campo, I went out on a mission to find the Perfect Cup of Coffee in Casa.
I took this job very seriously, designed a personal ranking system, made a list of places I wanted to visit and standardized my evaluation process. I would evaluate a single cortadito, with a sleeve of brown sugar and nothings else. Simple enough, right!? Well not so much! I discovered that there were too many places I needed to visit, and too many factors that needed to be taken into account based on my definition of "perfect" (like comfy chairs, music and views!). Also I realized that everyone's definition of "the perfect cup" is different and that it would only be fair to give you, our readers, the chance to decide for yourselves what you consider to be the "perfect cup". Considering all of that, halfway through my investigation I decided to forego my ranking system and dedicate this article to telling you about my experience with each and every cup.
Given that Casa de Campo has WAY too many places where you can have a nice cup of coffee, in this article I review the first set of "coffee spots"  and promise to continue visiting additional places where coffee is served.
La Cantina
La Cantina's cortadito is so good I have it almost every day! (It helps that it's just a few steps away from SILGON's offices) Seriously, I have a "coffee debit" account there… I like it THAT much. The Italian espresso they serve is fantastic and the view to Church San Estanislao and the Chavón River makes it that much better. La Cantina also has an indoor dining area with air conditioner, which is great option for relaxing or getting work done during a hot summer day, while enjoying your cup of coffee.
Fresh Fresh Chavón
If you are into traditional Dominican coffee, Fresh Fresh Chavón is the coffee spot for you. They brew regular coffee and espressos. Being the "healthy dining" restaurant in Casa and considering that their menu has plenty of vegetarian and vegan options, Fresh Fresh is also the only spot where I have found almond and soy milk for my cortadito (please let me know if you have spotted these options elsewhere). On any given weekend morning you will find fellow Coffee Lovers enjoying a cup over brunch or just while chatting with friends.
La Caña by Il Circo
La Caña by Il Circo, located by the hotel main lobby, is a perfect spot for treating a client or colleague for coffee over an informal business meeting at the terrace or by the bar. Not only does La Caña have a coffee menu with a wide variety of coffee drink options, it also serves Nespresso coffee which is always wonderful. In addition to looking for great taste, I'm also a sucker for a well presented cup of coffee, and La Caña most certainly does that right. You get three cute and tiny cookies served by your cup, which just makes me happy inside. For a casual business meeting or an afternoon "pick me up", La Caña is the spot you would visit if you want a well crafted cup of coffee. (Tea Lovers out there: you should know that the tea selection and presentation is great at La Caña as well!)
La Casita Marina
As the sun sets and the breeze starts to flow a little stronger, the colors of the ocean water at the Marina are light up by the warm light at La Casita. You sip your coffee on the edge of the restaurant's wooden dock while listening to some jazz playing in the background and watch the boats coming in from a day of fishing…
When I mentioned that coffee for me was about "food for the soul", THIS is what I was talking about. Don't get me wrong, coffee at La Casita is full of flavor and prepared well each and every time, but the ambiance makes it that much better. Start off with a cortadito and entrees to share to then move onto wine… or just stick with more coffee! Either way, coffee at La Casita won't disappoint.
So there you have it Casa Ladies and Gents…my first set of reviews for Coffee in Casa. If you were wondering who's account @mycafecito belongs to, that would be MOI! Please join me on our mission to find Casa de Campo's perfect cup of coffee by using #CoffeeinCasa and #cdcliving on social media so we can track our coffee adventures together. Hey, maybe you can be featured on our next Coffee in Casa article!