This post is also available in: Spanish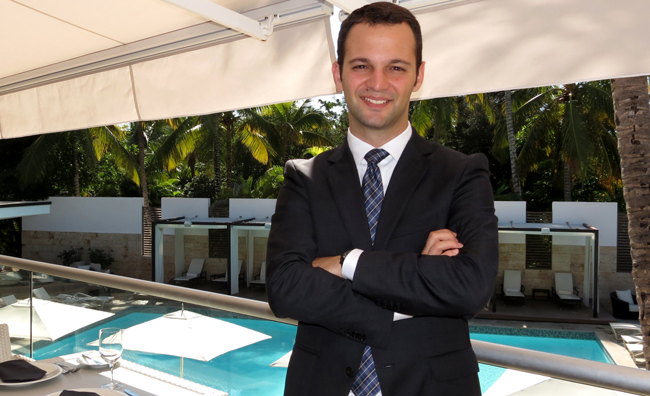 Meet Charles Keusters, an ambitious professional, who as the newly appointed Director of Food & Beverages for the Casa de Campo resort, aims to revolutionize the culinary offering of Casa de Campo.
Having only been in position just a few weeks (and at the busiest time of year!), Charles told Casa de Campo Living that he aims to turn Casa de Campo into a culinary destination "to give Casa de Campo villa owners, residents and visitors an experience they cannot find anywhere else". And that my friends is very exciting! After all, in the world-class resort of Casa de Campo, should we not also enjoy a world-class culinary experience?
Excited to find out what Charles Keusters has in store for our palates, Casa de Campo Living grabbed a few moments of his time for a quick interview.
@cdcliving: After studying economics, why did you decide to go into the hospitality business, specifically the Food and Beverage Department?
After graduating from Haverford College, a small liberal arts college in the suburbs of Philadelphia, I landed a consulting job in New York City doing antitrust and intellectual property litigation. It was an extremely enriching professional experience and I got to live out my dream of living in the City. After a while though, I started realizing that my job wasn't exactly very fulfilling on a personal level. I was looking for an opportunity to work in an industry where there would be much more personal interaction and an emphasis on customer service, but at the same time where my analytical background would still be relevant. After two years in New York, I quit my job and went to Marbella, Spain, to get a Post-Graduate Degree in Hospitality Management where I really enjoyed everything that had to do with Food & Beverage. After I was done with school, I got an internship in Madrid working at the ME Madrid in Plaza Santa Ana, and the rest is history…
@cdcliving: How did you come to be working as Director of F & B in Casa de Campo?
For the past 2 years, I have been working with Mr. Rafael Torres [now president of the Casa de Campo resort] at Paradisus Resorts in Punta Cana. Soon after he was appointed as President of Casa de Campo and head of the Division of Hotel and Business, we got talking about his ambitious plans for the resort and its future development projects. He offered me the opportunity to come on board as F&B Director and I decided to take this next step in my professional career.
@cdcliving: What is your main responsibility as Director of Food and Beverage at Casa de Campo?
Asides from coordinating and overseeing all operational aspects of the department, together with my team, we will be working hard at creating memorable experiences for all members of the Casa de Campo community through all the services we put at their disposal.
@cdcliving: What has been your first impression of the Casa de Campo Hotel?
Not to sound cliché, but you immediately sense how unique of a place Casa de Campo is. The grounds and facilities are breathtaking, the team that I get to work with on a daily basis is incredible, the community of villa owners that call Casa de Campo home is special… Everything about it just has an aura that draws you in and transmits a sense of magnitude.
@cdcliving: How do you intend to innovate in the Department of Food and Beverage of CDC, in order to make the culinary experience of guests more diverse and exotic?
Together with Mr. Rafael Torres and Mr. Daniel Hernandez [general manger of the Casa de Campo Hotel], we are already looking at what type of changes we can implement to make the culinary experience here at Casa de Campo more contemporary. These changes range from ambitious projects regarding new restaurants to more straight-forward things such as menus and presentations. The key factor here will be that the Casa de Campo community will be one of our main guides throughout this entire process, we need to create services based on their needs and expectations.
@cdcliving: What qualities do you consider should be an essential part of the Department of Food and Beverage to provide the best dining experience?
We need to be attuned to what our clients are asking for, we need to surprise them with creative ideas and concepts, we need to be fair and sell our services at the right price, and we need to be vibrant and dynamic, continuously offering our clients a reason to come back.