This post is also available in: Spanish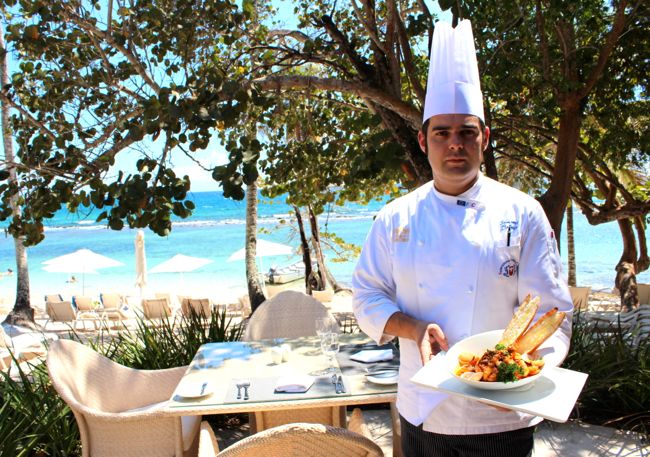 It is with very excited tastebuds that we announce the arrival of Chef Simone Delpin, Casa de Campo's new chef at the Beach Club by Le Cirque and La Caña by Il Circo.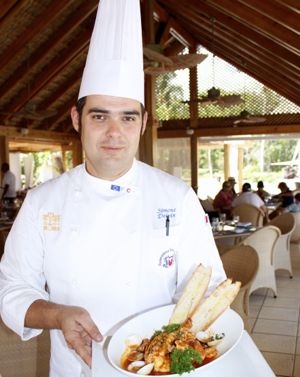 From the quaint Italian town of Pescia in Tuscany, Chef Simone Delpin arrived in Casa de Campo just 1 month ago and has already been impressing us with his specialities!
On a recent visit to the Beach Club by Le Cirque, Philip Silvestri and I, joined by my parents who were here on vacations, enjoyed first hand the delights of the Chef Simone's fine cuisine.
Confessing that he loves to prepare seafood dishes, Chef Simone Delpin suggested a special seafood soup, and Philip simply could not resist… and Simone delivered on both taste and presentation, the seafood soup was spectacular! I, on the other hand, tucked into a seabass poupiette, and it was perfect – simple, beautifully presented and most important of all, delicious.
Seabass poupiette by Chef Simone Delpin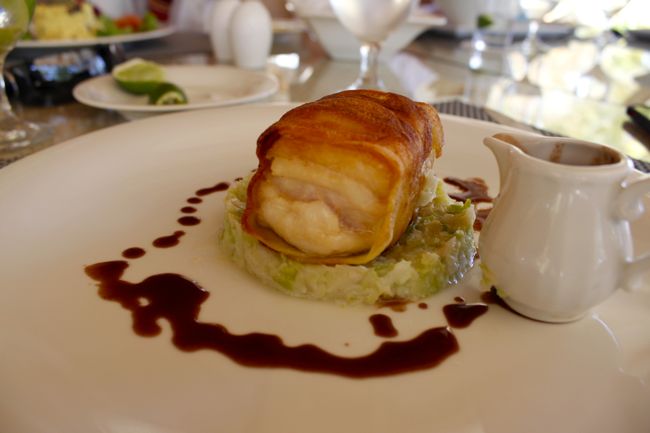 While Chef Simone Delpin has only just arrived in Casa de Campo, he is already dreaming up delicious new specials to delight us with at the Beach Club by Le Cirque and La Caña by Il Circo, "I would like to make a fusion between traditional Tuscany kitchen delicacies and Caribbean specialities", he told Casa de Campo Living.
Having worked at another Leading Hotel of the World, the Grand Hotel La Pace in Montecatini Terme, Italy, there can be no doubt that we can expect great and very tasty things from Chef Simone Delpin. Welcome!  
Here is a little gallery of pics taken during our lunch at the Beach Club by Le Cirque… be warned – this album may make you hungry! 
[Note: The seafood soup did contain lobster, but it was imported Maine lobster. Remember there is currently a ban on fishing and eating Caribbean spiny lobster, so if you are unsure about what lobster is being served – please ask, it is everyones responsibility to respect this ban. Click here to read more about the lobster ban.]