This post is also available in: Spanish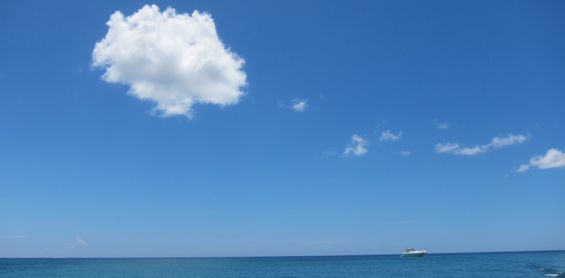 This week's "Casa de Campo Photo of the Week" is simple and beautiful, which is why I called it "Simple Beauty."
The photo, once again by my favorite amateur photographer, Philip Silvestri was taken on a boat trip out of the Marina Casa de Campo – which Philip dared to go on without me! Can you imagine!? Fortunately, however it turned out to be a rather low-key trip (as far as I know) during which Philip spent most of his time taking beautiful photos like the ones above and below!
From the Marina Casa de Campo it is possible to journey out into the Caribbean sea to some really beautiful destinations:
Palmilla – Casa de Campo's favorite nautical party place!
Palmilla is a natural swimming pool or sandbank, maybe 300m from the shoreline. The water can be waist-deep or deeper depending on where you 'park' your boat. Palmilla has been a popular 'party' spot for many, many years and on long-weekends and New Years Eve attracts hundreds of party boats, complete with DJ's and plenty of champagne swigging! Palmilla is also home to starfish – which are now becoming a rare sight, if you see one do NOT take it out of the water, as this will kill it.
To get to Palmilla you come out of the Marina Casa de Camp, turn left and drive along the coastline for about 30mins until you find other boats 'parked.' Sorry I have no nautical directions!
Click HERE for photos of Palmilla during New Year's Eve! 
Partying at Palmilla, New Years Eve 2010


Isla Catalina
Isla Catalina is the more "family friendly" option for a boat trip out of the Marina Casa de Campo. At Isla Catalina you can go snorkeling and actually get out of your boat and swim to the beach, here the atmosphere is in general much more "relax" rather than "party."
Click HERE for photos of a boat trip to Isla Catalina! 
Cadaques 
A fantastic family destination with beach, pool, pizza restaurant, water games in the sea and even a small water park! You can dock your boat nearby and either swim in or get a tender to collect you.
Click HERE to read more about Cadaques 
The Cadaques Family Resort near Dominicus / Bayahibe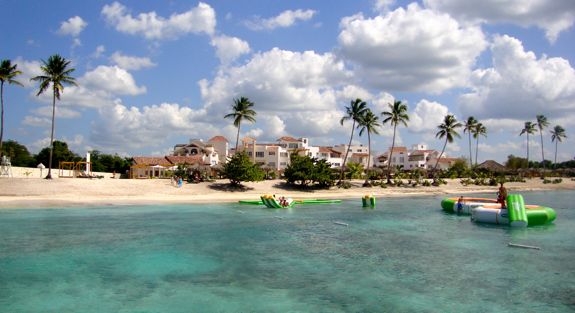 Tracadero 
A more "adult" destination with a really fantastic restaurant, upscale lounging and swimming options – essentially a club of sorts. Worth a visit.
Click HERE to read more about Tracadero! 
This article was written by Rebecca Hughes, editor of Casa de Campo Living and Casa de Campo's entertainment specialist!

Rebecca Hughes, Editorial and Events Marketing
[email protected]
TEL: 809-523-2045   CEL: 809-949-8906
BBM: 230DA5D1
Altos de Chavón, Casa de Campo

This article was produced exclusively for www.casadecampoliving.com