This post is also available in: Spanish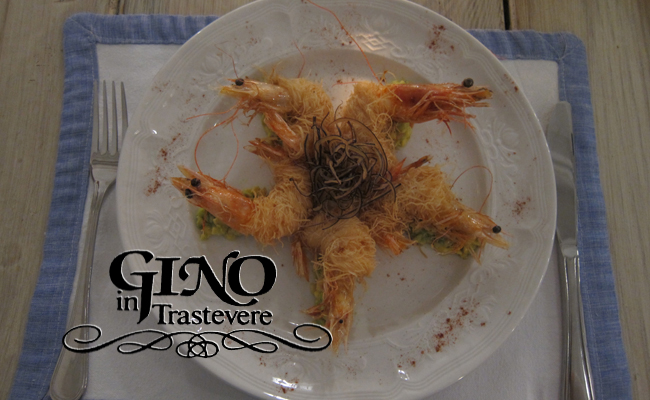 Since it opened in February 2011, Gino in Trastevere has elevated itself to being heralded as one of Casa de Campo's best restaurants, and as one of Casa de Campo Living's favorite places to dine, we thought it was about time we did a full review on Gino's to let you know just how great it really is!
As our appreciation of Gino in Trastevere restaurant extends beyond just "the food is good", we've divided this rather long and comprehensive article into sections to more accurately describe the Gino's dining experience, these sections are; restaurant overview, ambience, service, menu and the food! Enjoy!
Gino in Trastevere: Restaurant Overview

Gino in Trastevere is an authentic Italian restaurant located in Altos de Chavón, located on a lofty terrace with a panoramic view of the Chavón River and the famous Dye Fore golf course.

Gino in Trastevere Opening Times – Gino's is currently CLOSED
Friday – Monday : 12pm -11:30pm
Tuesday and Thursday: 5pm – 11:30pm
Wednesday: Closed

Reservations: 809-951-1825, [email protected]
Ambience

With it's rustic decor and pale blue and white color theme, I think the best word to describe the ambience at Gino's is "relaxed." It's the perfect place to enjoy a celebratory meal, such as a birthday or anniversary, but is also casual enough to be an ideal place to enjoy a pizza after a round of golf on the Dye Fore or even a family dinner.

The outside terrace, with the view over the Chavón river is a beautiful spot for a pre-dinner drink or a nice casual area to enjoy a really laid-back lunch!

There is no formal dress code, but typically you will find diners dressed "casual-chic", but warm – located in Altos de Chavón, the evening breeze can be rather refreshing, even in this Caribbean climate!
Service

Christine, an experienced sommelier from France is not only the manager of Gino's, but also the hostess, who personally takes all the food orders – a nice touch which allows you to take advantage of her experience for wine and food recommendations. The waiting staff at Gino's are in my opinion some of the most friendly, polite and efficient in Casa de Campo, so although they may make a mistake from time to time, they will do their best to ensure your experience at Gino's is a great one.
 The Menu

As Gino's has taken the old space of legendary pizza restaurant "Café del Sol", it is a common misconception that Gino's is just a "pizza place" – which is not so! Although Gino's does serve fantastic, traditional, thin and crispy pizzas with a variety of toppings cooked in their stone oven, Gino's also serves a wide variety of traditional Italian cuisine.

Items which can be enjoyed as appetizers or as side dishes are the "Antipasti", such as Melon with Palma ham and Cacio e Pere (cheese and pear salad with honey), "I Fritti", such as Suppli, which are rice croquetas stuffed with cheese and meat, as well as classics like fried mozzarella, and finally "Le Insalate", selection of salads, including the "Gino" which is served inside a pizza base bowl.

For the less adventurous, and/or lovers of pizza/pasta, Gino's offers a selection of 11 pasta dishes and 16 pizzas, all of which are prepared with traditional Italian recipes and methods, making these dishes without a doubt the most authentically Italian in all of Casa de Campo and quiet possibly the Dominican Republic.

And then there is the "I Secondi" a selection of seafood and meat dishes, each one prepared using traditional Italian recipes and very popular among Casa de Campo diners (especially the Italians and French!) In addition to the seafood dishes on the menu, there are always 1 or 2 seafood specials, which come highly recommended by Chef Claudio!

Click on the links below to view the complete menu:



The Food
Over the last few months, we Casa de Campo Living have enjoyed dining at Gino's various times and although we like to return to our favorite lunch of Greek Salad with a pizza, we have tried a variety of different dishes. Sadly we cannot yet bring you a review of all the dishes, here is an overview of our experiences so far:
 Foccacia: Complimentary

Served with the compliments of the house to enjoy as you peruse the menu and enjoy your first drink, the foccacia is served with a rosemary infused olive oil and is light and crispy.
Greek Salad: RD$380

Another one of our favorite Gino's dishes, we order the Greek salad nearly every time we eat there. Why? Because its healthy and delicious. The onions are flash boiled so that they are slightly soft and more sweet than raw onion and the way all the veggies are served in strips makes it so much more appetizing.
Assorted mixed fried vegetables: RD$350

Part of the "I Fritti" (fried foods) selection, the fried vegetables (peppers, zucchini and sweet potato) are not one of the healthiest items on the menu but they do taste good!
Gamberi in Pasta Kataifi: RD$490    

I personally have a bit of a fear of seafood, especially seafood with eyes/legs/head – however, despite my initial reaction to this dish I was persuaded to give it a try and loved it! The 'meaty' part of the shrimp is wrapped and fried in a really light and fine pastry which is just delicious and when eaten with the guacamole is fantastic. Highly recommended!
Pulpo Borracho: RD$420

"Delicious, tender, delicious, and just a little borracho" — Philip Silvestri.

As I was too squeamish to try the octopus (tragic I know), I've had to rely on this quote from Philip to convey this dish, what I can say however is that the "pulpo borracho" is one of Gino's most popular dishes, every time we go we see someone eating it – so it must be really good!
Lasagne Romana (pasta fresca): RD$400

A wonderfully saucy, classic and comforting lasagne! With a generous quantity of rich tomato and meat sauce and layers of al dente sheet pasta, topped with melted mozzarella cheese, this lasagne is delicious and indulgent!
 Bucatini all'Amatriciana: RD$420

Without a doubt one of our all-time favorite dishes at Gino's! The fresh pasta is thick and always al dente, the flavor is fantastic and we love the crispy bacon pieces.
Pizza "Peperoni": RD$360

To many a "pepperoni" pizza is covered with pepperoni meat, but in Italian a "peperoni" pizza is actually much healthier and arguably much more tasty….simply topped with roasted bell peppers and mozzarella, a great option for vegetarians!
Pizza "Gino": RD$420

This is a wonderful twist on the traditional cheese and tomato "margarita" pizza. Topped with mozzarella cheese and sweet cherry tomatoes and finished with a generous serving of fresh basil – it's simple and very fresh tasting.
Pizza "Capricciosa" RD$:400

With 4 toppings; eggs, artichokes, palma ham and olives, the "Capricciosa" pizza is one of Gino's most varied pizzas and because of it's "sectioned" layout each slice tastes completely different – fantastic if you plan on eating it all on your own, but if you plan on sharing, you may end up fighting for the pieces with the palma ham!
"Torta di Gino", chocolate souffle: RD$310

Delicious! Slightly crispy on the outside, soft, warm and runny on the inside! As I eagerly cut into this desert the sticky, chocolatey, goey-yumminess oozed out and combined with the melting ice cream. Heavenly.
Gino's take-away!

Gino's offer a take-away service on pizza! Because they do not (yet) offer a delivery service, the best way to order is to just go to the restaurant and make your order, the pizza oven cooks the pizzas so quickly your pizza(s) will be ready by the time you finish paying the bill – trust me I've done it lots of times!