This post is also available in: Spanish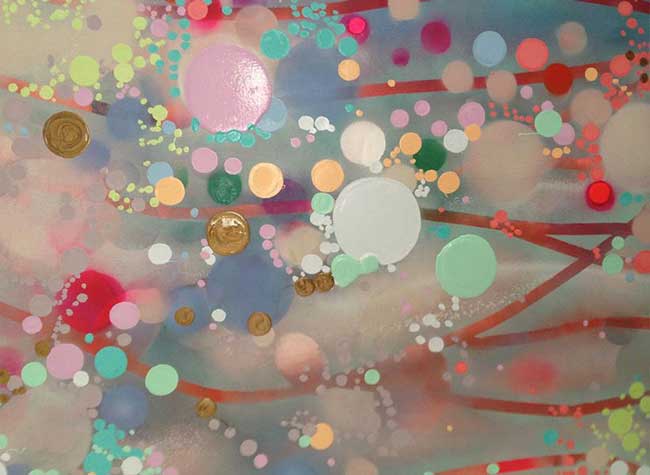 Casa de Campo based artist, America Olivo, is tomorrow, Thursday the 14th of November, celebrating the opening of her new art exhibit "skin deep" at Novo-Centro in Santo Domingo. 
America, whose art studio is right here in the Vista de los Altos neighborhood of Altos de Chavón, is the artist who created the beautifully unusual piece named "Ciclos" which brightens the concierge area of the Casa de Campo hotel. America also has a large mural piece "Oleaje" hung in the Casa de Campo Flamboyan conference center. Works of art by America Olivo can also be found proudly displayed in private collections across the Dominican Republic and the world.
We also recently enjoyed the artworks of America at the 'Woman in Love: Mujer Enamorada' art exhibit hosted at The Gallery in Altos de Chavón in April 2011 – click here for photos. 
"Skin Deep is about the duality of body and soul, flesh and spirit. It's about the material and the search for the transcendent. Art is my language, my means of expression. I am inspired by the strength, ideals, goals, intangible things we long to get to be happy and lead a fulfilling life. Skin Deep is a look at the deeper, spiritual, peace…"

— America Olivo
After studying fine art and illustration at the Altos de Chavón School of Art and Design, America continued her studies at Massachusets College of Art in Boston, and as she told Casa de Campo Living "continues learning every single day". The opening of this new exhibit "Skin Deep" is just another step along that road of growth and learning.
Art exhibit "Skin Deep" 

When: Open from the 5th to the 30th of November 2013

Where: 1st floor of Novo-Centro, Santo Domingo

Opening celebration:  Thursday Nov. 14th, 6pm

Contact: (809) 858-4523, [email protected]