This post is also available in: Spanish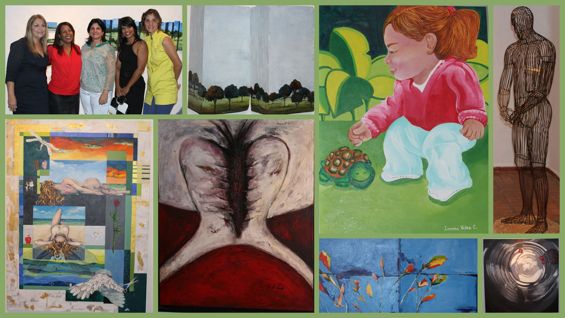 On Thursday the 24th of March, Altos de Chavón celebrated the opening of art exhibit 'Mujer Enamorada' with artwork from 7 Dominican ladies, mothers and artists. Here we bring you more photos of the opening as well as the artwork, with photos kindly contributed by one of the exhibiting artists, América Olivo. 
The 7 exhibiting artists are: Ónice Mejía, América Olivo, Olivette Santoni, Miguelina Rivera, Sara Martínez, Rafaela Luna and Ivonne Vélez Cordero.
The exhibit is a collection of art works, which attempt to answer the question 'What do women want', the answer? 'Nothing, but love.' With this art collection 'Mujer Enamorada' (woman in love), the 7 artists show us their interpretation of love……a very interesting topic, which made for a ver interesting exhibit as you will see here…
América Olivo
América, who lives in Casa de Campo and works in an artists studio in Altos de Chavón, ran her own art gallery in La Marina Casa de Campo for five years and is president of America Olivo SA creators of art and design products.In this exhibit América displays an interesting collection of paintings and sculptures. América's wax art work can also be seen on display in the Casa de Campo Hotel Reception.



Rafaela Luna
Rafaela, has taken part in many national and international exhibits and in this exhibit presents some striking paintings of the female form as well as some more 'tranquil' images of nature. Rafaela also uses her artistic talents to illustrate books.




Sara Martínez
Sara's most recent solo exhibition was presented at the Global Foundation for Democracy Development and FUNGLODE in 2006 under the name Dancing Alone. In this exhibit she presents some beautiful portraits with flowers and hearts.



Miguelina Rivera
Miguelina, a Dominican lady who lives and works in France presented a collection of artworks focused on birds, with 2 striking metal bird cages in the shape of a pregnant lady and the other a strapping man, whilst her abstract paintings incorporated the images of birds.




Olivette Santoni
Olivette (otherwise known as Malele to her friends) has participated in over 20 exhibits and is a partner in Events x 3, a company, which specializes in event planning, design and development of floral arrangements. In this exhibit Olivette displays a fascinating collection of intricate sketches.






Ivonne Vélez Cordero
Ivonne is the Director of the Early Horizons Preschool School in La Romana, where she is also a teacher. Her love of teaching and children is clearly reflected in her artwork as she not only choose to feature children as the subject of her paintings but paints in a broad, colorful and playful way, which is both striking and interesting.
Ónice Mejía
Onice was born and raised in La Romana, has been nominated twice for the National Award for Youth and the vast majority of the work produced by this young artist is in private collections in Spain, Puerto Rico, Costa Rica, Peru, Miami, New Jersey, Paris, Spain and Iceland. Here she presents an intriguing 3D portrayal of the Dominican countryside.



Now that you've seen the artists work, here are a few extra photos from the opening night, to see even more photos from opening night click on the link below:
The Inauguration of new art exhibit 'Mujer Enamorada!'
This exhibit is open and on display ever day in the Altos de Chavón art gallery from 9am to 6pm (except Tuesdays, when it is closed) and will remain open until April the 25th.
After this exhibit we have another exhibit being presented by the artists in residence of the Altos de Chavón School of Art and Design, including artwork from artist Alex Lumsden.
To read a little more about our favorite artists in residence, Alex, click here.