This post is also available in: Spanish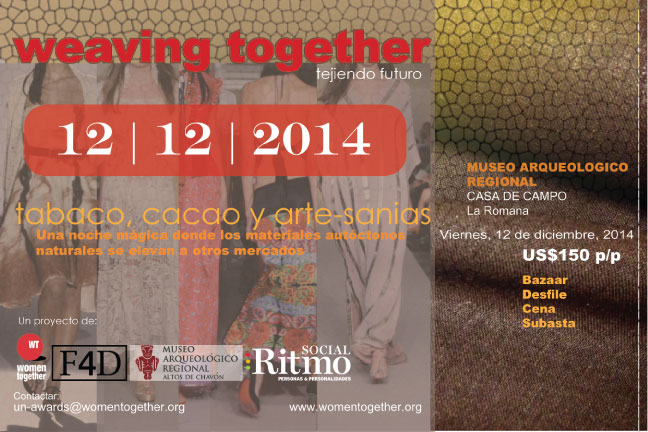 Next Friday December 12th, the foundation "Women Together" and the Regional Altos de Chavón Regional Museum invite you to a gala event, a dinner that will contribute to improving the lives of women who work hard to develop beautiful handiwork, while making a better life for themselves and their families.

The charitable foundation "Women Together" works with the UN to eradicate poverty – by developing and promoting local arts and crafts in developing countries, essentially training local artists to effectively market their products and help them have a bigger audience. Their sponsorship program is secured entirely by donations, providing an opportunity for artists to reach their highest potential. This event not only raise money, but is also an opportunity to showcase the valuable work done by these valuable women.

This event is a presentation of a collection of women garments inspired by the tobacco; on the textures and colors of this organic material. The shape of the tobacco, is recreated by the Dominican designer Sissy Bermudez through simple silhouettes worked in cotton and tight and conventional garments. In addition a collection of accessories manufactured by Dominican artisans using tobacco, cocoa and other natural materials form principal elements of the fashion on show during the event/
As guest country at the celebration, Colombia with the WEAVING WAYUU collection, will present a line of craft products made by Wayuu weavers in coordination with the Women Together project in that country.
Thanks to the Altos de Chavón Regional Museum and participation of Dominican designer Sissy Bermudez, you are cordially invited to this event which will not only provide you with a spectacular night – full of activities such as a bazaar, fashion show and dinner, as well as an auction, but will also give you the opportunity to change the life of more than one woman. We look forward to seeing you there!
"Tejiendo Futuro" fashion show in Altos de Chavón, 2013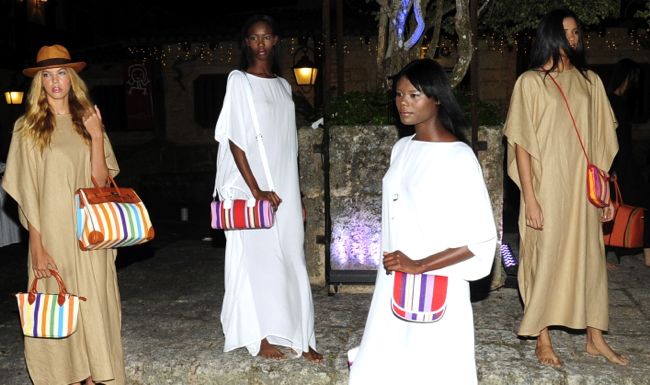 This is the second consecutive year that Altos de Chavón is chosen as the location of this beautiful event. Last year celebrated on December 30th, guests enjoyed an cocktail at The Gallery, followed by the dinner and fashion show in the quaint plaza directly outside of the Altos de Chavón Regional Museum of Archeology (click here for photos).
Weaving Together Benefit Dinner 

Where: Main Plaza at Altos de Chavón

Activity Schedule:

Bazaar: 6:00p.m.
Fashion show: 8:30p.m.
Dinner / auction: 9:30p.m.

Tickets: US$ 150.00

R.S.V.P.: (809) 523-8554

Contacts: Carmen Lorente;
Women Together

Women Together is a non-profit Spanish foundation linked to the United Nations. Founded in 1996 to develop workshops for local artisans in order to eradicate poverty and develop economically viable products to compete in international markets. Since then they have worked with communities Bangladesh, India, Africa and recently in Latin America.