This post is also available in: Spanish
Ki-Ra Holistic Living invites you to travel to 'The Land of the Thunder Dragon' this October. Seek spiritual guidance in the kingdom of Bhutan that lies in the eastern Himalayas, and follow along the path of enlightenment with Kyra Montagu.
The culture and philosophy of Bhutan are as unique as the country itself. Following Buddhist ideals, their goal is to attain the highest level of "Gross National Happiness" in the world, foregoing the materialistic and competitive aspects of the western world.
They say a trip to Bhutan is a pilgrimage into your own soul. The participants of this retreat will have a rare chance to immerse themselves into Bhutan's beautiful landscapes and local customs. Through a variety of activities, such as receiving a blessing by a monk and a lesson with a local lama (spiritual teacher), you will find yourself able to look within and learn from the power of inner reflection. Ki-Ra's extended journey will take you to several villages like Talo Nobgang, which is located on a hilltop before Talo and is the native village of the four Queen mothers, along with Wangduephodrang and Rinchengang Village.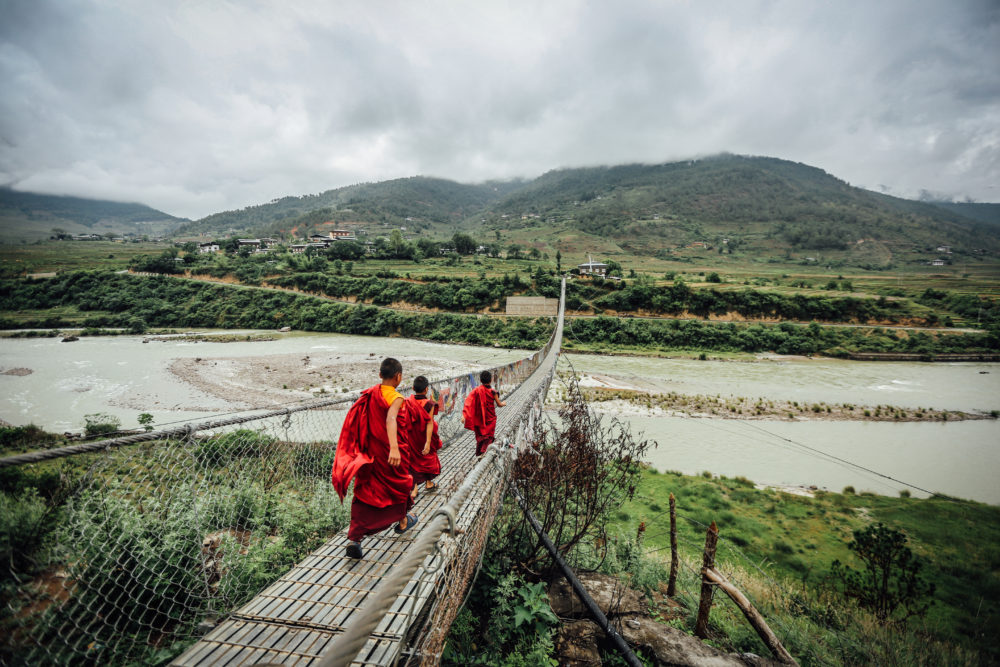 Another highlight of this journey is the hike to Khamsum Yulley Namgyal. It stands majestically on a strategic ridge above the Punakha valley. Built over a period of 9 years, Bhutanese craftsmen including carpenters, painters, and sculptors consulted the Holy Scriptures rather than engineering manuals, to construct this 4-story temple.
It is a splendid example of Bhutan's fine architectural and artistic traditions and the only one of its kind in the world. Built by Her Majesty the Queen Mother, this temple is dedicated to the well being of the kingdom and the benefit of all sentient beings.
Throughout the trip there will be wonderful opportunities to interact with local people and experience daily life in Bhutan as you nurture your body and soul through daily practice and spiritual belief. We encourage you to sign up for the journey! See the detailed itinerary in our gallery below.
Kyra Montagu, our Casa de Campo  beloved naturopathic doctor, specializing in herbal medicines, Ayurvedic practices, holistic healing therapies, tropical nutrition and yoga, leads this trip and says:
"I am so deeply grateful for the opportunity to lead this retreat in Bhutan and excited to share the journey of a lifetime with you. I believe strongly in the magic of the Universe and this trip was presented as if by magic, if you feel your heart flutter at the idea, then this journey is for you! Join us, it is my honour to invite you!"
Travel to Bhutan with Ki-Ra

When: September 29th – October 9, 2016

Prices (per person with shared accommodations):

Option 1: Standard – Using one of the standard hotels in Thimpu and Paro and the Lodge in Punakha for duration of the retreat $6,500

Option 2: USING THE AMAN Resorts /COMO Hotels for the 29th of September and the 8th/9th of October and the Lodge in Punakha for duration of retreat (all rooms subject to availability at the time of confirmed booking) $8,500

What's Included:

-Druk air/Bhutan airlines flights to and from Bhutan from either Delhi or Bangkok -All activities

-Daily practice

-Meals

-Transport and guides in Bhutan

What's Not Included:

-Flights to Delhi or Bangkok

-Personal expenses like laundry, mini bar bills

-Tips and gratuities to your local guide and driver

For more info or to sign up, contact:

For more retreats on the go, visit:
KI-RA HOLISTIC LIVING

Ki-Ra is a place where you can come and have the experience of holistic living taking as much or as little as you want. Holistic living literally means a way of life that integrates all parts of connecting with nature and oneself; finding your perfect balance of health, fun, relationships with family, friends and the environment, living in nature in a comfortable way and fully enjoying all aspects of your life. The energy here is really peaceful so you can definitely escape if you want to or come and have some healing time with treatments and healthy food, but we are keen to emphasize that it's meant to be a fun experience so that it remains something that you actually continue to do and enjoy after you leave.

Find out more at: www.Ki-Ra.com