This post is also available in: Spanish
*UPDATE: View the entirely new galleries of pictures below!
If you weren't at this past weekend's 40th International Tennis tournament you missed out! What began with matches on Thursday continued with a Welcome Cocktail on Friday and matches every day of the weekend. The cocktail was among the coolest we've been to recently at La Terraza Tennis Center as they host more and more upbeat events to enjoy the sport.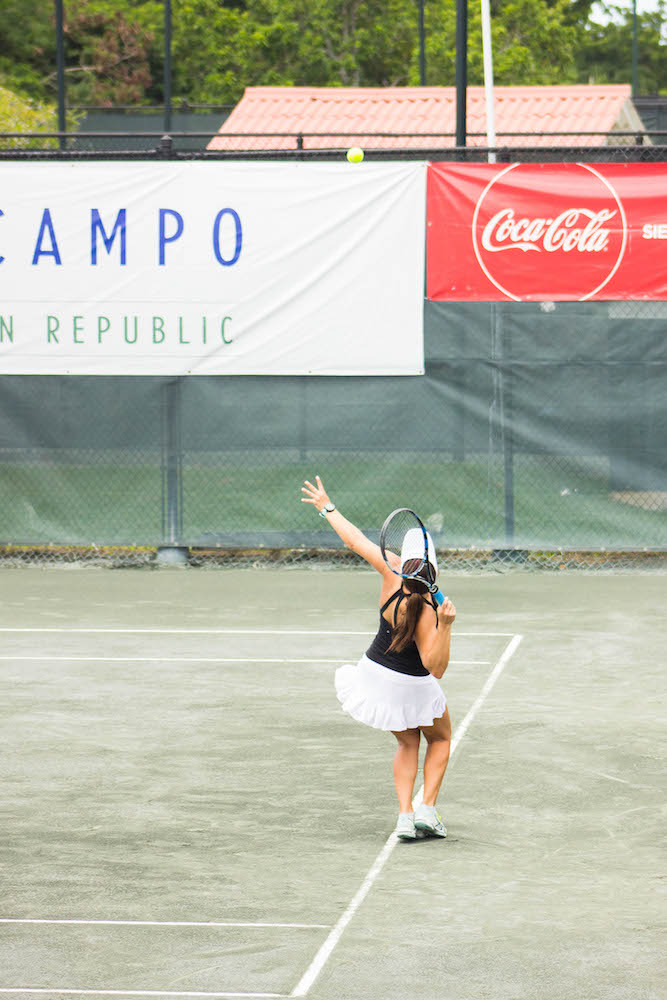 In its 40th year, the tennis tournament saw more than 180 players on the courts plus spectators on the sidelines. After a long day of matches on Friday, a Grey Goose cocktail party and Presidente party followed late into the evening as guests were more than happy to sip "Le Grand Fizz" with Grey Goose, St. Germain, Soda and Lime, and watch a doubles match play out between Juan Velázquez and Zoroastro Cucurullo against Robert Birtel and Manuel Relancio. It's so much fun to cheer on your fellow community members!
The resort provided delicious hors d'oeuvres and live music with a keyboard and saxophone, and the social, spirited setting allowed many to admit they wished these type of events would take place more often. Laura Duffield said she can't wait to tell all her friends to come play tennis at La Terazza! Categories A, B, C, and D held many talented players, and we caught up with Team Tennis RD captain María Clara Bernardez after her win that evening, who noted her technique revolved a lot around moving the ball around, understanding her opponent's style— who used a lot of slicing, and being patient in order to win. Of Team Tennis RD she says, "It reminds me a lot of college tennis. It's a team atmosphere and very competitive."
Matches continued on Saturday with a dinner for the players and their families at the Flamboyan Conference Center, while Sunday held the tennis tournament finals and awards ceremony. In a close men's doubles game at court 1, we watched a neck and neck rivalry whose sudden death, match point came down to a heated, close in/ out call! It's all a part of the game and one spectators greatly enjoyed as they sat on the edge of their seats, biting their nails and waiting for the ruling. We congratulate the following winners who showed tremendous effort and made the 40th International Tennis Tournament a success. Plus, true to form, Antonio Esteban played his fortieth year in the tournament! An honorary plaque was given to him as a special recognition. We are so pleased to see enthusiasm go strong and increase for tennis at the national and international level in Casa de Campo.
40th International Tennis Tournament Winners

Men's Open: Jesus Felix 1st; Omar Ferreiras 2nd

Men's

Category A: Jose Santana 1st; Wilfredo Baquero 2nd

Category B: Andrea Pilotti 1st; Alain Abreu 2nd

Category C: Gonzalo Sanchez 1st; Massimo Genatiempo 2nd

Category D: Christian Iturbides 1st; Ricardo Vela 2nd

Women's

Category A: Nicky Saladin 1st; María Clara Bernardez 2nd

Category B: Ana Silvia Grullon 1st; Denisse Feliz 2nd

Category C: Kilsy Rosario 1st; Andrea Parra 2nd

Category D: Claudine García 1st; Jennifer Lantigua 2nd

Senior's

Category A: Augusto de la Cruz 1st; Rafael Cruz 2nd

Category B: Isaac Rivera 1st; Cristobal Moran 2nd

Women's Doubles:

Category A: María Clara Bernardes & Natalia Baez 1st; Vicky Valdez & Mariana Metola 2nd

Category B: Idarmis Cucurullo & Mirtha De Marchena 1st; Donna Shea & Lisette Martinez 2nd

Category C: Ana Ramirez & Andrea Parra 1st; Michelle Cordero & Alina Lopez 2nd

Category D: Claudine Garcia & Angelina Salegna 1st; Jennifer Lantigua & Laura Mouzo 2nd

Men's Doubles:

Category A: Michael Alfaro & Juan Suarez 1st; Jesus Feliz & Alfredo Jhonson 2nd

Category B: Wilfredo Baquero & Rafael Parra 1st; Carlos Romero & Kennifer Lopez 2nd

Category C: Enrique Baez & Omar Perez 1st; Roberto Garrido & Renzo Ticona 2nd

Category D: Bismark Tavares & Raul Alfonzo 1st; Tony Vilchez & Luis Amador 2nd

Senior Doubles: Rafael Cruz & Augusto de la Cruz 1st; Angel Bernal & Raffy Lantigua 2nd

Mixed Doubles:

Category A: Natalia Baez & Rafael Parra 1st; Sally Bogaert & Frederick Sosa 2nd

Category C: Jennifer Lantigua & Raffy Lantigua 1st; Luis Susana & Michelle Mendez 2nd
The following galleries of images were taken over the course of the 40th International Tennis Tournament from August 31st — September 4th:
Friday's games and Welcome Cocktail by Laura Perdomo:
Friday's games and Welcome Cocktail provided by Grey Goose Vodka:
Finals and Awards Ceremony by Laura Perdomo:
and Finals and Awards Ceremony by Dibenchi de los Santos: