This post is also available in: Spanish
Golfers in town for the 36th Casa de Campo Open came at an opportune time. Managing to squeeze in between the shifting turbulent weather of Hurricane Irma and Hurricane Maria, approximately 100 golfers were able to enjoy the resort's most famous greens and oldest tournament, albeit in between some scattered showers. Last week's tournament held from September 13th—17th was just the thing residents and visitors needed to blow off some steam and remember what the resort is all about.
A sporting enthusiast's paradise, Casa de Campo is even more specifically a golfer's dream destination. The Casa de Campo Open was played on three of the resort's renowned Pete-Dye designed courses: the Teeth of the Dog, Dye Fore, and The Links. Coming out ahead was Ivan J. Galban Marcano in 1st place with 59 strokes, followed by Norman Warren in 2nd and Ivan Jose Galban in 3rd. In the Ladies division, Ploeme Taams earned 1st place with 48 strokes. For the complete list of winners, see below.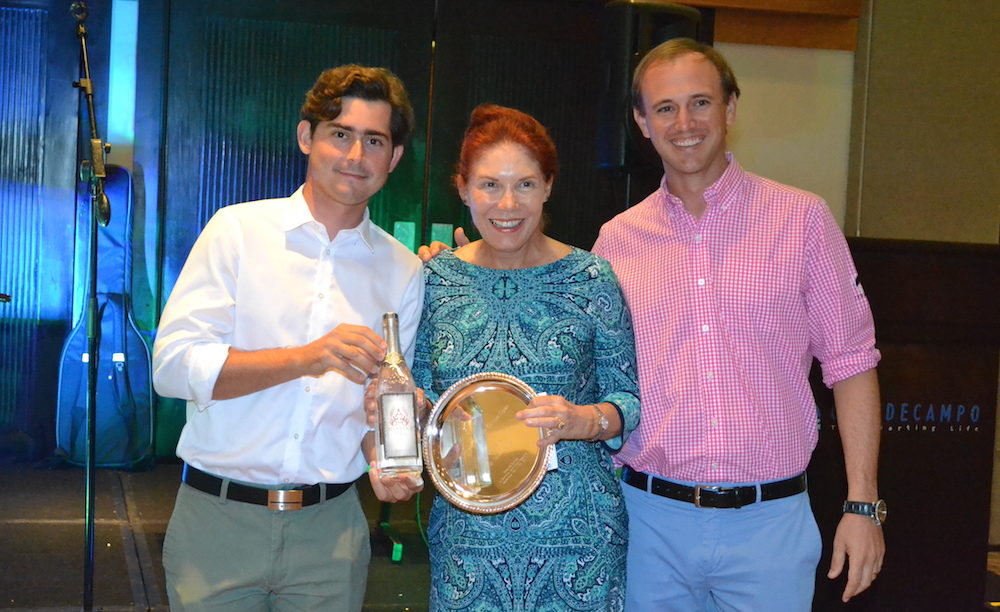 The tournament got off to a great start at La Casita with a welcome cocktail, and following several rounds of play throughout the week, concluded with an awards banquet at the Flamboyan Conference Center. As usual, attendees enjoyed excellent food catered by Casa de Campo Resort & Villas, followed by dancing with Trio Chocolate.
36th Casa de Campo Open Tournament Winners:

Men's Flight A- Gross

1st Ivan J. Galban Marcano, 59

2nd Norman Warren, 57

3rd Ivan Jose Galban, 53

Men's Flight A-Net

1st Jose Antonio Crespo, 75

2nd Marcello Giuliano Ferri, 71

3rd Francisco Nuñez, 68

Men's Flight B-Gross

1st Cenou Sabin, 64

2nd Miguel Subero, 58

3rd Tom Duffield, 54

Men's Flight B-Net

1st Angel Lence, 87

2nd Angelo Fernandez, 76

3rd Gilberto Jardim, 75

Men's Flight C- Gross

1st Robert Azuaje, 49

2nd Jose Delgado, 48

3rd Candido Perez, 38

Men's Flight C- Net

1st Francisco Padilla, 80

2nd Alexis Amador, 72

3rd Ignacio Laviosa, 71

Men's Flight D- Gross

1st Ernesto Biondi, 31

2nd Ramon Coto, 25

3rd Ricardo Pacheco, 25

Men's Flight D- Net

1st Miquel Hauschild, 73

2nd John Buitenweg, 71

3rd Juan Campillo, 61

Men's Senior Division:

Men's Super Senior:

Men's Elite Senior:

Carlos Garcia, 76



William Collier III, 70

Danny Avila, 77
Ladies Flight A-Gross

1st Ploeme Taams, 48

Ladies Flight A-Net

Ingrid Van Thiel, 59

Ladies Flight B-Gross

1st Tere Ledesma, 50

2nd Ann Wilcox, 41

3rd Myra Vesseur, 28

Ladies Flight B-Net

1st Ada de la Vega, 78

2nd Bonnie Whittington, 62

3rd Juanita Albuja, 60

Ladies Flight C-Gross

1st Patricia Bruzual, 19

2nd Sady Van Borssum, 14

Ladies Flight C- Net

1st Barbara Wyrostek, 73

2nd Lucy Pantin, 9

Ladies Senior:

Ladies Super Senior:

Ladies Master:
Nancy Douglas, 69

Jan Kennedy, 77

Bunnie Schafer, 62
Closest to the Pin:

Day 1 – Bernando Azuaja #5 Teeth of the Dog

Day 1 – Maruicio Alvarez # 6 Dye Fore

Day 3 – Gilberto Jardim # 5 Teeth of the Dog

Day 3 – Tere Ledesma # 16 Teeth of the Dog

Day 3 – Hector Leduc # 8 Links
Day 3 – Fernando Isturiz # 13 links

View more photos from the 36th Casa de Campo Open Awards Banquet held on Saturday, September 16th, taken by Alejandro Heredia: