This post is also available in: Spanish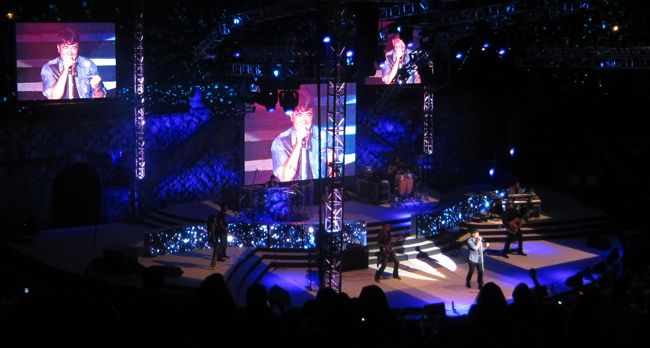 On Saturday the 7th of April, during the fun Easter Weekend in Casa de Campo, Puerto Rican singer Luis Fonsi performed in extraordinary concert at the Altos de Chavón amphitheater presented by Presidente Live, much to the excitement of thousands of Casa de Campo villa owners, as well as visitors and residents from all parts of the Dominican Republic – who sang and danced along to the singer's well known hits!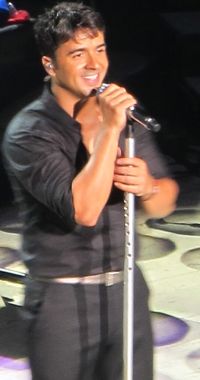 As part of the "Semana Santa" (Easter Week) celebration, Altos de Chavon was visited by thousands of people on Saturday 7th of April! The reason? The Luis Fonsi concert – a wonderful show that involved special effects, dancers, and great music!
Following an enthusiastic and fun opening presentation performed by "Days Lud", the first musical chords of  "Me Gustas Tú" (I like you), one of Luis Fonsi's most recent songs featured on his latest album "Tierra Firme", kicked off the show with a standing ovation that welcomed an energetic Luis Fonsi to center stage accompanied with multiple special effects!
The Puerto Rican heartthrob performing in Altos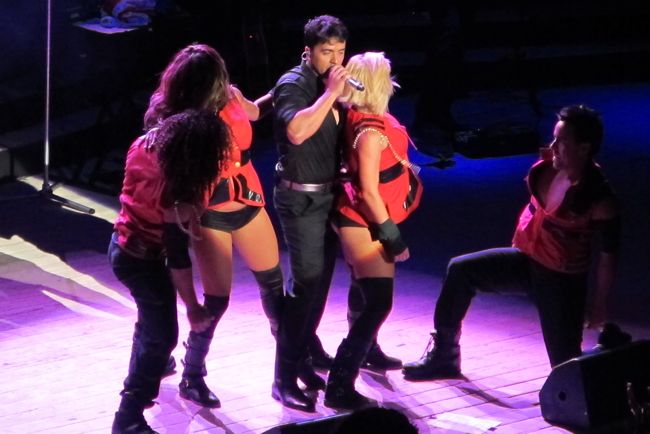 After expressing his gratitude and excitement, for standing on "tierra firme" (firm grounds) at the Altos de Chavón's amphitheatre, "one of the most important stages of his tour", the night progressed with a wonderful repertoire of songs (mostly from previous productions) that certainly are part of the lives and history of thousands of children, adolescents and adults who sang, cheered and dance along to the numerous hits, such as "Tu Amor","Imagíname Sin Tí", "Por Una Mujer", "No me doy por vencido", "Se Supone", "Llueve por dentro", among others.
Luis Fonsi received a Puerto Rican and a Dominican flag

The highlight of the concert was when Fonsi received two Puerto Rican and Dominican flags, which were nicely joined together and signed by his Fan Club (clearly spotted on the Special Guest and VIP areas with bright colourful shiny hats) – a moment he took to confess that in addition to his special affection for the Dominican Republic, this country really "feels like home".


The Luis Fonsi fan club!

And so, after two hours of enjoying an energetic, talkative, smiling and thrilling Luis Fonsi, vibrating Altos de Chavón with his excellent "vein-cutting" songs (to quote Fonsi himself), as well as up tempo rythms and intimate acoustic interpretations performed with the support of  his lifelong musical companion (his guitar), the concert came to an end at 11:50pm with yet another standing ovation and his latest single "Claridad" (Clarity)!
Enjoying the Luis Fonsi concert in Altos de Chavón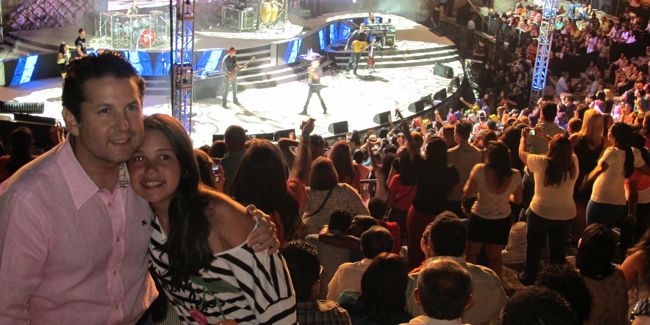 Indeed an excellent concert!!!
Below is a selection of photos taken during the Luis Fonsi concert at the Altos de Chavón Amphitheater:
Famous faces in the crowd!
The Puerto Rican singer Luis Fonsi, in addition to his thousands of followers, also attracted many famous personalities of the Dominican Republic, such as singers Eddy Arnold and Pavel Nuñez, as well as famous television presenters; Milagros German, Nahsla Bogaert and Yelitza Lora.
Yelitza Lora (the blonde) at the Luis Fonsi concert