This post is also available in: Spanish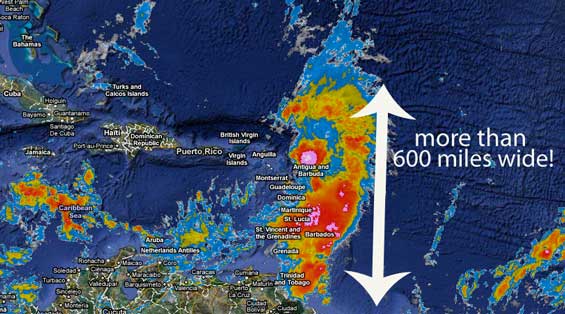 Have you had enough of the rain? Me too! Unfortunately, it seems our prayers to the rain gods have been left un-answered – with Tropical Storm Maria expected to head North, it should be time to sunbathe again, but given that Tropical Storm Maria is now more than 600 miles wide (or long rather)…..she may yet have a sting in that giant tail of hers……..
So will Tropical Storm Maria / Tropical Depression Maria affect the Dominican Republic?
YES!!! Sadly Maria is more than 600 miles long (see diagram), which means that unless she moves directly North (which is not going to happen), the Dominican Republic, La Romana and Casa de Campo WILL be caught in that massive tail of hers…….and that means RAIN!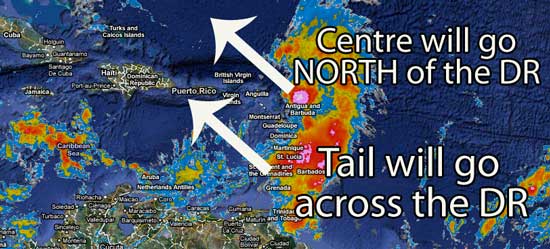 What does this mean for the Dominican Republic and more specifically Casa de Campo and La Romana?
The "tail" of Tropical Storm Maria / Tropical Depression Maria will begin to affect the Dominican Republic at some point on Sunday afternoon or Monday morning
There will be lots of RAIN and some winds as Maria's tail crosses over the Dominican Republic, which will be probably Monday and Tuesday
There will be no hurricane force or tropical storm force winds so there is no need to panic!
Rural, low-lying areas and coastal areas will probably experience flooding (that does not include Casa de Campo)
Tropical Storm Maria – The Facts!
The Center of Tropical Storm Maria is currently 500 miles to the East of Santo Domingo in the Dominican Republic (currently crossing over the Lesser Antilles)
Tropical Storm Maria is moving WEST-NORTH-WEST at 15mph and is barely a Tropical Storm with winds of only 40mph
Tropical Storm Maria is WEAKENING and is expected to become a mere Tropical Depression within 9 hours.
THE GOOD NEWS!
In Casa de Campo, there is always good news and it is that TODAY (Saturday) it is NOT expected to rain at all! Which means the planned Ballet show, which will take place this evening at 8pm in the Altos de Chavón amphitheater will go ahead as planned! Yipppeeee!
To find out more about the ballet click here! 
We suggest that you follow the movements of Tropical Depression Storm Maria closely so that you can be fully prepared, the below links are fantastic sources for keeping up-to-date:
www.nhc.noaa.gov – The National Hurricane Centre
www.weather.com – The Weather Channel
Stormpulse.com – Great storm tracking device
ONAMET.gov.do – the Dominican Republic's official weather warning people (this one is in Spanish)
Twitter: We recommend following NHC_Atlantic – for regular tweets on Tropical Storm Emily's progress.
For photos of Hurricane Irene in Casa de Campo, click here!
This article was written by Rebecca Hughes, editor of Casa de Campo Living and Casa de Campo's entertainment specialist!

Rebecca Hughes, Editorial and Events Marketing
[email protected]
TEL: 809-523-2045   CEL: 809-949-8906
BBM: 230DA5D1
Altos de Chavón, Casa de Campo

This article was produced exclusively for www.casadecampoliving.com