This post is also available in: Spanish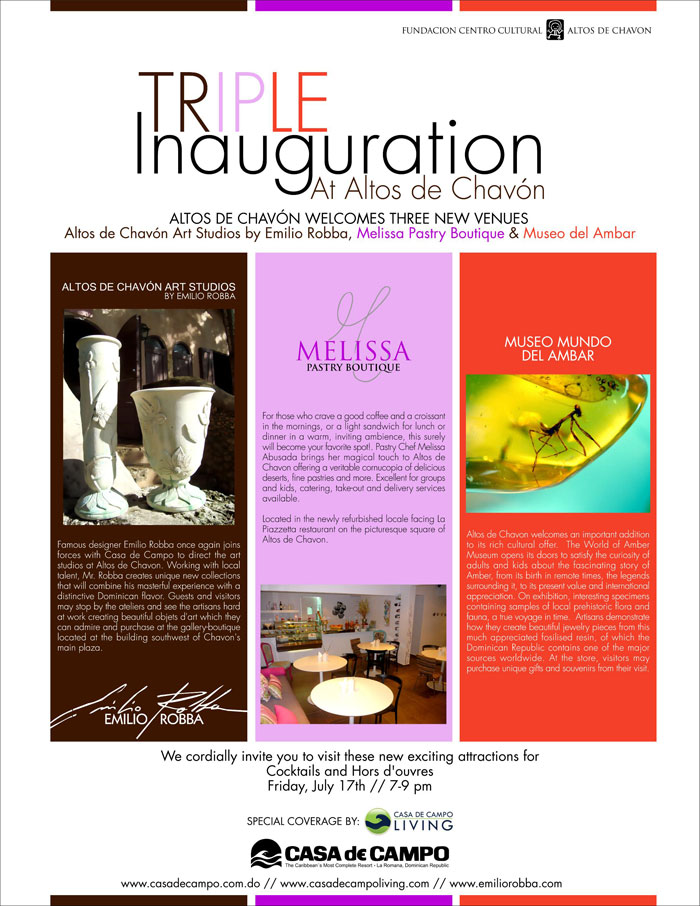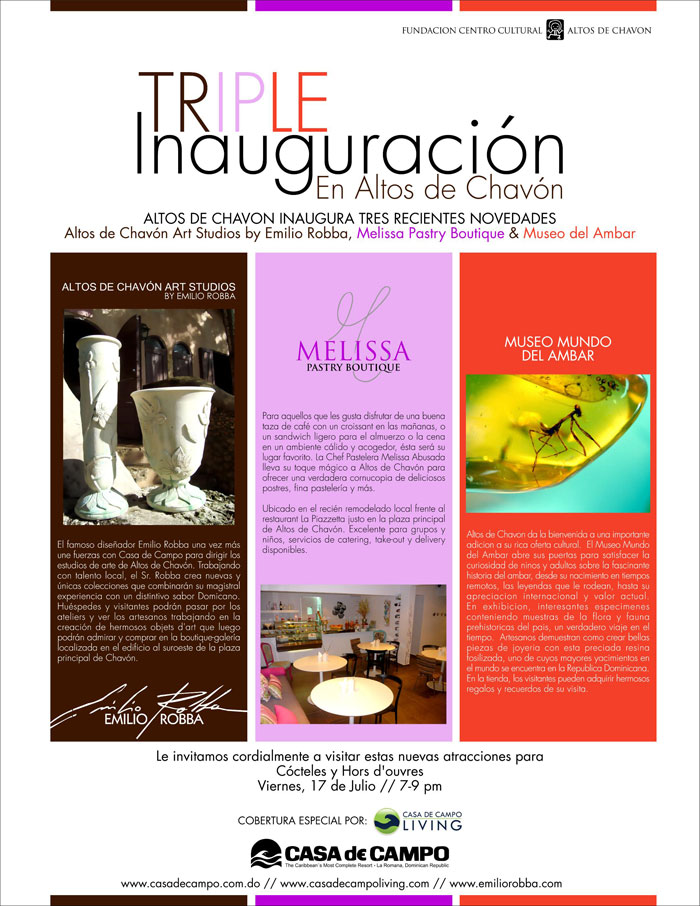 This Friday the 17th of July, there will be a special triple inauguration taking place in Altos de Chavon, to introduce to all Casa de Campo villa owners, residents and guests, some fabulous new establishments which have recently, and quietly, opened to the public. The new establishments are the Altos de Chavon Art Studios by Emilio Robba, Melissa's Pastry Boutique and the Museo Mundo del Ambar.
The Altos de Chavon Art Studios by Emilio Robba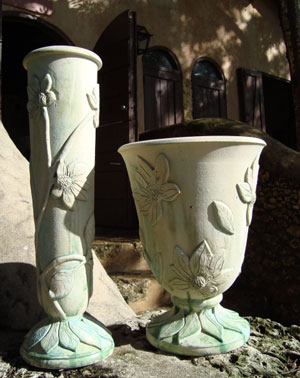 Famous French/Italian designer Emilio Robba joins forces with Casa De Campo to direct the art studios at Altos de Chavon. As Mr. Robba's second venture in Casa de Campo, the focus is now on revitalizing the collections being created in the Art Studios of Altos de Chavon.
With Mr. Robba's guiding hand, the collections being produced have taken on a whole new life. The new collections have also been created with the Casa de Campo villa owners in mind, providing a wide range of interesting pieces which one could see perfectly finishing out a terrace, living room or other nooks of your villa.
During the inauguration, as well as during regular business hours, visitors can see some of these simply stunning pieces. For the inauguration, Emilio Robba himself will be present to meet, greet and answer any questions. The Altos de Chavon Art Studios by Emilio Robba are located where the old 'El Sombrero' Mexican restaurant used to be, which is right in front of the restaurant La Piazzetta.
Melissa's Pastry Boutique
Having opened earlier this year, Melissa's Pastry Boutique is one of the latest places in Casa de Campo where you can satisfy your sugar cravings and satisfy your sweet tooth. The owner and head chef, Peruvian born Melissa Abusada, who once was a pastry chef at Pepperoni at the Marina Casa de Campo, has created a neat little oasis, located right next to the new Papa Jack's, where one can go for a cup of coffee and some sugary goodness. They also offer daily baked breads and sandwiches with a very attentive service.
Museo Mundo del Ambar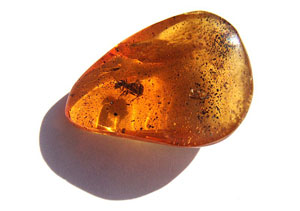 As the most recent addition to Altos de Chavon, the World of Amber Museum is not only a welcome addition to Altos de Chavon, where you can go to learn a little more about Amber and its history, but you can also purchase some beautiful pieces of amber and larimar jewelry. The World of Amber Museum is located under the 'Cafe del Sol' restaurant, between the church and the art gallery.
We spoke to the owner, Mr. Jorge Caridad, a while back and he had expressed to us his enthusiasm for being able to create, in Casa de Campo, a new concept that would marry the creation of unique pieces of jewelry for almost any occasion, with a rich educational experience aimed at providing the essential information necessary for really being able to enjoy and appreciate some of the more intricate pieces. If you have any doubts about which pieces are art and which are jewelry, Mr. Altagracia will happily answer any questions during the inauguration.
In case you have not headed up to Altos de Chavon in a while, you should defiantly take the opportunity to make it up this Friday and visit all these wonderful new establishments. With a plethora of new and exciting things to see and do, Altos de Chavon is quickly re-establishing it's reputation of a fun and hip place to eat, shop, dance and have an enjoyable time.
Did you know? Since late last year, Altos de Chavon has once again become the hot nightlife destination in Casa de Campo! With shopping, art, culture, history, restaurants and bars to enjoy a night out with family, friends or just that special someone!
We look forward to seeing you up in Altos de Chavon this coming Friday the 17th of July, from 7pm to 9pm in Altos de Chavon to come and show your support to your local businesses. Wine and hor d'ourves will be served, the owners will be on their best behavior and Casa de Campo Living will be clicking away with special coverage of the event.
UPDATE (15th of July, 2009): We've created a Casa de Campo Living event on Facebook, which you are invited to RSVP on, by visiting: http://www.facebook.com/event.php?eid=109297097259&ref=mf