This post is also available in: Spanish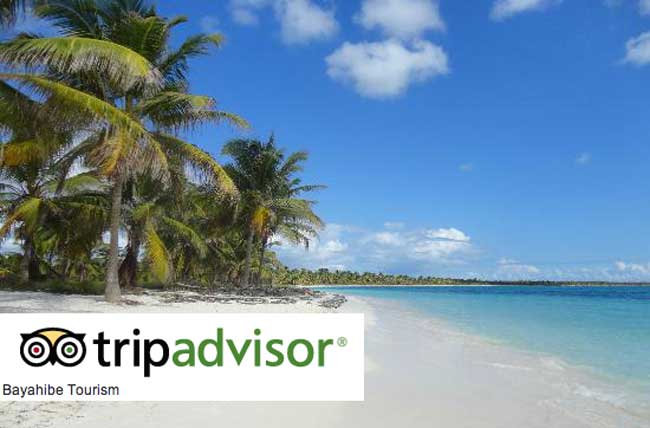 It's true! The Dominican Republic really is a paradise! And with both Bayahibe and Punta Cana ranked #7 and #4 respectively within the Caribbean's top 1o beach destinations in Tripadvisor's "Traveller's Choice" awards – it seems the East of the Dominican Republic is without doubt one of the most beautiful areas in the Caribbean!
But what about Casa de Campo? Well the paradise that is Casa de Campo isn't really a beach resort or a beach destination (even though Minitas Beach is heavenly). Casa de Campo is without a doubt a Golfer's paradise – which is why it's actually just been voted the "World's Leading Golf Resort" for the 6th consecutive year at the World Travel Awards! But here in Casa de Campo we have the best of both worlds – with the new "Autopista del Coral" highway, the journey from La Romana to Bayahibe is just 20 minutes and the journey from La Romana to Punta Cana is about 40 minutes – which means whether you live or vacation in Casa de Campo – the Caribbean's best beaches are within very easy reach!
BUT which beaches exactly? So if Bayahibe and Punta Cana are 2 of the Caribbean's best beach destinations – where exactly in these 2 places do we find the very best beaches? Well unfortunately Tripadvisor.com doesn't specify that – so here we bring you our selection of the best beaches of the East of the Dominican Republic – from Casa de Campo to Punta Cana/Bavaro:
With waiter service to your chaise longue from the Beach Club by Le Cirque restaurant or the Coco Mar Bar, as well as fun games, activities and water sports to amuse the kids – Minitas Beach, Casa de Campo's private beach is the ultimate place to relax!
Technically located in Dominicus, right by Bayahibe, there are many all-inclusive resorts located right on the beach here – taking advantage of this huge expanse of sand and beautiful clear waters. This beach was the first beach in the Dominican Republic to be classified as an "EU Blue Flag Beach" and as well as the private areas for use of hotel guests only, there is a small public area with a small beach restaurant – known locally as "Dominicus Beach".
The beaches of the "Parque Nacional del Este"


As Bayahibe town is where literally hundreds of thousands of tourists each year depart from on boat tours to the "Parque Nacional del Este", this fisherman's village is actually considered "The gateway to the Parque Nacional del Este" – which is why, whilst Bayahibe is nice (especially for cocktails and dinner at sunset) it is considered a beach destination – despite it not really having a public beach for sunbathing/swimming etc.

The Parque Nacional del Este (the National Park of the East), located just 4 miles outside of Bayahibe – and at the heart of the La Romana-Bayahibe area is one of the Dominican Republic's most popular tourist destinations – most famous for it's crystal blue waters and white sandy beaches at Saona Island. The most popular beach destinations within the Parque Nacional del Este are:

Palmilla
Palmilla is a natural swimming pool characterized by waist-deep crystal clear water. Cool off in the refreshing water, pose for photos with the giant starfish and enjoy a traditional brindis (toast) of fine Dominican rum! Palmilla is a wonderful place to spend the day with friends, a few drinks and a BBQ – but is also a popular "stop" for boat tours heading to or from Saona.  

Saona
Many of the beaches on Saona are "privately" managed by hotels and tour operators – meaning it can be over-populated with tourists visiting from nearby hotels. However sailing around the island, an independent yacht will encounter many other beautiful and deserted beaches with crystal clear waters in which to drop anchor. One of these is called Canto de la Playa beach, a breathtakingly beautiful spot, where the ocean is as blue as the sky, the sand is white and soft and there are even some small reefs to snorkel at.

Click here to read more about the Parque Nacional del Este

[Another fun way to visit the Parque Nacional del Este is on foot at Padre Nuestro, a walking trail through the indigienous forest. Click here for details.]
A beautiful and natural "surfing beach" with nothing but a surf shack and a few rather basic restaurants/huts. Beautiful and wild – Macao beach is on the Northern coast and can be reached from Casa de Campo by driving up through Higuey or along the coast from Bavaro.
Bavaro Beach 

Wrapping around the most Eastern point of the Dominican Republic is Bavaro and it's seemingly endless Bavaro Beach – lined with both private hotels as well as small restaurants, bars, gift shops and water sports outfitters. It's a popular spot to relax, sunbathe and enjoy a few cold Presidente beers – or a Mojito.