This post is also available in: Spanish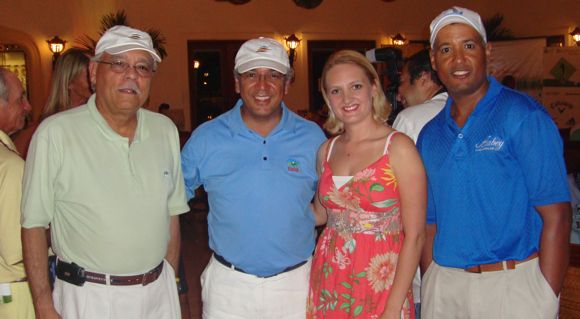 Last Saturday the 31st of October, Casa de Campo Living was invited to play in the 'Torneo entre Amigo,' which was held at La Estancia golf resort. Approximately 70 golfers played in the tournament, players had travelled from Casa de Campo, La Romana, and even Santo Domingo to play in this event – which was a big success and great fun! To see our photos and full report from the actual tournament, click here.
The evening event – the dinner and prize giving began as soon as all the golfers started to come off the course, to relax and enjoy a few drinks before the dinner was ready.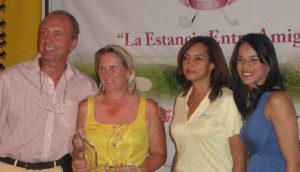 Gladys Quinoñes, who is in charge of the catering for La Estancia as well as having her own catering company 'Eventos y Catering' had decorated the inside of the club house beautifully – with flower decorations and simple, smart place settings. The dinner was served 'buffet style,' the perfect option for the many hungry golfers! On offer at the buffet was salad, lasagna, fish, beef, mushroom risotto, roasted vegetables, among other tasty options as well as an array of sinful deserts.
Following a very hearty meal, the prize-giving section of the evening started – beginning with a seemingly never-ending raffle where it felt like nearly everyone won one of the many prizes; vouchers for use in the La Estancia Pro Shop, golfing weekends and hampers of milk! Next, trophies for the tournament winners were given out.
The winners of the 3 categories are as follows:
Categoria " A"
1st Place: Sally Crasso  and Mauri Croze, net score: 43
2nd Place: George Bell and Narciso Morales, net score: 43
3rd Place: Adeonis Castillo and Edwin D, net score: 40
4th Place: Gustavo Avila/Ramon Cruz, net score:42

Categoria "B"
1st Place: Marina Gelati and Marcela Bettoni, net score: 47
2nd Place: Ramon Campechano and Jesus Barriola, net score: 47
3rd Place: Sully Martinez and Carlos Vasquez, net score: 46

Categoria "C"
1st Place: Carlos Noel/ Rommel Pepen, net score: 43
2nd Place: Rebecca Hughes and Philip Silvestri, net score: 33
3rd Place: Carlos Sobogal/Jesus Christian, net score: 29
NOTE: the tournament was played in the form 'Best Ball, Stableford,' so scores were awarded using the following points system:
Bogey: 1 point
Par: 2 points
Birdie: 3 points
Eagle: 4 points