This post is also available in: Spanish

Great news friends, not only is the first weekend in November a long one – but here in Casa de Campo there are already a host of events and activities planned! Including a Praia party with top DJ's Dimitri Vegas & Like Mike and the Nervo Twins.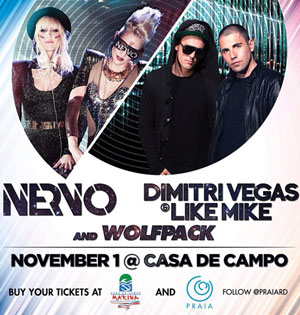 The party being organised by the party experts – Praia, will take place at the "antiguo Palapa" the area where the Palapa used to be in the Marina Casa de Campo (close to the Nacional supermarket) and will feature world-class DJ's Dimitri Vegas and Like Mike, as well as Nervo, often refrerred to as the Nervo Twins.
Dimitri Vegas & Like Mike, are a Belgian DJ duo composed of two brothers Dimitri Thivaios (Dimitri Vegas) and Michael Thivaios (Like Mike), who are currently ranked number 38 in the world's top DJ's according to DJ Magazine. While Nervo or the Nervo Twins are Miriam Nervo and Olivia Nervo, Australian musicians and songwriters, ranked #41, and are the co-authors of Grammy Award-winning single, "When Love Takes Over", performed by David Guetta and Kelly Rowland.
Also on the line-up is DJ Wolfpack, a relatively new talent discovered by Dimitri Vegas and Like Mike at Tomorrowland 2011 (a Belgian electronic music festival).
Together these DJ's bring us the perfect blend to dance the night away to electronic, dance and techno music.
Also taking place over the long weekend is the Luis Miguel concert on Saturday the 2nd of November at the Altos de Chavón amphitheater, as well as the Halloween party at the Casa de Campo Yacht Club in the Marina Casa de Campo on Sunday the 3rd of November.
Remember to check out www.TODO.fm for the complete list of events and activities.
Praia party with Dimitri Vegas & Like Mike, Nervo and Wolfpack

When: Friday November 1st, from 11pm

Where: "Antiguo Palapa" (where the Palapa used to be), in the Marina Casa de Campo

Cost: RD$2,000

Tickets available at:

• Peperoni in the Marina Casa de Campo, (809) 523-2227

• Praia, (809) 732-0230
Why is it a long weekend? 
This long weekend (Friday – Monday) is thanks to a Dominican National Holiday called "Día de la Constitución". Día de la Constitution or Constitution day is technically on November the 6th each year, but this year the holiday has been moved to Monday the 4th of November to create a nice long weekend for us all to enjoy.
Día de la Constitution commemorates the 6th of November 1844, when the first Constitution was signed in San Cristóbal, a town nearby to Santo Domingo. This was the same year in which the Dominican Republic was proclaimed an independent nation (Feb. 27th 1844),
Click here to read about other Dominican National Holidays.