This post is also available in: Spanish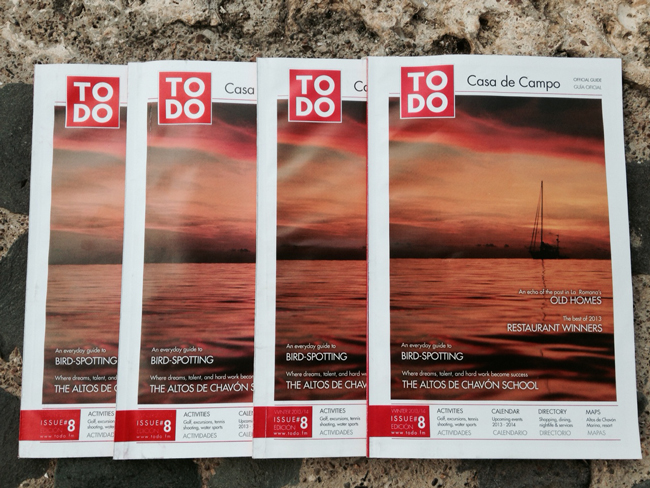 The most recent edition of TODO Casa de Campo magazine-guide for the Casa de Campo resort is now in circulation and will be delivered by Santas little helpers to Casa de Campo villas over the next few days. TODO is your invaluable tool for making the most of your time in paradise and enjoying everything-whether you're a tourist, regular visitor, resident or Casa de Campo villa owner.
TODO Casa de Campo produced by SILGON (creators of CasaLife, Casa de Campo Living and INMORTALES magazines), offers visitors and Casa de Campo villa owners the very best of things TO DO in and around the Casa de Campo resort in La Romana.
In creating this, and in fact all editions of TODO Casa de Campo, we are very grateful to have a huge helping hand from our fabulous community.
The Family Winn share their "Memories of Casa"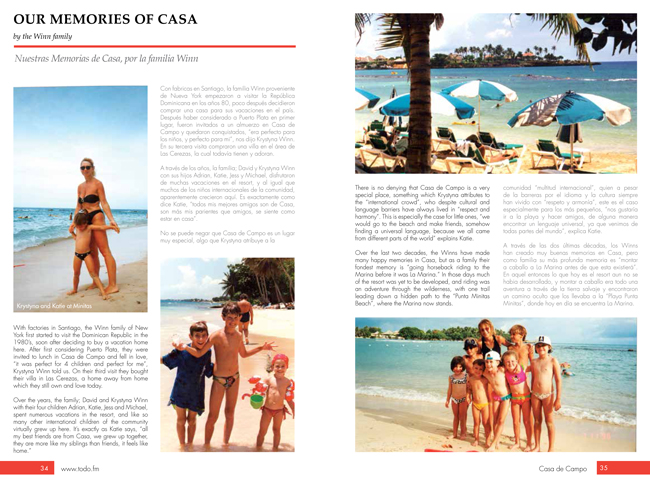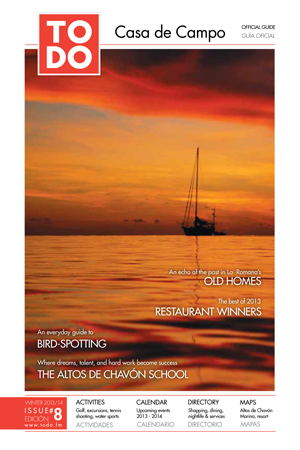 In this edition we say a BIG thank you to David and Krystyna Winn as well as their four children Adrian, Katie, Jess and Michael who contributed their "Memories of Casa de Campo".

Not forgetting of course our regular feature "Conquering Casa's Most Challenging Holes" by Eric Lillibridge, in this issue tackling the notoriously challenging 6th hole of the Teeth of the Dog.
And last but certainly not least, we owe a big thank you to José Calzada-Leon, Senior Vice President of Casa de Campo Real Estate, whose magnificent image of a blazing sunset at local beauty spot Palmilla illuminates our cover.
Also in this edition we unveil the winners of the TODO "The Best of 2013" awards voted upon by more than 1000 members of the greater Casa de Campo community, to crown the very BEST restaurants of the Casa de Campo, La Romana and Bayahibe area.
TODO Restaurant Guide "The Best of 2013"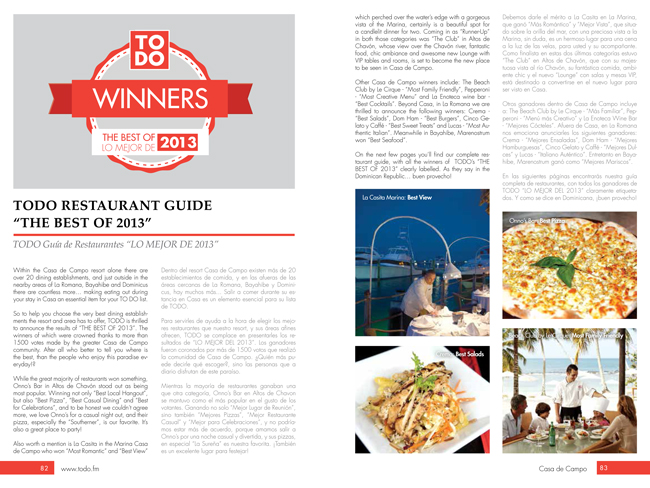 In this and all editions of TODO Casa de Campo you will find; a calendar of events, services guide, maps, activity and sports rates, phone numbers, as well as numerous fun and entertaining feature articles and sections, such as:
• An everyday guide to bird-spotting in Casa – a very special collaboration with the help of bird expert Kate Wallace
• Charamicos, a dominican tradition
• The old homes of La Romana
• The Altos de Chavón School
• Caletón, a new oceanfront development in Casa de Campo
TODO Casa de Campo will be delivered to Casa de Campo villas very soon, as well as distributed around the Casa de Campo resort; at the Casa de Campo hotel, Marina Casa de Campo and Altos de Chavón.
Do you receive TODO and CasaLife?
If you have not recieved the previous issues of TODO Casa de Campo at your villa, it is possible we do not have the most up-to-date contact info for you…
PLEASE CLICK HERE TO FILL OUT A SIMPLE FORM TO ENSURE TODO REACHES YOU!
For those of you who simply cannot wait to get your hands on this new edition of TODO Casa de Campo, here are a few pages to give you a sneak peak of what you can expect: 
TODO Casa de Campo magazine is brought to you by Silgon Inc., Marketing, Web Development & Publishing Services, who are also creators of Casa de Campo Living website, CasaLife and TODO La Romana – Bayahibe. 

What's your media stategy?

(809) 523-2045