This post is also available in: Spanish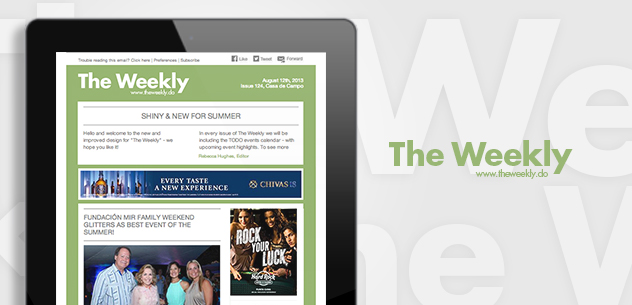 The Weekly Casa de Campo email newsletter created by Silgon Inc. and Casa de Campo Living has just been re-launched with a new design to make getting the news in your inbox every Monday morning an even more enjoyable experience. 
The Weekly Casa de Campo email newsletter designed and created by the team of Silgon Inc. brings Casa de Campo villa owners, residents and aficionados a summary of all the latest Casa de Campo news and events – Casa de Campo's essential guide to everything going on in our little piece of paradise – and a must read every Monday morning. 100% news, 0 Spam and respect for our readers busy lives.
"I really like receiving The Weekly. It's very well put together and interesting."— Valeria Carnevali
The design may not seem like a drastic change, but by focussing on you, our readers, and all your helpful feedback and comments we feel that the new and improved The Weekly offers an easy to digest summary of what is happening in Casa de Campo, with quick access to the most important news sources for additional information.
To view the most recent edition of The Weekly Casa de Campo click here. 
Since debuting the new design for The Weekly Casa de Campo, we've been getting some positive feedback: "LOVE it! Fresh, green and very friendly!", Arabelle Del Pilar Rosario told Casa de Campo Living, while Stacey Turner said "Absolutely love it! Great job."
The new and improved design features a lot of little details that we know you will love. If there is anything we missed, let us know as we love feedback and making our readers as happy as possible!
Do you read The Weekly? If not please CLICK HERE to sign-up now for 1 email per week. ZERO spam.