This post is also available in: Spanish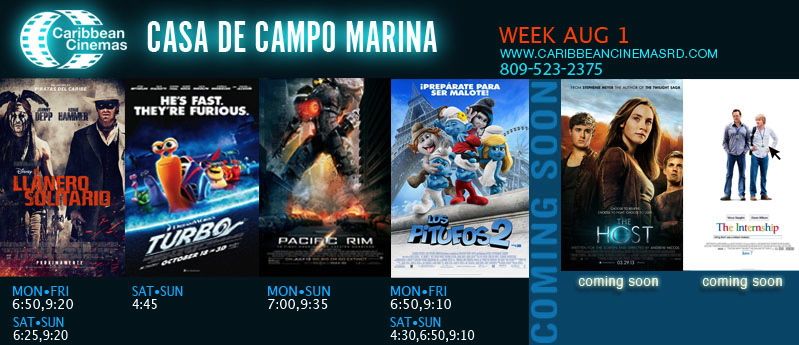 Let's get Smurfing! The Smurfs have arrived to the Marina, Casa de Campo! The Lone Ranger, starring Johnny Depp and Pacific Rim have also just arrived, while still playing is Turbo.
The Smurfs [view trailer, view review]
The Smurfs team up with their human friends to rescue Smurfette, who has been kidnapped by Gargamel since she knows a secret spell that can turn the evil sorcerer's newest creation – creatures called the Naughties – into real Smurfs.
The Lone Ranger [view trailer, view review]
Native American warrior Tonto recounts the untold tales that transformed John Reid, a man of the law, into a legend of justice.
Pacific Rim [view trailer, view review]
As a war between humankind and monstrous sea creatures wages on, a former pilot and a trainee are paired up to drive a seemingly obsolete special weapon in a desperate effort to save the world from the apocalypse.
Turbo [view trailer, view review]
A freak accident might just help an everyday garden snail achieve his biggest dream: winning the Indy 500.