This post is also available in: Spanish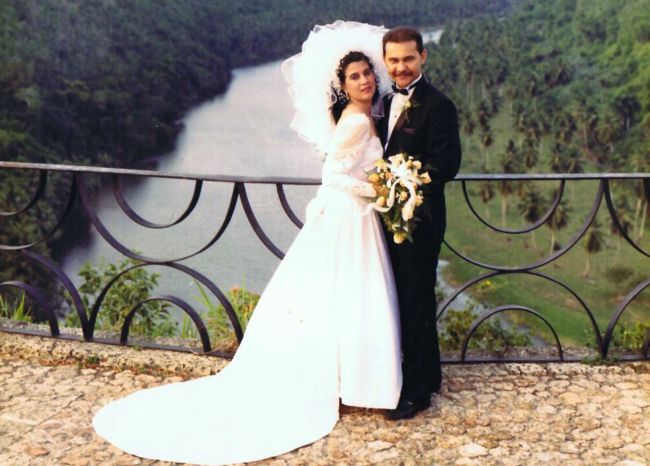 Congratulations Arleen and Frank Cuello! In December last year, Arleen and Frank celebrated their silver wedding anniversary in Altos de Chavón – where they were married 25 years ago!
On Friday December 12th 1986, after a short courtship, which blossomed in Casa de Campo, Frank and Arleen Cuello were married at the romantic St Stanislaus church in Altos de Chavón and on Friday December 12th 2011, the couple returned to Altos de Chavón, exactly 25 years later to celebrate their anniversary and to relive their magical day.
During their anniversary weekend in Casa de Campo, Arleen took a few moments to answer our questions and tell us their wonderfully romantic story: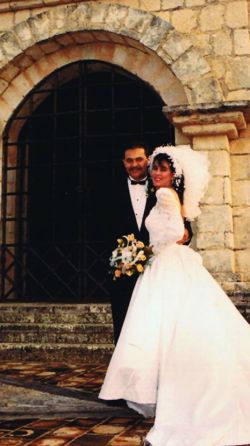 When did you get married?
Arleen: We celebrated our wedding on Friday the 12th of December, 1986 at the St Stanislaus church in Altos de Chavón
Where did you meet? Tell us the story of your love!
Arleen: Our story is a bit funny because we met in during a Casa de Campo departmental meeting, in February 1986, when we were both introduced as new hotel executives, Frank as reservations manager and I as group coordinator. After this first meeting we knew we liked each other, but we remained friends until August that year when we got engaged and then married in December.
So you both used to work in Casa de Campo?
Arleen: Yes. My job was very demanding with a lot of responsibility, but at the same time was a lot of fun because you got to see the guests having a great time and really enjoying all the activities, dinners, outings and parties that we organized for the groups.  Frank, as reservations manager, his job was to keep track of which rooms and villas had been reserved. 25 years ago, individual rooms in villas were rented as well as entire villas and hotel rooms, and as there were no computers back then it was a very difficult job, all the inventories had to be done by hand. Many times we had to get together to work out the number of rooms we needed for different groups, this was one of the factors that made us fall in love as we always had a good time together.
On their wedding day outside the Altos de Chavón amphitheater

Why did you choose Altos de Chavón for your wedding?
Arleen: Because from the first day I visited Altos de Chavón a knew I wanted to be married there. We were working in and fell in love in Casa de Campo, we decided that the St Stanislaus church would be the ideal place to get married.
Where did you celebrate the wedding reception?
Arleen: The wedding reception was planned to take place in the plaza outside the church, overlooking the Chavón river, however during the ceremony it started to rain very heavily, so the reception had to be moved inside and took place in the La Piazzetta restaurant, where everything turned out beautifully. Later after dinner, we returned to the plaza and there we danced until 6am, with the theme of the year "The rain won't ruin my party" – and that's how it was, in spite of the rain, it was a wonderful wedding and we had such a great time we even missed our flight, which left at 6am for our honeymoon.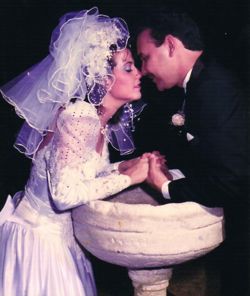 Which part of the celebration was the most special and why? 
Arleen: Obviously the most beautiful part of the celebration was the wedding ceremony in the church, where we sealed our love before god, and that was the most beautiful thing in the world.
What is it that you love particularly about Casa de Campo?
Arleen: The part of Casa de Campo that we love the most is Altos de Chavón. We have great memories of when we used to go and have dinner at the Mexican restaurant and dancing at the nightclub "Genesis" as well as of course the church where we were married. Casa de Campo is very special to us because it is where we started our love story.
When did you return to Casa de Campo to celebrate your anniversary?
Arleen: We returned on the 12th of December 2011, the day that we celebrated 25 years of marriage.
What did you do in Casa de Campo to celebrate your anniversary?
Arleen: We had a fantastic time. Casa de Campo is our second home, we ate in La Piazzetta restaurant in Altos de Chavón, where we enjoyed a marvellous meal and we also visited the church.
Gianfranco, Frank, Arleen and Carolina on the Teeth of the Dog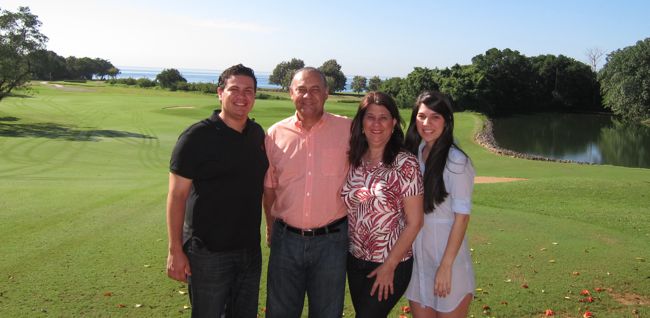 Tell us about your family.
Arleen: We have 2 wonderful children. Gianfranco is the oldest, he is 22 years old and he just graduated with honors from the Manhattanville College in Purchase, New York, he is super sweet, with a high sense of responsibility, whilst at the same time being very caring and loving. The second is Carolina, the princess of the house, who is studying interior design at the Unibe university in Santo Domingo, where she is considered one of the best students in the school. Carolina is sweet, responsible, serious and kind.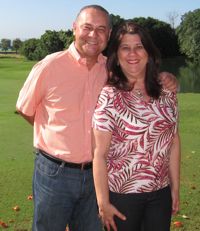 You no longer work in Casa de Campo. What do you do now?
Arleen: Now we are the owners of our own business "SHIATSU MASAJEXPRESS", chair massages. We are the pioneers of this business in the Dominican Republic, we were first trained in this type of massage in the United States and now we own many spaces all over the country in; the "Las Americas" Santo Domingo airport, the "Gregorio Luperon" airport in Puerto Plata, "Higuero" airport and soon we will be opening up in Megacentro, Galerias 360 and the Punta Cana airport. In March we will be inaugurating the first SPA in an airport in "Las Americas", from where we will offer outpatient services for companies, golf and other sports tournaments and medical offices.
Once again – congratulations Arleen and Frank! And thank you for sharing your beautiful story with us!