This post is also available in: Spanish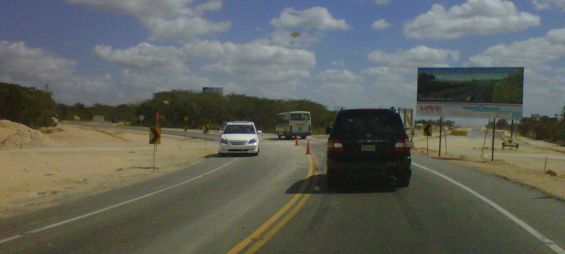 The El Coral Highway, which when complete will join Santo Domingo, La Romana and Punta Cana, dramatically reducing travel time and distance between the Dominican Republic's top tourist destinations is progressing very well and is ni some areas starting to look very impressive!
Construction of the El Coral Highway began in October 2009 by the Brazilian construction company Odebrecht and the project was inaugurated by President Leonel Fernandez, who said that the road would take 3 years to complete and cost an estimated $279 million dollars. Now half way into the project, we can see that real progress is being made, leading us to hope that perhaps the project will finish on time (despite the Dominican 'mañana' culture.)
On a recent trip out of Casa de Campo (now that doesn't happen too often), we ventured towards Bayahibe and were astounded by the progress that has been made! The road is completely unrecognisable! The road between Casa de Campo and the 'represa' (where the road crosses the Chavón river), has been much improved – the road surface is smooth and there are even markings and cats-eyes. Also in this area, the beginnings of the 4-lane anti seismic bridge, which will take the highway over the Chavón river can be seen.
Even the stretch of road beyond the Chavón River is much improved and from the current road, you can see sections of the new highway nearing completion, with several bridges nearly completed; one near the La Estancia Golf Resort and the other which will take the highway over the road which leads to Bayhibe and Domincus.
The road going up from the Chavón River is now clearly marked and has 3 lanes.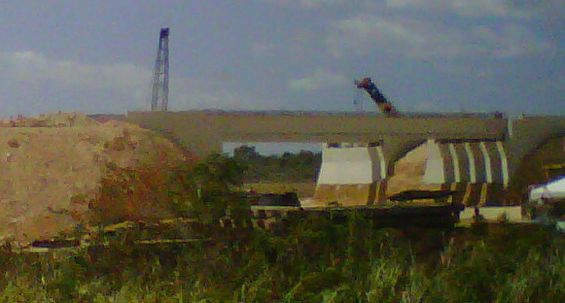 A bridge nearing completion near La Estancia
It's all rather amazing and very impressive – you never know, maybe come 2012 it will be complete, let's hope so!
For those of you who don't know the new El Coral Highway will be a 70km toll road joining Santo Domingo, La Romana and Punta Cana, connecting the three airports and important tourist destinations; Casa de Campo, Bayahibe, Dominicus, Bavaro, Cap Cana, Macao and Uvero Alto – the areas where more than 60% of the Dominican Republic's hotels are located.