This post is also available in: Spanish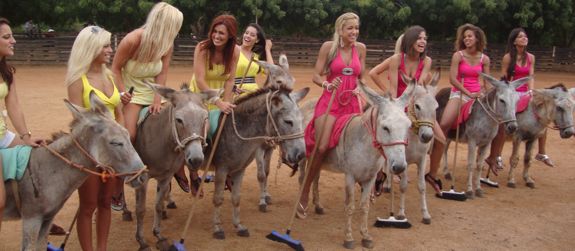 Although it seems like so long ago already, it was just last month that the Miami Dolphin cheerleaders were here in Casa de Campo shooting for their swim suit calendar. And as well as the photo shoots a group of the girls were given the chance to play Donkey Polo at the Casa de Campo Dude Ranch!
Although this article is a little delayed, it is the perfect time to show you what Donkey Polo is all about as YOU have the chance to take part in a Donkey Polo tournament at the Ye Ol'Fashioned HOEDOWN (Fiesta Americana) on Saturday July the 3rd, from 4pm at the Dude Ranch. To register your team and to find out more, click here. (ADD LINK)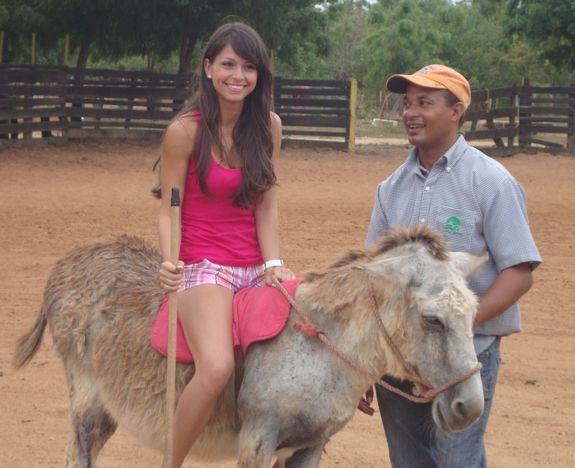 On this particular day the girls had been split up into 4 teams (all of different colours), with the mission to find a beautiful spot to shoot some photos that afternoon. The yellow team went to the Marina where the met Randy and secured a photo shoot on his boat, (click her for photos of the photo shoot on Randy's boat), following which the girls were brought to the Dude Ranch for a surprise! The surprise was that they would be playing Donkey Polo!
Donkey Polo is a really fun game, similar in some ways to normal polo with horses, but it is played with broomsticks and a large soft ball. Opposing teams fight to control their Donkeys (who are not exactly co-operative or fast moving) and try to hit the ball into the opponent's goal.
Whilst in Casa de Campo, photo shoots took place in many of Casa de Campo's beauty spots: Playa Minitas, the Marina Casa de Campo, the Dye Fore and Teeth of the Dog golf courses as well as at Palmilla and Isla Catlina. Casa de Campo Living was very lucky to be able to spend some time with the cheerleaders while they were here, below are links to all our other articles about the cheerleaders, and many photos of the girls in bikinis….
Miami Dolphins Cheerleaders: on location in Casa de Campo
The Miami Dolphin Cheerleaders 'cheer' with the Fundacion MIR!
Photo of the week: The Miami Dolphin cheerleaders photo shoot
ADVANCE PREVIEW: Casa de Campo Living, ERH Marine and CasaLife party in Palmilla with the Miami Dolphin cheerleaders
The Miami Dolphins Cheerleaders out and about in Casa de Campo!
The Miami Dolphin Cheerleaders photo shoot aboard ERH Marine's Pershing Yacht