This post is also available in: Spanish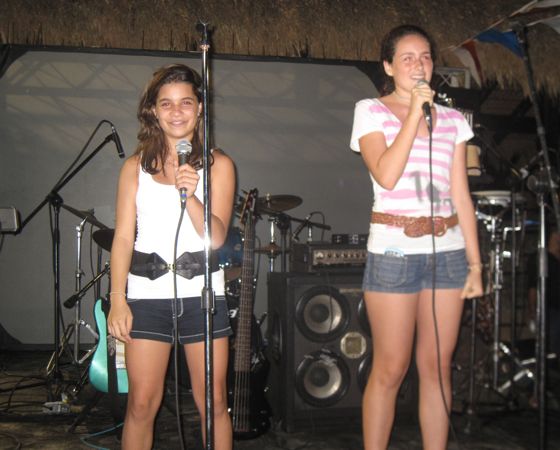 On Saturday July the 3rd, the Casa de Campo community gathered together at the first Ye Ol'Fashioned Hoedown – a traditional (ish) western/American party with cowboys, donkey polo, kids games and more, which was sponsored by Autobritanica Ltd. and Jack Daniel's whiskey. As the party continued into the evening, the atmosphere shifted from daytime family fun to 'barn dance' with live music from a live band and a special guest performance……
Just as the Donkey Polo Tournament was coming to an end and I was in desperate need for a Jack Daniel's cocktail, Tiffany Dalet and Daniela Dominguez, ran up to me and said "Miss Hughes can we sing? We know all the words to the Taylor Swift songs." And without thinking I said "Yes, just tell the band I said it was OK." The next thing I knew these 2 very brave girls were up on the stage!
Tiffany and Daniela chose to sing 'Love Story' by Taylor Swift and they were FANTASTIC! The girls sang beautifully with confidence, spirit and even a little acting – at one point it looks like Tiffany is proposing to Daniela! Their performance was very impressive, but don't take my word for it – watch the video below and see for yourself!
Following the girl's wonderful performance, the live band 'Top 40' started to play and they were also great, not as good as the girls, but as their home-room teacher maybe I'm a little biased!  The band 'Top 40' from Santo Domingo played a wide range of 'English/American' songs, meant to best represent the 'western' theme, but were in reality more 'poppy' and so perfect for everyone to dance to!
In the band's interval a troupe of Can-Can dancers and their male dancers took the stage with an exciting Can-Can show, with the girls flashing their underwear and the men spinning the ladies around – it was quiet the spectacle! Many thanks to ….. who organised the cheography!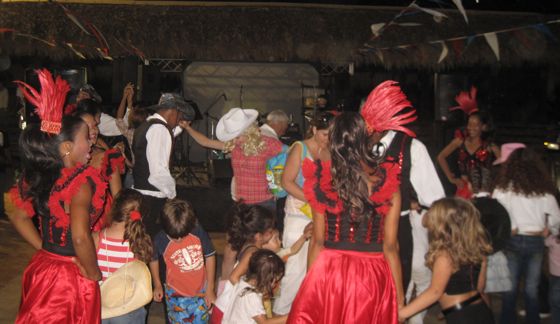 Directly after the Can-Can show the Can-Can dancers invited/dragged everyone onto the dance floor to dance with them! I loved it! Here is our video of the Can-Can show and everyone dancing!
The Ye Ol'Fashioned Hoedown was organised by us, Casa de Campo Living – we hope you all enjoyed it!
Here are links to our other articles about this GREAT event:
Photo of the Week: Kicking Ass!
Hoedown Photo Round-up! We need your Photos!
Hoedown 2010: The Donkey Polo Mayhem…
Hoedown 2010: Land Rover, a big hit with the families!
Hoedown 2010: Photos of the bandits drinking in the Jack Daniel's Bar!
Because we know you all love photos, here are some more!
This event was sponsored by AutoBritánica Ltd.