This post is also available in: Spanish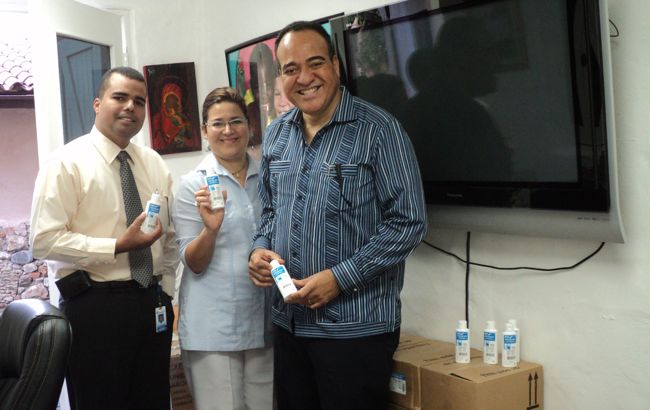 On Tuesday 13th of December, 2,500 "EPICARE DES" hand sanitizers bottles were donated to the Fundación MIR by Quimocaribe, S.A and Ecolab companies, as part of a public health program "Programa Ampliado de Inmunización" (Extended Immunization Program.)  The donation of 2,500 EPICARE DES hand sanitizers bottles were delivered by Regil Medina and David Henriquez, representatives of both institutions and  are destined to be used at the Fundación MIR's schools and other projects based in La Romana.
The Fundación MIR, as an organization based in Casa de Campo that works to provide education to many women and children of La Romana, would like to thank Quimocaribe, S.A. and Ecolab for such a generous donation!
The Fundacion MIR is a non-profit organization which works to provide education to the children of the greater La Romana area, who are most in need. They run 3 schools; the MIR Esperanza (boys vocational school), the Escuela Tecnica Vocacional Fundación MIR (girls vocational school) and the Primaria MIR (infants school).

For more information on the Fundación MIR and to make a donation, visit their website: www.mirinternational.org
Click here to find out more about The Fundación MIR Magical Splendor for Life Fundraising Weekend: 27th – 29th of January