This post is also available in: Spanish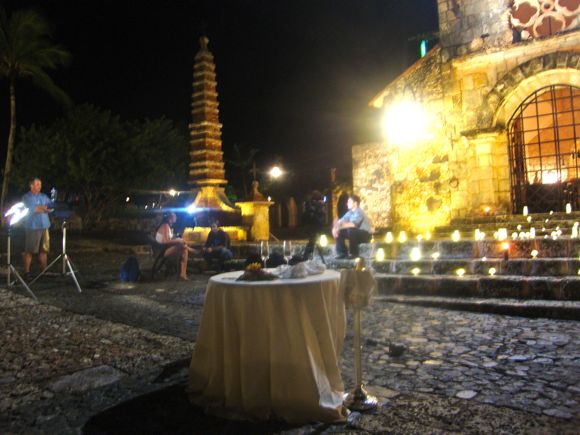 Last Friday night, on our way for an innocent and quiet drink at Papa Jacks, we stumbled across a film crew filming outside the Altos de Chavon church.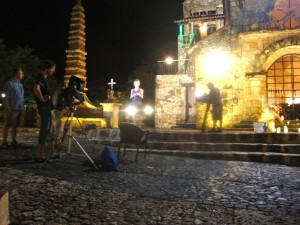 At first glance, the filming didn't look overly exciting, but, as always committed to finding all the latest Casa de Campo news for our faithful Casa de Campo Living readers, we decided to delve a little deeper. And so under the cover of being overly interested tourists and with a little help from David Black we managed to discover what exactly was going on.
The film crew were filming for the French-Canadian version of 'The Bachelor' or maybe 'The Bachlorette,' which has been being filmed all over the DR, mostly in locations in Samana.
This particular scene was of a 'private date' with the couple sharing a romantic candle lit meal in the plaza just outside the church, whose steps were beautifully lit with some strangely pretty mushroom shaped candle-like lights. Of course this 'magical' moment must have been somewhat spoilt by the presence of the camera crew, as well as the distraction of the Casa de Campo Living crew clambering all over the place trying (and failing) to get good photos.
Following, the not-so-romantic dinner-date scene the couple were interviewed about each other and the evening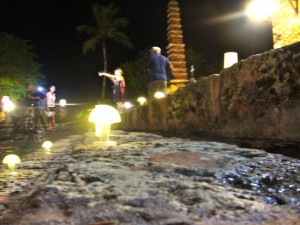 , and presumably about their feelings for each other.
As far as we understand the show has not aired yet, but if you happen to see it, do let us know! In the meantime, we will do our best to find the clip on Youtube and publish it at some time in the future!
NOTE: We apologize for the low quality of the photos, but due to the delicacy of the situation (we shouldn't have been there) and the fact that we were told not to use flash – we did our best! If you happened to get any better photos of the filming in action please send them to [email protected]