This post is also available in: Spanish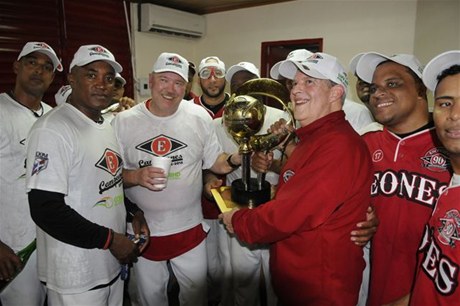 Last night, Santo Domingo's Baseball team the 'Leones del Escogido' were crowned the champions of the Dominican Baseball League for the 14th time time in their history! 
The "serie final" (final series) began on Sarurday January 21st of last week, played between the 'Leones del Escogido' team and the 'Aguilas Cibaeñas' team from Santiago. After playing several games, last night, Monday the 30th of January the Aguilas Cibaeñas and the Escogidos played an excellent and a quite exciting final game for their fans, tying 5-5 on the 9th inning! The game ended in victory for the Escogidos, also known as the 'red team', when Andy Dirks took a fabulous hit that crowned the 'Escogidos' champions with a 6-5 victory!
After the exciting game, the Escogido players, coaches, directors, executives and fans ran, jumped and danced all over the baseball field, converting the Quisqueya stadium in Santo Domingo into an authentic celebration, along with dozens of fireworks.
Following this victory the Escogidos will now represent the Dominican Republic in the Caribbean Baseball League, last year won for the Dominican Republic by the local La Romana tean, the 'Toros del Este' – click here to read more!
Want to know more? The following are links to Dominican newspaper articles about the victory:
Listín Diario: Hit de oro de Andy Dirks da 14ta corona al Escogido
Diario Libre: Los Leones del Escogido, ¡campeones!
PHOTO CREDIT: Listindiario.com