This post is also available in: Spanish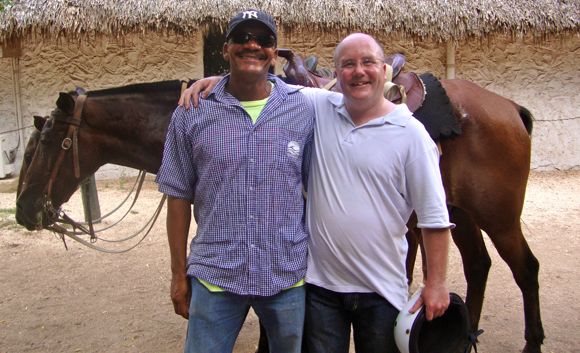 Ever since I was a child I've always wanted to learn to ride, but I never had the chance, and so I jumped at the chance when somebody offered to take me out one day. Since that first time I must confess to having become somewhat addicted to riding at the Casa de Campo Ranch and have become a regular face there. It is a place that I have learned not only how exciting horses and horse riding is as a hobby, but also what a wonderful people Dominicans are. I write this article as a tribute to the hard working and incredibly friendly staff of the Ranch, who made a child's dream come true.
Allow me to introduce you to some of the most fascinating people I've ever had the pleasure to meet.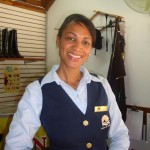 First off, as you enter the Ranch is Clara. She is everything that a receptionist should be; beautiful, helpful, highly intelligent and charismatic. She also speaks English with such a skill and fluency that I can only hope to achieve with Spanish.
Once you have paid, you are then passed on to the "Vaqueros" as I fondly know them. These people like the horses that they so lovingly look after have a wide range of personalities and riding styles, each one unique, but they are  united in giving the best customer service possible.
Miguel is easy to spot, being quiet possibly the tallest gentleman I've ever seen. Miguel handles himself, and the horses, with a grace and elegance that belies his height. He is the "speedster" of the group and the master of the fast canter.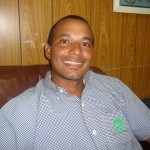 Rafael is the "Teacher" a man of gentle nobility and openness. Soft spoken and infinitely patient, you can recognize him by his quick smile. It was he that led me through my first horse riding experience and has been an excellent help in my skills ever since.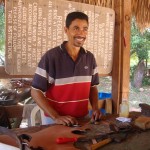 Lentigua is the explorer of the team and also a master leatherworker. He can be easily identified by his quick, intelligent eyes. Many a pleasurable hour has been passed in his company exploring new paths and listening to his discussions about the Dominican Republic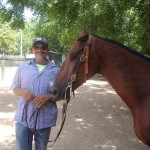 Wilson is the singer of the Vaqueros. Just look for the sunglasses and baseball cap and you'll know that Wilson with his ever present cheerfulness is hidden behind. He is the master of the slow canter and has taught me how to enjoy a smooth ride – and be able to walk the next day.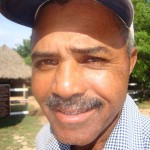 Margarito is a man of patience and humor. Always ready to pass on his knowledge – he has taught me how to trot without making my behind feel like it has just gone ten rounds with Mike Tyson – something I will always be eternallygrateful for!
Finally, but far from least I'd like to mention Wanda, a lady who is equal to Clara in beauty and intelligence and to whom I am indebted to for her advice on how to survive my first few canters. No article would be complete without a mention of the man I like to think of as "El Jefe" the man whom I often see in the distance and the leader of this inspirational team. I will always remember him for the elegance and skill in which he handles the horses and for the humililty he displayed when I thanked him for the excellent service that I have received.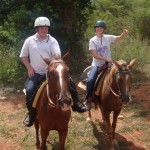 As for the Horses, well that is another story indeed. Each has a personality as unique as their names. If you have a chance I highly recommend that you get to know them, I'm sure that you will not leave disappointed.
This article has been contributed by Karl Coulby, a member of the Casa de Campo community, a horse-riding addict and a teacher at the Abraham Lincoln school.